The Last Media Party: Gawker Throws a Bankruptcy Bash
Felled by the Hulk Hogan lawsuit, Gawker Media's final $1,000 hurrah felt like a wake for an entire generation of bloggers.
---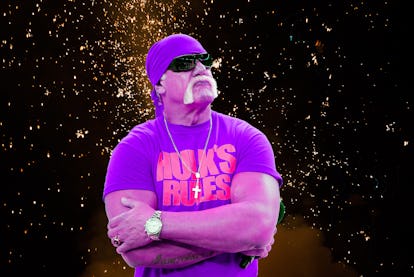 Photo illustration by Katherine Cusumano.
After everything else had gone wrong for Gawker Media — the company lost the lawsuit against Hulk Hogan thanks to backing from Silicon Valley billionaire Peter Thiel, the court ordered Gawker to pay $140 million in damages, the company filed for bankruptcy, founder Nick Denton filed for bankruptcy and put his apartment on the market, editor A.J. Daulerio found out he was liable for half of $115 million in damages even if he has just $1,505.78 in his checking account (and then the checking account was frozen) — they were almost barred from even throwing one last party.
"Throwing a party on the eve of the sale is not an ordinary expense," William Russell, a lawyer for Hogan said in a Manhattan courtroom Tuesday, after reading in Page Six that Denton planned on having one last bash at the office, days before the company would be sold to the highest bidder and be, potentially, watered down beyond recognition.
The judge noted that Gawker should not be spending "money out of the ordinary course of business," but regardless, Denton went ahead with the party. Dubbed "Against All Odds: 14 Years of Independent Journalism," the celebration beckoned Gawker's old editors, writers, friends and frenemies to 2 W. 17th Street, the office it purchased for $8 million in 2015 (and will probably have to depart).
Lawyers for Hogan weren't the only forces trying to stop the affair from going forward. Members of the malicious right-wing online movement GamerGate — who once successfully bullied Gawker's advertisers into taking their money elsewhere — had been plastering the Flatiron with posters villainizing Denton and tried to organize protests to picket the celebration. None came that I could see, but there was a self-described "Donald Trump supporter" outside filming the tipsy attendees with her phone, trying to goad them into, well, something.
"What do you think about Gawker publishing nude photos of Vanessa Hudgens?" she asked alumnus Andrew Krucoff, who for a while had been referred to as the "Gawker Mascot."
Krucoff shrugged and walked away.
Inside, Gawker's former editors Elizabeth Spiers, Choire Sicha and Emily Gould squeezed between the people they used to write about (publicist-turned-novelist Sloane Crosley, Moveable Type pioneer Anil Dash). In media party fashion, gossip flowed through the room: a New York Times media reporter was having a hush-hush conversation with a Huffington Post media reporter, and this morning, the news that Arianna Huffington was leaving the company appeared in the Times under her byline. One editor was telling former colleagues that his publication would be getting rid of its print edition. Former staffers of The New York Observer (where I, too, once worked) expressed surprise that its current editor Ken Kurson would show up to a Gawker party: after all, his paper has now endorsed Trump, a no-no when it comes to Gawker, given its tormentor Peter Thiel's well-documented love for the Republican nominee.
It was certainly a media party, and as many in the room mentioned, it was perhaps the last media party, the final excuse that all of these people would be together in the same room, after more than a decade of having these kinds of things all the time. The close-knit, cantankerous group of young bloggers that invented a influential new tone and approach to journalism have all grown up. The landscape has changed: Verizon now owns AOL which owns the Huffington Post, and recently bought Yahoo, which also gives them Tumblr. NBCUniversal has invested $200 million into Vox Media, where former Gawker managing editor Lockhart Steele is the editorial director. And so on.
As lawyers indicated in court Tuesday, the "debtors" (that would be Gawker Media) intended to spend only $1,000 on the party, and it appeared they stayed on that budget: the booze was Budweisers cooling in bowls of ice, the food was pizza in boxes strewn on conference tables. The sense of loss was amplified by the dorm room-style offering.
At a certain point, the whole event became a wake, with various well-wishers coming up to Denton to offer their condolences. And yet, the embattled millionaire — who up until the lawsuit had been, unlike his competitors, highly resistant to any outside investment — is optimistic despite the impending sale.
"Considering that the company's bankrupt, I'm bankrupt, we have a billionaire up our ass, everything's great!" Denton told me. "But really, I just couldn't be more proud of our staff."
The kind words for his writers continued when Denton stood up to give his regards and say a farewell, taking the time to especially thank Daulerio, who couldn't be there — this morning, he was due at Florida court, where he's trying to arrange for his own bankruptcy declaration, as his assets are currently in the negative.
And after the remarks, with the beer and pizza both running out, conversation turned to trying to scrounge together some funds and buy back Gawker to save it from being crushed by soulless overlords. The current offer is from publishing company Ziff Davis, for $90 million. Bids are due August 15.