The Los Angeles Brands Delivering Beauty and Wellness During the Pandemic
Nail brands like Cote, yoga instructors including Kirschen Katz, and hairstylists like Daniel Moon are finding creative new ways to serve their clientele.
---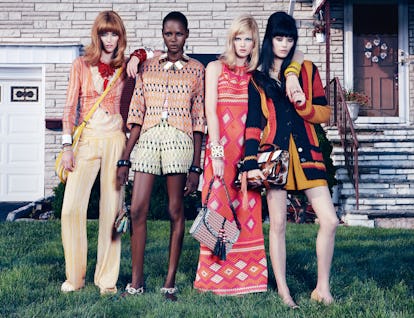 The coronavirus has caused individuals and entire entities alike to adjust to a new lifestyle with limited conditions. But for big businesses, the pandemic of 2020 is still taking place within a capitalist framework, and companies like Amazon and Wal-Mart are finding ways to cater to their customers's needs. These brands will surely survive under these circumstances, but local businesses may not fare so well. Even in Los Angeles, where niche companies have set trends for celebrities and influencers worldwide, many businesses are struggling to break even. In response to this shift, the majority are actively fulfilling the demands of their clients in new ways. In the spirit of acting globally but thinking locally, we've compiled some of Los Angeles' most beloved beauty and wellness brands that are dedicated to meeting the demands of their clients through an unexpected and challenging time.
Spiritual & Emotional Healing
While people adjust to new schedules and experience heightened anxieties, yoga and meditation have become go-to self-soothing mechanisms. Kirschen Katz, the yoga instructor favored by Julia Roberts, Laura Dern, and Reese Witherspoon offers private and group Zoom classes to balance and restore the body. Taking internal healing to another level, spiritual healer and shamanic counselor Erica Geller Jordan leads meditation, somatic counseling, and shamanic journeying over video. Also specializing in topics pertaining to today's challenges, Geller provides online group classes focusing on well-being during shelter in place.
Tools to Ease
To assist with gaining clarity, Los Angeles-based Sun Song will personalize flower essence formulas, teas, tinctures, and aura sprays to remedy the effects of collective trauma most have experienced during this pandemic. Each product is formulated by Sun Song's flower essence practitioner proprietress, Saewon Oh, to aid in emotional and energetic healing.
Crystals have long been an alleviating force for mindful Angelenos. The Energy Muse, ground zero for LA's crystal healing and therapy community, aims to channel positivity and clear energy. In addition to crystals, the studio carries detoxifying beauty products and home goods to address individual needs during social distancing and confinement.
The Superficial: Hair, Nails and Body
Isolation has not necessarily deterred Angelenos from beauty upkeep and self-care—but some are noticing their inability to mimic a professional manicure. Cote, the LA-based luxury nail care salon headquartered in Los Angeles (Gwyneth Paltrow and Kourtney Kardashian are fans) created a complete nail kit for at-home manicures, delivered right to your home; it includes nail-strengthening base coat, top coat, clippers, a file, and concentrated acetone remover pads.
Skin maven Cayli Cavaco's Knockout Beauty is not only offering remote skin consultations by her staff of experts, but also making daily home deliveries of advanced beauty lines and gadgets—including gold derma rollers, LED masks, and skin peels.
Keeping intelligent and sophisticated self-care at the forefront of her business ethos, esteemed beauty editor Kelly Atterton's LA storefront, Atterton, has kept tinseltown's executives and talent stocked with an array of coveted, hand-picked beauty lines such as Monastery, Hair Atelier and Seren Apothecary. The company is making local deliveries free of charge, and has extended their shipment range outside of the Los Angeles area.
Breakouts and skin ailments haven't taken a pause because restrictions are in place—if anything, chances are your face is more agitated by the stress of the pandemic. Celebrity dermatologist Dr. Karyn Grossman has been tending to the needs of her A list clients through tele-dermatology.
When he's not schooling Jennifer Garner or Kirsten Stewart on Zoom, Adir Abergel, the beloved hairstylist of Hollywood A-listers, spends his time encouraging clients to repair their hair at home. "I've told my clients this is finally the time you wanted to grow out your hair," Abergel says. "Make sure you use this time to stop heating your hair, grow it out, and do a mask every day." Abergel has also sent his clients a previously for-salon-only treatment that was recently made widely available. The Virtue Labs Color Revival Kit, made with his partners at Virtue Labs, features a three-step treatment of a highly concentrated dose of Alpha Keratin Reactive, and a Restorative Treatment Mask to provide intense moisturization.
Liz Jung, the celebrity colorist for Isla Fisher, Maggie Q, and Sarah Paulson has assembled color kits for at-home dyes and touch-ups; they're available for both delivery and pick up.
Unconventional shades sported by the more daring still require upkeep, too. Consistently edgy and inventive, Daniel Moon, the colorist responsible for creating unforgettable looks for Katy Perry, Madonna, Zoë Kravitz, and Kylie Jenner has mixed custom colors and formulas for clients on a consistent basis during quarantine, for pick-up and home delivery. And for those struggling with the upkeep of their highlights, Sigrid Mahan, the celebrity colorist known for her specialty in balayage, has also prepared complete color kits for delivery. They contain all the essentials for a killer balayage.
Related: The Most Soothing DIY Baths Recommended by Celebrity Skin Experts