The O.C.'s Mischa Barton Wore Fake Chanel on the Show Says Costume Designer Alexandra Welker
That's just one secret from the show.
---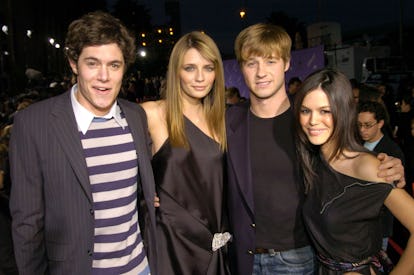 KMazur/WireImage
Marissa Cooper, aka The O.C.'s Mischa Barton, may have been one of the biggest style icons of the aughts, but she committed one high-fashion faux pas: wearing a fake.
Despite the fact that the TV show was an instant hit — and reshaped teen TV for years to come — the original clothing budget was actually tiny. To perfect Marissa Cooper's preppy, Californian look, costume designer Alexandra Welker had to resort to fake Chanel bags for Barton's character. It "was a challenge because everything had to look super high-end," she explained to Page Six. "There was absolutely no borrowing [from brands] involved either, because nobody had ever heard of us, so they were very leery of loaning anything."
Chanel was one of those brands in the beginning. "People got really worked up over that Chanel book bag; they thought that the idea of a teenage carrying one to school was obscene!," Welker said, before adding, "I'll be honest: Those Chanel bags that she carried, those weren't something I could have on my budget. But I found this amazing store in Downtown LA that sold the best-looking fakes I'd ever seen! So we used some really, really good knockoffs."
Of course, by the time Marissa and Summer got to their senior prom, they were in real Chanel, let alone Chanel Haute Couture. "By the Season One finale, brands were falling all over themselves to lend to us," Welker recalled, thanks largely to Barton, the breakout star who ended up becoming an ambassador for Chanel fine jewelry. "I'll always be grateful to Mischa Barton: She started doing a lot of modeling because of the show, and the folks at Chanel loved her. They actually loaned me a couple of samples, and once we started using real Chanel, of course, I had to let those fakes fall by the wayside."
Even when the cast was wearing real Chanel, Welker still shopped from a wide range of brands. "I literally shopped everywhere from Neiman Marcus and Saks in Beverly Hills to Forever 21," she said. "And if I was able to splurge on a Marc by Marc Jacobs piece, for instance, I'd pair it with a denim miniskirt and flip-flops."
As for the shoes, Welker also revealed the reason Marissa always wore flats. "She almost always wore flats, both because of Mischa's height and because that's such a classic, chic look," she said. "Marissa was the golden girl of the show; I wanted her to seem effortless." Mission accomplished.