A book I've been waiting for
I've long pondered the precise role of housecoats in the modern woman's wardrobe. Chelsea collars, too—those have really kept me up at night. And I honestly can't count the number of times I've stumbled over...
---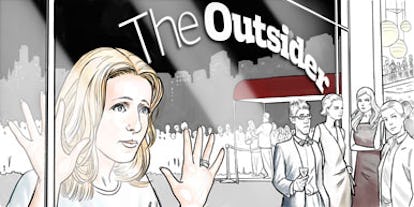 A key take-away from the book is Martin's "10 System," a fashion philosophy that involves ruthlessly routing the deadwood from one's closet. In short, if a piece doesn't meet a few key criteria regarding fit, condition, and "relevance to your current life," it's gone like the proverbial wind. Think the pullover or LBD equivalent of Megan Fox, in other words.
But don't panic if you're currently staring down racks of mediocre fare that clocks in at a mere 6 or 7 on the fabulosity scale. Per Martin, once you chuck it all, you can just head right over to H&M for a little restocking action. "A 10 isn't necessarily a Donna Karan suit," she says. Evidently not; Martin counts a ratty old college sweatshirt of her father's as one of her most cherished items of clothing. (And it's not from Harvard or Yale, if that's what you're thinking.) "It has paint all over it, and holes, and it must be forty years old," Martin notes. "I love it because it makes me feel cozy." Wait—I thought that's what the housecoats are for.