The Outsider: Treena vs. Dana
I'm Olsen Twin-tiny, but that hasn't stopped me from wearing flats all week. Whether it was my abused Aigle wellies during that godforsaken monsoon last week, or the new love of my life—my silver Birkenstock...
---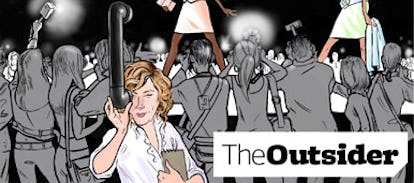 Birkenstock vs. Miu Miu.
But I've noticed that there are some fashion types who manage to pull off really, really high shoes and look not only cool, but implausibly stable. Take our market director, Treena Lombardo, for instance. She's wicked tall (grrrr), and yesterday was sporting a new pair of Miu Miu platforms. "It's not about the height. It's about the shoes," Treena texted me from the show circuit. "Which are coming off right now by the way. They kill." Sure enough, when I saw her later at Sophie Theallet, she was wearing gorge strappy numbers by Alexander McQueen. But we're still talking at least six inches.