The Over-Anxious Angeleno's Guide to DIY Deep Hydration Masks
Skin experts (whose clients include Bella Hadid, Brie Larson, and Emerald Fennell,) give us the recipes for their favorite reviving masks.
---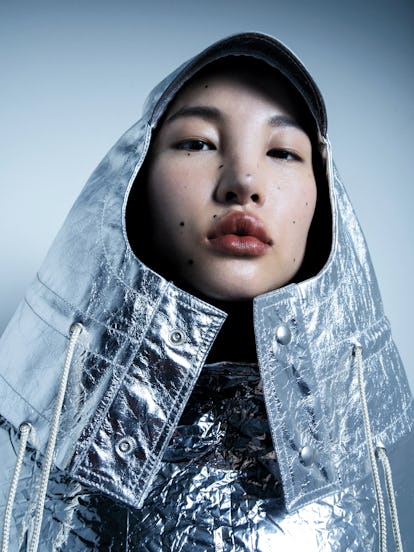 Photograph by Tim Walker; Styled by Sara Moonves.
As of Sunday night, Los Angeles residents have been placed on a new three-week stay-at-home order. While the edict is certainly just, and aims to protect our lives, it's going to once again test the patience of fellow denizens—and other Americans in lockdown—in the process.
How will a city like this one, full of people suffering from perpetual Peacock Syndrome, adhere to restrictions that limit their activities in public? I go back to these last few months, reminiscing on all of the people parading face mask looks at outdoor restaurants, vying for attention while feasting on hearty celery juices. How will the attention-seekers manage? By focusing more time on themselves, in true L.A. form, I can only assume. Two things never go out of style in Los Angeles: great cinema and vanity. And vanity has far more staying power.
Extended hours at home mean more time to address one's appearance. This winter, your skin is undoubtedly working overtime, trying to balance hydration levels as both indoor and outdoor temperatures take their toll. With hydration being the key concern here, we asked a handful of skin experts to give us their favorite hydrating DIY at-home skincare masks to revive and rehydrate for these coming cold months.
Mimi Luzon
Celebrity Aesthetician to Irina Shayk, Bella and Gigi Hadid
Açai Glow Mask
Not just beneficial as a superfood, Luzon covets açai powder as a healing skin solution for hydration. "Topically, açai has many wonderful properties and benefits for the skin such as fighting inflammation, evening out skin tone and reducing pores," she says.
Ingredients:
1 spoon of açai powder
1 teaspoon of raw honey
A few drops of your favorite oil serum
Directions:
Mix together to ointment texture and apply to your skin for 10 minutes. Rinse with cold water and follow up with your favorite face cream.
Lesley Thornton
Klur Skincare Founder
Exfoliating Jojoba and Papaya Moisturizing Mask
"One of the easiest DIY home masks to make is this very nourishing moisture mask," Thornton says. "This is ideal for winter because it's a cocktail of simple, mild, exfoliating ingredients and nourishing, moisturizing oils. Papaya is a great superficial exfoliant and very gentle on all skin types, while honey is a natural humectant, encouraging moisture that leaves skin remarkably soft."
Ingredients:
4-6 teaspoons of fresh papaya
2 teaspoons honey
2 tablespoons of organic jojoba oil
Directions:
Purée all the ingredients together, but make sure the resulting mixture is not too thin. A blender is great, but mashing it by hand is incredibly gratifying too. Just mix well so it's a smooth consistency.
Apply mixture to clean, damp skin. Sit with this mixture for 30 minutes and relax. Five minutes before removal, apply a warm face cloth over it and let that sit for a few minutes; the warmth of the towel will provide a relaxing experience and amplify the glow.
Ivan Pol, The Beauty Sandwich
Celebrity Facialist to Laura Harrier, Cara Delevingne, Brie Larson, and Mary Kate and Ashley Olsen
Hydrating, Lip-Plumping DIY Sandwich Mask
For Pol, founder of the beloved Beauty Sandwich facial method, hydrating your lips should be just as essential as attending to the rest of the face this winter. Below, he details a lip mask that combats dry weather, with an initial step that focuses on prepping lips with a hyaluronic acid to absorb the mask nutrients.
Ingredients:
Hyaluronic acid serum of your choice
1 teaspoon of plain, full-fat organic yogurt
1 teaspoon of raw Manuka honey
1/2 teaspoon of cinnamon
1/2 teaspoon of cayenne pepper
Directions:
First, apply 5-7 drops of your favorite hyaluronic acid serum to lips and over the vermilion border. Make sure to use enough serum to coat the lips—hyaluronic acid is like a drink of water. It's important to first add a hydrous product before sealing it with an oil or a fat, which is anhydrous, and used to lock in moisture at the end of the mask. Next, apply the mixture of honey, cinnamon, and cayenne, followed by full-fat yogurt to seal the lip mask sandwich. The fat in yogurt, preferably goat milk yogurt, is richer in fatty acids, with over 25 different fatty acids. This really seals the deal for hydration. Leave on for 10-15 minutes.
Eden Gilliam
Aesthetician and Founder of Eve Milan New York
Oregano, Avocado, and Irish Sea Moss Remedy Mask
"This mask is combined to effectively remedy mask-ne while providing ingredients to maintain skin's elasticity during colder temperatures," Gilliam says. "I'm a huge believer in using the same ingredients internally and externally. Irish Sea Moss is one of those key ingredients everyone should have in their home to do just that. Irish Sea Moss contains 92 of the 102 minerals of the body—like zinc, copper, sulfur, and vitamins A, E, and K. Its high sulfur content paired with oregano is amazing at balancing the skin microbiome and targeting acne, causing bacteria helping to fight mask-ne."
Ingredients:
1 tablespoon of avocado
2 tablespoons of Irish sea moss
3 drops of oregano essential oil
Directions:
Combine all three ingredients and mix them together into a semi-thick paste to deeply nourish and heal the skin. Leave on skin for 15 minutes and wash off with warm water. Follow with serum and moisturizer.
Ada Ooi
Celebrity Facialist, Acupuncturist, and Traditional Chinese Medicine Expert to Rooney Mara, Emerald Fennell, and Ellie Goulding
Hydrating Winter Peel and Nourish Mask
"With the unavoidable drying radiator blasting indoors, plus the impact of cold wind from outside, it's only natural that our skin's moisture levels dull and leave an abundance of dead skin cells to the surface," Ooi says. "This multifunction mask uses the acid from the honey and Muscovado sugar to exfoliate and loosen top-layer skin debris naturally, using kind ingredients that don't strip your skin. The egg yolk is mainly made up of water and fats—to hydrate, nourish, and act as a great binding agent to lock moisture within the skin, leaving it soft and supple. I would prefer this mask to be done at night, since it's exfoliating."
Ingredients:
1 egg yolk
1 teaspoon of Muscovado Sugar
Half to 1 teaspoon of honey (depending on thickness)
Directions:
Mix well all three ingredients, then apply across face and gently scrub. Wait 10-20 minute and rinse off with warm water. Make sure all of the mixture is completely off before beginning your nightly skin regimen.
Related: The Over-Anxious Angeleno's Guide to Winter Skincare