The Queer Advantage: Stylist Andrew Gelwicks In Conversation With Model Aaron Philip
An excerpt from Andrew Gelwicks's forthcoming book, The Queer Advantage, features an interview with model Aaron Philip about the unique skill of introspection.
---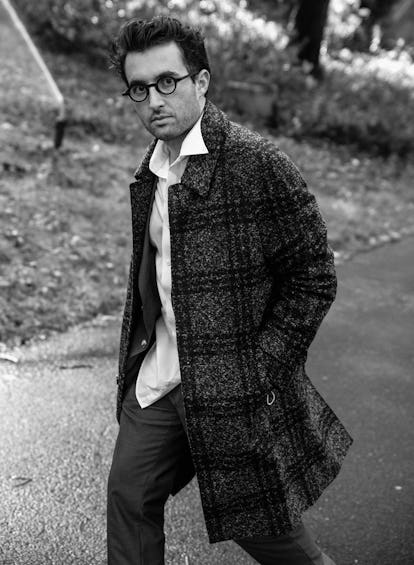 Andrew Gelwicks photographed by Lia Clay Miller.
"We have such a profound understanding of who we are as a human, which comes from the deep introspection that starts at a young age—questioning who we are, why we're feeling some ways," writer and stylist Andrew Gelwicks told W over the phone. He was discussing his forthcoming book, The Queer Advantage, which includes interviews with over 50 LGBTQ+ trailblazers in their respective fields.
"Those conversations are ones that many don't start having until they're much older, and when you develop them at such a young age, it creates this immense magnifying glass," he continued. "Jennifer Finney Boylan refers to it as X-ray vision. It's powerful."
Growing up in Cincinnati then moving to Indiana for college, Gelwicks longed for a career in fashion in New York, but he "low-key loved" his time in the Midwest as well, for reasons you might not expect from the 26-year-old stylist. "I became a total frat star. The whole time, I was completely out as well. Nobody believes me when I tell them that," he said. "Don't get me wrong, I stood out like a sore thumb. The guys in my house considered me Gothic because I wore Converse and I didn't have a pair of Sperrys."
When he finally moved to New York, he bounced around in the industry, working at both Teen Vogue and GQ before settling on becoming a celebrity stylist (he recently dressed Catherine O'Hara in the outfit she wore to accept her Emmy Award earlier this fall). But in time, he started to question a preconceived notion he had held about himself for pretty much his entire life. That question turned into The Queer Advantage, his first book.
"It started out as me questioning myself, because for the majority of my life, I always considered being queer to be one of the biggest obstacles in my life. I had realized that I could have a career and happy life, but if I did achieve that, it would be in spite of being gay and having overcome that," he admitted. "It wasn't until I started my career and was in New York for a while full-time that I started to question that. I realized I was wrong, that I had been looking at it wrong. I think that being queer is one of the most amazing, incredible things about me. It's been a huge advantage for me," he said.
"So much of the narrative around queerness is about the hardships and struggles and while those are extremely important, valid conversations that need to be had, there's so much more to being queer," he said. "And I wanted to look at that and see whether other people—specifically the world's most successful—agreed with me."
It turns out, some of them did—from actors like Dan Levy, Dominique Jackson, and Margaret Cho, to musicians like Troye Sivan and Boy George, and even Mattel's global head of design, Kim Culmone. Gelwicks cold emailed just about anyone who was interested and interviewed them for the project, and asking what their definition of a queer advantage could be. "There's this sense of introspection that queer people, many queer people gain," he said. "It's something I hadn't thought of until I started having these conversations, especially with Aaron. It surprised me, because growing up, there were those difficult, sometimes maddening, really painful, complicated conversations that I was having with myself that a lot of queer people have with themselves at a very young age. But that skill and introspection allows for much greater depth and understanding of ourselves."
Below, read an excerpt from Gelwicks's upcoming book, in which he interviews model Aaron Philip about her perspective on growing up queer during a time when the Internet provided new worlds to dive into, new people to meet, and allowed her to cultivate a deeper empathy for herself and others.
The world of fashion is all about change: new trends, new faces, new collections. And yet, for an industry that calls for innovation and evolution, its concept of beauty has been slower to keep up.
Enter Aaron Philip. Though she considers herself just a girl from the Bronx who models, it is in her tremendously successful modeling career that she is pushing the beauty and fashion world forward.
I met Aaron at the offices of her modeling agency in New York City. I found her casually relaxing in the agency's lobby, scrolling through Instagram on her iPad. She wore dark jeans, a rust-colored sweater, and her shoulder-length, tousled hair in a style she described as "grungy glam." She had an infectious warmth. As we were led into a conference room by one of her agents, everyone in our path stopped to say hello, air kiss, or hug.
I learned quickly that Aaron didn't care for the "pioneering" title credited to her. Or rather, she didn't understand it. As she saw it, nothing about what she was doing was revolutionary. Her career was about what she always wanted to do: model. She wanted it, went for it, and got it.
Aaron took me along her gender journey, one that has been an evolution of finding her true self and navigating within the narrow confines of society's views of gender and women. As she described some of her hardest moments, I appreciated how she didn't seem to look back at them with anger or resentment. She reflected on those moments and saw how, through those difficult times, she found herself.
This is something I've come to find in many of the queer leaders I've spoken with: the skill of introspection. Queer people, by the very nature of realizing our queerness, are forced to think about who we are, how we present ourselves, and why we feel the way we do. It's a gift, albeit an ongoing and difficult one.
In Aaron's case, she was the beneficiary of being born at a time when the Internet was right at her fingertips. She had access to different people, cultures, voices, and was able to connect with them and see what resonated with her. And once she found those that clicked, she combined them with her lifelong dream of fashion. By seventeen years old, she had manifested her future and made her dreams a reality.
Are you surprised that your trans identity has not limited your success?
No, actually. And that's amazing because I think fashion is finally in a place where fashion and queerness are going hand in hand. There are so many queer designers, so many queer people in fashion, that it would only make sense to extend that community to models. I have seen so much work done in the community lately to show we are here and we're doing things. Fashion is so gay, and that's the best part about fashion.
People describe you as Aaron Philip—Black, transgender, disabled model. How would you prefer to be described?
I see myself as Aaron Philip. No, Aaron Philip, model. Period. Maybe, maybe my pronouns. I see myself as a Black girl in a wheelchair from the Bronx and from Antigua. That's it. And the way I live my life says exactly that. Aaron Philip is a Black girl in a wheelchair from the Bronx. That's the way I see myself, so why can't other people see me that way, too?
Do you think there is any link between your motivation and work ethic and your queerness?
Definitely. I think queerness, drive, and work ethic go hand in hand. I don't know what it is about queerness itself, but queerness is so resilient. It's so resilient, it's so powerful. It's something that has so much light and energy. It's just like . . . go off !
When it comes to me, I am a queer, trans woman. Which I love. I love being a queer woman. Queer women are so important, and I think we don't see enough queer women who are trans. And especially queer teenagers. I love being a queer teenager. I wouldn't trade it for anything in the world. I'm having fun because of it. I can't imagine what it would be like to be a cis teenager. That'd be boring. I love being queer. I'm just gonna live my life as who I am. I want to live as authentically as possible, have fun, have a major career, and do all the major things I've ever wanted to do—as me. Because that's where the power lies. The way you see yourself is the way people see you. If you know you're it, you're it. Period.
How has being queer advantaged your career?
Intersectionality is how. Unfortunately, there are not a lot of Black trans women with the platform I've had. I've managed to make a really big platform as me, and I think people always talk to me about representation; what I'm representing for people. I guess people think I'm representing trans Black women, and I guess I am. It's just crazy because it should've happened so long ago and I shouldn't be a big name. It should be so many women. The world is so bigoted. Black trans women are under attack right now in society. I hate the fact that it took this long for someone like me who's a Black trans woman to get signed to an agency or do things like that. Why is history being made? These things should've happened.
Can you expound more on the intersectionality?
I am a disabled woman who's trans, signed to one of the most major modeling agencies in the world, and I'm eighteen. So, I'm young, I'm queer, I'm not cis, I'm not abled, and I have this really big thing going on for me. That's craziness to a lot of people. To me it's not crazy. To me, it's just me doing my job. And I love my job so that's why I do it.
I don't break boundaries. I'm just being me. And the craziest part is people really see me as someone who's breaking boundaries. All I've ever done was sit here, want to love fashion, be myself, love people, love life as who I am, and try to navigate life, even though it's hard. I'm just trying to live life. And somehow, by living my life and chasing my aspirations, as a person who should be chasing aspirations, I've made history.
What advice do you have for young, aspiring queer models?
Ride till you can't no more. Be loud as hell. Serve. Love yourself. Love yourself especially. Don't be afraid to experiment with yourself. Find people who love you. If it's not there for you up front, make it for yourself. Because that's where the power really is. Make it all for yourself or do it until you don't have to no more. Trust yourself. You have a lot more power than you think you do. The world is yours. It's your oyster. Go grab it. Don't think you have to be more mature to achieve your dreams. Revel in your youngness. You're young and that's where the power comes from. You're young, you're queer, and you're poppin'.
Related: The Original Supermodels Are Getting an Apple TV+ Series