Blake Lively's Movie The Rhythm Section Has Halted Production Because She Needs a Second Hand Surgery
She was injured on set in December.
---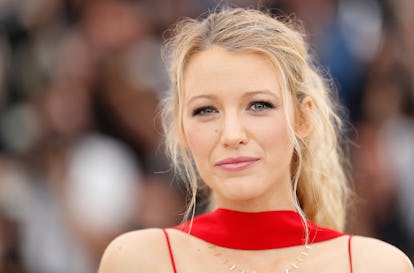 Getty Images
Blake Lively's new spy movie seems to have lost its rhythm. The Hollywood Reporter confirmed this week that The Rhythm Section has suspended production once again, this time indefinitely, due to the hand injury its star sustained while performing a stunt on set in December.
Although production was temporarily halted late last year while Lively underwent surgery and waited for her hand to heal, the procedure reportedly didn't go as planned. Sources told THR that Lively now needs a second surgery, which will require an even longer recuperation period. They added that the spy thriller's crew members have been told to find other work since it could be up to five months before production resumes.
EON Productions, the film's producer and company behind the James Bond franchise, confirmed the shutdown on Monday in a statement to THR. "Hiatus on the production of The Rhythm Section has been extended due to the hand injury Blake Lively sustained while filming an action sequence on the action thriller at the end of last year," they said.
Earlier this month, Reed Morano, who also directed The Handmaid's Tale, spoke to THR about the issue of giving Lively enough time to heal while also sticking to the production schedule. "She's okay. She's just recovering," Morano said. "The problem is that normally, that kind of an injury, you would have four to six weeks of rehab and then you would wear a splint. We have to go into stunts, so it's very complicated." In the weeks since Lively's injury occurred, she's been spotted wearing a cast on her arm both before and after production resumed in mid-January.
Since one source claimed that less than 50 percent of filming has been completed, The Rhythm Section's February 22, 2019, release date is now up in the air; distributor Paramount Pictures has yet to comment on the situation. The film is based on Mark Burnell's first Stephanie Patrick novel, with Lively playing Patrick, a woman who becomes an assassin after the rest of her family dies in a mysterious plane crash. Since the movie began filming in Ireland in November, Lively has been spotted wearing a rainbow of wigs in and around Dublin.
Related: All The Female Spy, Assassin, and Super Thief Movies in Development
Blonde Bombshell Blake Lively Has Epic Hair, and She Knows It
At the 2005 Nickelodeon's 18th Annual Kids Choice Awards, a young Blake Lively wore her golden blonde curls with a turquoise blue eyeliner.

Getty.
Wearing her long natural waves with a tinted coral lip, Lively looked like a California babe at the CW Network Upfront.

Getty.
Wearing her long mermaid waves with a hint of blush on her cheeks, Lively attended the VIVA LA CURE Benefiting for EIF's Women's Cancer Research Fund in 2007.

Getty.
Wild, tousled curls with a soft shimmery, smoky eye was the look at the US Weekly's Hot Hollywood Issue Celebration.

Getty.
Attending the premiere of Sherlock Holmes, Lively wore her hair in voluminous curls with a satin nude lip.

Getty.
Wearing a simple, elegant up do with glossy, natural lip, Lively attended the The Private Lives Of Pippa Lee premiere.

Getty.
Sporting a sleek, braid high pony with luminous skin, Lively tried out a new look at the 61st Primetime Emmy Awards.

Getty.
Wearing a sleek low bun with a taupe smoky eye, Lively attended the Spike TV's "Scream 2010" event.

Getty.
With red mermaid waves and a natural lip, Lively went glam at the TIME 100 Gala in 2011.

Getty.
Channeling old Hollywood glamour with voluminous waves, a sleek cat eye and a red lip, Lively hit the red carpet at the Los Angeles premiere of Savages.

Getty.
At the 2013 Costume Institute Gala, Lively wore her hair in a sleek, high pony with a subtle smoky eye and a light pink lip.

Getty.
Wearing her golden blonde curls softly tousled with a silk headband, Lively looked retro at the 2014 CFDA Fashion Awards.

Getty.
At the 2014 Costume Institute Gala, Lively paired her polished curls with a berry pink lip.

Getty.
At the 2016 Costume Institute Gala, Lively wore her hair in a voluminous up do with a bold, satin red lip.

Getty.
Radiating at the 74th Annual Golden Globe Awards, Lively opts for a sleek, knotted up do with a copper smokey eye and pale pink lip.

Getty.
Wearing her signature bombshell waves in a tousled half up do with loose curls framing her face, Lively attends the Michael Kors Collection Fall 2017 runway show.

Getty.
Wearing a sleek, high pony and sun-kissed skin with a nude lip, Lively hit the red carpet at the 2017 Costume Institute Gala.

Getty.
Debuting her latest do yet, Lively steps out at the All I See Is You L.A. screening in a pinned up faux bob that she effortlessly paired with a matte red lip.

Invision/AP/Shutterstock
Blake Lively attends the 'Final Portrait' New York screening at Guggenheim Museum on March 22, 2018 in New York City. Photo courtesy of Getty Images.

ANGELA WEISS
Blake Lively attends the premiere for "A Quiet Place" at AMC Lincoln Square Theater on April 2, 2018 in New York City. Photo courtesy of Getty Images.

Jamie McCarthy
Actress Blake Lively poses for a picture during the "Deadpool 2" New York Screening at AMC Loews Lincoln Square on May 14, 2018 in New York City. Photo courtesy of Getty Images.

Bennett Raglin
Blake Lively poses outside the Crosby Hotel on August 18, 2018 in New York City. Photo courtesy of Getty Images.

James Devaney