A Brief History of Dwayne Johnson's Various Hollywood Feuds
From Tyrese Gibson to the American presidency, Dwayne "The Rock" Johnson has worked through his fair share of beef.
---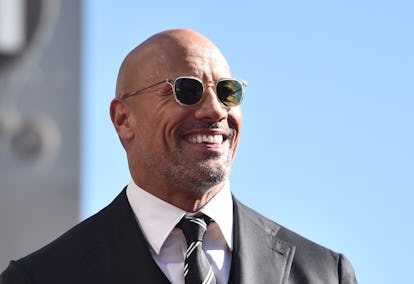 Alberto E. Rodriguez/Getty Images
The gentle giant known as Dwayne "The Rock" Johnson is one of the top earners in Hollywood, but the wrestler turned actor has found himself at the center of feuds with castmates, friends, and other various Hollywood entities. Some feuds started due to what Johnson would refer to as "philosophical differences" in terms of work ethic, and others were just for show. You could film entire seasons of the Ryan Murphy Feud anthology series with each verbal tussle Johnson has been a participant in, and one would think others would know better than to pick a fight with a master entertainer like The Rock, but much of this beef has been squashed (The Rock is never a sore loser or winner, after all), and regardless, these feuds all started fair and square.
The Rock Vs. Tyrese Gibson
Most recently, Dwayne Johnson laid to rest his former friendship with fellow Fast & Furious franchise costar Tyrese Gibson. In October 2017, Gibson took shots at Johnson on Instagram, and blamed him for the push of the upcoming Fast & Furious 9, which will not be released until April 10, 2020, due to Johnson's upcoming solo spinoff. Of course, Johnson did not respond positively to the dis, and recently, after months of an alleged feud between the wrestler and the former model, Johnson appeared on Watch What Happens Live to explain why the two have yet to speak to each other since Gibson's callout post on Instagram. "We haven't talked at all… That whole thing with Tyrese was pretty disappointing," Johnson said. "A beef requires two people to actually jump in it and it was really one-sided, and he had voiced his opinion a lot on social media," he went on. Fans of the former friends should not hold their breath for any reconciliation anytime soon because, according to the actor, "there's no need to have a conversation."
The Rock Vs. Vin Diesel
These big bald guys can't help but battle each other. In August 2016, Johnson referred to one of his male costars as a "candy ass" in a now-deleted Instagram post, calling out an unnamed actor in the Fast & Furious films for being unprofessional. "When you watch this movie next April and it seems like I'm not acting in some of these scenes and my blood is legit boiling—you're right," he wrote in the caption, suggesting that not everyone in the Fast & Furious film family was really that close. After months of speculation, it became clear the following spring that the actor-producer was specifically talking about Vin Diesel, and just before the premiere of Fate of the Furious, both actors played it safe on the red carpet. "We still love each other," Diesel told Entertainment Tonight. Fast-forward just over a year later, and Johnson pled the fifth when asked if he would ever film a scene with Diesel again. Perhaps Ludacris is the only main Fast & Furious franchise castmate who hasn't feuded with The Rock (or at least not to our knowledge, anyway).
The Rock Vs. John Cena
John Cena and The Rock are totally fine now, but years ago when Cena suggested that Johnson might not ever return to wrestling, the two wrestlers turned actors turned their "beef" into a performance for the ring. "As a matter of fact, John is gonna star in one of my movies that I'm producing," Johnson recently said, so it's clear that this one was all in the name of some good WrestleMania fun.
The Rock Vs. DJ Khaled
Twitter beef still counts as beef. After a three-year-old video of DJ Khaled insisting that there are "different rules for men" when it comes to sex, Johnson took it upon himself to toss himself into the proverbial ring. "As a man, I take great pride in mastering ALL performances," he tweeted. Too much information, indeed.
The Rock Vs. Kevin Hart
The Rock is big, Kevin Hart is tiny, and between the buddy cop movie Central Intelligence and summer blockbuster Jumanji, that's the joke the two actors like to perpetuate about themselves. Johnson and Hart have hit each other back and forth on Instagram and Twitter, Photoshopping memes of one another ad infinitum. But really, they're like brothers and it's all love between the two.
The Rock Vs. The American Presidency
For months, many on social media thought that Johnson was serious about running for president of the United States in the next election, but the actor has since revealed that his "bid" for presidency is nullified. "Unfortunately I don't see it happening in 2020. It's a position that requires years of hard work and experience to learn the skills. There's a lot of ground to cover, and due to my schedule, it's not possible in 2020," he said. Johnson wasn't trolling us—he admitted to taking the idea seriously—but there won't be a President Rock anytime soon.
Related: Lindsay Lohan and Paris Hilton's Feud Continues as the Heiress Calls Her Former Friend a 'Pathological Liar'