The Romanoffs Trailer: Mad Men Creator's Follow-up Features Dozen of Stars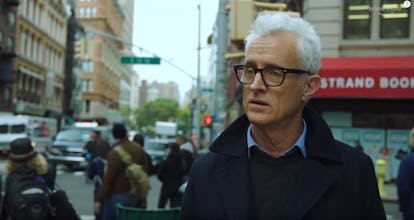 Mad Men may be recognized as one of the greatest shows of the peak TV era, but it's creator, Matthew Weiner, lags behind some of his peers in the TV auteur department simply because he took his time tackling a follow-up series after Mad Men went off the air in 2015. Well, Amazon has lured him (with a reported budget of $50 million to $70 million), and finally premiered the trailer for his long-awaited new series, The Romanoffs, today. And it turns out there was demand to work with Weiner. Dozens of famous faces appear, from Diane Lane to Andrew Rannells to, yes, Isabelle Huppert (making only her second appearance on scripted American television after a 2010 stint on Law & Order: SVU). A few Mad Men alum like John Slattery and Christina Hendricks are in the mix as well.
Of course, the format of the series requires tons of actors. The Romanoffs is an anthology series, with each new episode set in a different place and featuring a different cast. The connecting thread: Each episode centers around someone who believes he or she is descended from the Romanovs, the royal family that ruled Russia for centuries, before the main members were deposed and finally executed in 1918.
Yes, much like Mad Men, the title is a bit of a pun.
The trailer itself pretty much consists of the word "Romanov" repeated half a dozen times by various actors playing characters who either believe they're Romanovs or think it's all nonsense. Of course, there's Huppert, who, perfectly cast, plays someone who thinks that maybe she's a Romanov but, honestly, doesn't seem that impressed by the whole thing.
Intriguingly, there's a bit of a meta-twist at the end, when Amanda Peet's character declares that she's now producing a miniseries based on a book about people who claim to be related to the Romanovs.
The Romanoffs will debut on Amazon on October 12, with new episodes to be dropped weekly after that.
Of course, we can't leave you without a comprehensive list of all the actors in the project we haven't already mentioned: Aaron Eckhart, Katheryn Hahn, Mamma Mia: Here We Go Again's Hugh Skinner, House of Cards' Corey Stoll, Paul Reiser, Ron Livingston, Mary Kay Place, Boardwalk Empire's Jack Huston, Janet Montgomery, Noah Wyle, Clea Duval, Mike Doyle, JJ Feild, Hera Hilman, Marthe Keller, Kerry Bishé, Jay R. Ferugson, Ben Miles, Friffin Dunner, Cara Buono, Jon Tenney, Radha Mitchell, Juan Pablo Castaneda, Emily Rudd, Adele Anderson, Annet Mehandru, Louise Bourgoin, and Ines Melab.
If you're thinking, Hmm, is that that one person from that one thing I liked?—it probably is.
Sadly though, no Elisabeth Moss or John Hamm. Maybe in season two?
Related: Christina Hendricks's Retro Beauty