The Royals
Indie queen, Pop princess, society doyenne.. long may these rule breakers reign.
---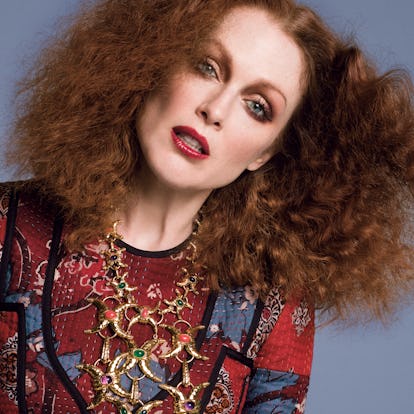 Photographer: Inez Van Lamsweerde and Vinoodh Matadin Stylist: Edward Enninful
In the world of W, being royal is about accomplishment, creativity, and a certain flair. It is an earned title rather than an accident of birth; a pedigree born of talent, hard work, and charisma. For our second annual Royals issue, we have brought together a cast that shines in the intertwined fields of Hollywood, society, music, and fashion. In each category, we've crowned a classic and a new Royal: two people at different points in their lives who embrace the same standard of greatness and originality in their area of expertise.
This year we salute Julianne Moore, who won the best actress Oscar for Still Alice, an independent film about a woman with early-onset Alzheimer's disease. Like Moore, who will star as a lesbian cop determined to defend her relationship with her longtime partner in Freeheld this fall, Greta Gerwig, our new indie-cinema Royal, has consistently played the kinds of complex parts that only exist outside the Hollywood mainstream. From her early days as the leading lady of mumblecore to Mistress America, in which she appears as a motormouth eccentric, Gerwig is a passionate advocate for onscreen reinvention.
Similarly, Claire Danes has become the standard bearer for excellence in television. Her riveting work on Homeland has opened the door for new Royals like Allison Williams, who is both infuriating and compelling on HBO's Girls. And while horror, as a genre, has long been marginalized as camp, Halloween heroine Jamie Lee Curtis and, now, Maika Monroe, of It Follows, have elevated the form with their inspired performances.
For the first time, we decided to invite men to the Royals party—chief among them, Benicio Del Toro, who won an Oscar in 2001 and is having a comeback of sorts with the thriller Sicario. And then there's Adam Driver, who in December will wield a light saber as the dark Kylo Ren in Star Wars: The Force Awakens. Driver and Del Toro bring something enigmatic and challenging to every role.
On the fashion front, you can't get more royal than the models Iman andJourdan Dunn or the designer Anna Sui. Iman has the carriage of an ancient goddess, and Sui has always stayed true to her eclectic, time-traveling sense of style. Meanwhile, the designer Shayne Oliver of Hood by Air has a sartorial philosophy that questions every preconceived notion of gender. Like true royalty, he doesn't concern himself with any dictates but his own.
Creative Movement Director: Stephen Galloway. Manicures by Daria Hardeman for Deborah Lippmann. Allison Williams and Maika Monroe's wig color by Rachel Bodt at Home Agency; Production by the Collective Shift and Jeff Lepine. Studio Manager: Marc Kroop. Lighting director: Jodokus Driessen. Digital technician: Brian Anderson. Photography assistant: Joe Hume. Fashion assistants: Ryann Foulke, Dena Giannini.