Exclusive Music Video Premiere: See Juno Temple Roam the Californian Desert Like Mad Max in The Shelters' "Gold"
The L.A. band's new music video stars Juno Temple and was made by legendary music video director Mark Pellington.
---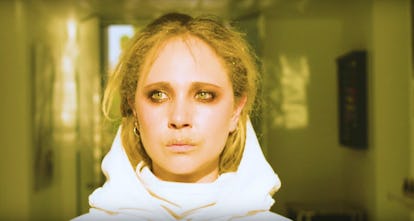 In their new music video for their song "Gold," the Los Angeles-based band The Shelters, comprising Chase Simpson, Josh Jove, Sebastian Harris, and Jacob Pillot, tapped into California's mythology—the Gold Rush, the desert, the research labs that has made it a hub of alien research. Under the guidance of legendary music video director Mark Pellington, who has worked with Bruce Springsteen, U2, Bon Jovi, and Leonard Cohen, the foursome crafted a visual collage of Californian inspirations that isn't short on the luxury. The video, which premieres here exclusively, is complete with a glamorous pool party, a dimly lit recording studio, a field of wind turbines, and a bathtub filled with gold.
The Shelters had been considering making a video for "Gold" since late 2016, but it was only once they teamed up with Pellington that it started to take shape. They also recruited actress Juno Temple to play a surreal, mysterious woman—maybe an alien invader—who roams a desolate, Mad Max-like Californian wasteland. Her father, Julien Temple, had previously directed videos for Tom Petty, who produced The Shelters' self-titled debut album; and when the band reached out to Juno, they found someone "on board for the adventure," Jove said.
"We wanted to create something out of this world," Simpson said recently. "The song really lends itself to that idea of someone feeling so good they begin to experience the world around them in a new way." The narrator of "Gold" finds himself armed with a Midas touch—"It's all what you make it, everything I touch turns gold," he sings—and the band hoped to channel that energy and its Laurel Canyon soundscape into the visuals.
"There's a weird association between California and the desert and aliens," Jove added. "The desert and the wind have this alien vibe."
The video was made in a similarly free-wheeling manner; Pellington approached the band with a wealth of ideas but no defined outline when they began shooting out in the California desert. He would send the foursome off on a run in their Beatle boots in the earliest hours of the morning just to get the right desert shot.
"We would run so far that we couldn't hear him tell us to stop," Jove said. Simpson added, "By the time we got back, he was like, 'You didn't have to go that far.'"
"Gold" finds the native Californians of The Shelters at their most California, but after this, they set off on a world tour across North America and Europe throughout the summer, supporting the likes of Kaleo, The Lumineers, and Royal Blood into the fall.
See the women of Sofia Coppola's "The Beguiled":