Mila Kunis and Kate McKinnon Fumble Their Way Through a Run-of-the-Mill Spy Mission in The Spy Who Dumped Me Trailer
Jason Bourne would not be proud.
---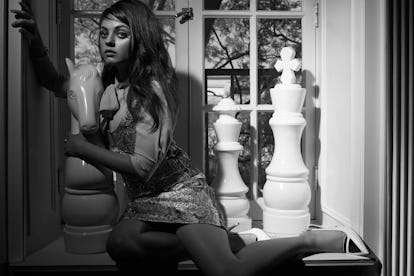 Photographer: Michael Thompson Stylist: Edward Enninful
What do you get when you pair up the most bizarre member of the Ghostbusters team with the baddest of the Bad Moms? We'll find out in just a few short months, when Mila Kunis and Kate McKinnon's action-comedy The Spy Who Dumped Me hits theaters this summer. But if the film's first trailer, which debuted on The Ellen DeGeneres Show on Wednesday, is any indication, a bit of hilarity and chaos will ensue in equal measure.
The trailer opens with the tagline "In 2018, women are killing it," and sets up the premise of the movie: Shortly after Kunis's Audrey and her boyfriend, played by famous ex Justin Theroux, break up, she learns that not only is Theroux's character in the CIA, but his enemies are after her, too. Obviously, she grabs her funniest friend, Morgan (McKinnon), and the duo set off on a glamorous chase through Europe, à la Jason Bourne or James Bond. Their tactics are decidedly different from Bourne's and Bond's, though. Their attempt to commandeer a car is foiled when they realize it's a stick shift and can't figure out how to shift gears; McKinnon finds out the hard way that it's not easy to swallow a flash drive filled with evidence; and the duo immediately start spilling TMI secrets about each other at the first threat of torture—typical girlfriend stuff.
If Kunis and McKinnon's charming chemistry wasn't obvious enough in the trailer, they confirmed to DeGeneres that there was, indeed, "instant love" between them from the very first day of production. "Kate is incredibly intelligent," Kunis gushed about her costar. "You are one of the smartest people. You're so well-rounded, you can talk about anything. You're not judgmental. You're just a fun person to be around and have a conversation with." And apparently, the feeling is mutual. "I have to say—and not to, like, steal what you said about me—but I also was like, 'Oh my god, she's so smart!'" the SNL star said of Kunis. "I thought, 'I'm in a masterclass with actress Mila Kunis, how lucky am I?!'"
The Spy Who Dumped Me arrives in theaters August 3.
Related: Mila Kunis On Pregnancy, Ashton Kutcher, and Her New Movie
Mila Kunis' Style Evolution from Teen Dream to Red Carpet Queen
In 1999, Mila Kunis was starring as Jackie Burkhart on That '70s Show, voicing Meg Griffin on Family Guy, and, with this quintessentially 90's look at the 1st Annual Teen Choice Awards, the envy of every teenage girl. The star was smart to keep accessories minimal, though we're sure a tattoo necklace and butterfly clips were hard to pass up.
Photo by Getty Images
Kunis tackled all trends entering the new millennium. Who didn't love a patriotic rhinestone tank (with coordinating stick-on tattoo) and colored leather pant in 2000?
Photo by Getty Images
For a 2004 appearance on MTV's TRL, Kunis had it all—shoulder-baring raglan sleeves, spaghetti straps, and a gathered waist—in one blouse.
Photo by Getty Images
In a dainty navy dress and minimal gold sandals, Kunis bid farewell to That '70s Show and midriff-baring tops in 2006.
Photo by Getty Images
With roles in Forgetting Sarah Marshall and Max Payne under her belt, Kunis had mastered the red carpet by 2008. Case in point: the sequined Stella McCartney sheath and black pumps she sported to a VH1 event.
Photo by Getty Images
Kunis stunned in Vera Wang at the premiere of her 2010 film The Book of Eli. A stylized ponytail and hanging diamond earrings were classic touches for the edgy LBD.
Photo by Getty Images
With Black Swan a critical success, the actress spent most of 2011 covered in chiffon. A printed red Alexander McQueen dress, worn with Cartier jewelry and shiny curled locks, was just the ticket for the SAG Awards.
Photo by Getty Images
Actress Mila Kunis channeled Hollywood Glamour at the 68th Annual Golden Globe Awards held at The Beverly Hilton hotel on January 16, 2011 in Beverly Hills, California.

Photo by Getty Images

Jeff Vespa
CinemaCon 2012 called for a casual look—and Kunis delivered in Phillip Lim.
Photo by Getty Images
The actress rocked the yellow brick road at the Oz: The Great and Powerful premiere in a nude dress by Dolce & Gabbana. Coordinating Christian Louboutin pumps (the red soles perhaps a clever nod to the story's famed slippers) completed the look.
Photo by Getty Images
Kunis kept things simple while showing off her baby bump at a 2014 screening of her new film Third Person. Nude pumps, Gemfields jewels, and a simple black dress kept the focus on the star's new favorite accessory.
Photo by Getty ImagesT
Mila Kunis wowed in a sculptural, embellished Zuhair Murad dress at the 2016 Billboard Music Awards in Las Vegas, Nevada, May 2016.
Photo by Getty Images.
Actress Mila Kunis was sleek and smiley in a black dress and black pumps at the Los Angeles premiere of A Bad Moms Christmas at Regency Village Theatre on October 30, 2017 in Westwood, California.

Photo by Axelle/Bauer-Griffin/FilmMagic.

Axelle/Bauer-Griffin
Mila Kunis wore a strapless dress with a corset top and floral skirt while walking the red carpet with her husband Ashton Kutcher at the 2018 Breakthrough Prize at NASA Ames Research Center on December 3, 2017 in Mountain View, California.

Photo by Miikka Skaffari/Getty Images

Miikka Skaffari