The Weeknd Is Reportedly "Casually Dating" Chantel Jeffries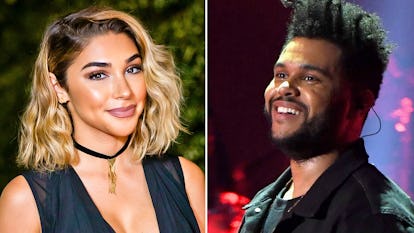 Getty Images
Though some fans swear they saw Bella Hadid making out with her ex-boyfriend Abel Tesfaye, also known as The Weeknd, at Coachella this past weekend, the 21-year-old model said in no uncertain terms that it never happened. Whether that's true or not, it looks like the 28-year-old singer was hanging out with another dark-haired beauty named Chantel Jeffries, a DJ and model who was once casually linked to Justin Bieber.
"Chantel and The Weeknd are definitely dating," a source told Us Weekly. "It's new and nothing crazy serious." The source also said that the pair dated before The Weeknd was paired off with Selena Gomez and Jeffries was tied to Bieber. To be more blunt, Jeffries and The Weeknd's exes are also exes and now they are reportedly dating.
Regardless of who he was cuddling up to after the show, (TMZ reports he was showing PDA with Jeffries at some point over the weekend, too), The Weeknd performed a 23-song set at the festival that included the new music from his six-song EP, My Dear Melancholy, for the first time—with many emotional lyrics seemingly aimed at both Gomez and Hadid.
It was this very same festival last year that The Weeknd and Selena Gomez made their relationship Instagram official and where Tesfaye first met Hadid in the first place years ago, so perhaps Tesfaye was just feeling a bit lonely on the special anniversary. Ah, Coachella: where hookups, casual dates, and young love are born.
Related: Both Kendall Jenner and Kylie Jenner Ran Into Their Exes at Coachella