My Dear Melancholy: A Breakdown of The Weeknd's Most Emo Lyrics About Selena Gomez and Bella Hadid
From apparently offering Selena his kidney to offering himself to Bella, a noted equestrian, for her to, um, ride.
---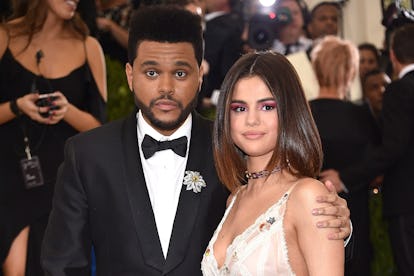 Kevin Mazur/WireImage/Getty Images
In the midst of all the rumors swirling about Selena Gomez and whether or not her rekindled relationship with Justin Bieber has finally come to a real end this time, her ex, The Weeknd, aka Abel Tesfaye, entered the fray on Friday at midnight, when he dropped a six-song (or essentially, a six-ballad) EP called My Dear Melancholy, which is just as emotionally fraught and reflective as its title suggests. He and Gomez dated for the majority of last year, making their public debut as a couple at the Met Gala just five months in to their relationship, then reportedly moving in together in September, before breaking things off the very next month in October—just a few days after Gomez was spotted having brunch with Bieber. (What started off as a friendship rekindled by church quickly turned into something more, since they were spotted kissing the very next month; meanwhile, Tesfaye was spotted leaving his ex Bella Hadid's apartment not long after, around the same time he and Gomez unfollowed each other on Instagram and he deleted several photos of her from his grid.)
Tesfaye and Hadid dated for nearly two years, breaking up in November of 2016, a couple of months before Tesfaye moved on to Gomez. And while it'd been expected to be all about Gomez, My Dear Melancholy in fact seems to address both her and Hadid—so explicitly at times that saying "seems" doesn't even seem to be necessary. (What other equestrian could he talking about in "Wasted Times" than Hadid, a noted horse girl?) Over the course of the EP, Tesfaye makes it clear that both are on his mind—and that he's definitely down for breakup sex. Getting into more of the nitty-gritty, though, from the explicit to the questionable, read on for a guide of all of Tesfaye's apparent references to the pair, here.
"We found each other / I helped you out of a broken place / You gave me comfort / But falling for you was my mistake" The very first lines of the EP's opener, "Call Out My Name," seem to make it clear that he's talking about Gomez: their relationship began not long after Gomez went to rehab—reportedly for the chronic autoimmune disease Lupus, though Gomez has also lately been more candid about her "issues with depression and anxiety," which she also feels she'll never overcome.
"When times were rough / I made sure I held you close to me" Aside from her anxiety and other health issues, Gomez was also going through a particular rough patch in her ongoing battle with Lupus….
"I almost cut a piece of myself for your life" …which included a life-risking kidney transplant a few months before they broke up. Sure, this verse could be figurative, but there's been a flood of tweets on board with the idea that Tesfaye meant it literally: He was ready to give up one of his kidneys to help, and potentially save, Gomez. (Instead, her friend Francia Raisa came to the rescue.)
"Guess I was just another pit stop / Until you made up your mind / You wasted my time" Here, Tesfaye seems to realize that while his support may have been appreciated, Gomez was never planning to keep things long-term, instead using him as a placeholder before she jumped back at reuniting with Bieber.
"You're lookin' grown since the last time I looked at you / It might have been, been about a couple months" Moving on to the next, song, "Try Me," aka Bella time! Tesfaye of course was spending much less time with (and thinking about) Hadid when dating Gomez, and this seems to point to when they reunited shortly after his and Gomez's breakup. As one of the sleuths at Genius pointed out, the next line, "But I just got the picture that you texted to me," happens to be the same as a caption Tesfaye wrote for an Instagram of himself holding up his phone that he posted in March, though what follows are a couple of contradictory verses that don't really suggest much at all.
"The way I kissed your scars / The way I fixed your heart / Don't you mess with me, babe" Again, this could be interpreted figuratively, but given how Gomez was recently seen with the physical scars left from her kidney transplant, it seems more than likely that his words are literal here.
"Wasted times I spent with someone else / She wasn't even half of you" Though those words would seem at first glance to be about Gomez, it's clear we're back to Bella in "Wasted Times," since he goes on to clearly identify her and here kicks things off by suggesting that actually, Gomez was something of a placeholder for him, too.
"I hope you know this dick is still an option … You were equestrian, so ride it like a champion" Here comes confirmation Tesfaye is talking about Hadid, whom he seems so eager to hook up with again that he's wasting no time on eloquence! Quick recap for those who aren't familiar with Hadid's horse girl history: She planned on competing in the equestrian events at the 2016 Olympics, still rides today despite her nonstop career, and even once described the trauma of her breakup with a horse.
"Enjoy your privileged life / 'Cause I'm not gonna hold you through the night / We said our last goodbyes / So, let's just try to end it with a smile" Whereas "I Was Never There" and "Hurt You" are more about Tesfaye's general melancholy and dissatisfaction with relationships, here, in "Privilege," the album's closer, he gets the pettiness out of the way and acknowledges that the relationship in question—seeming to be with Gomez, as it was most recent—has come to an end, and it's best to end things on a positive note.
"I'ma fuck the pain away, and I know I'll be okay" Here, Tesfaye sounds out his last clarion call to Hadid, Gomez, and whoever may be interested: No matter what happened in the past, he's definitely down for not just breakup, but also casual sex. And what better way to get the word out about that than proclaiming it on a highly hyped EP?
Remembering 2017's Most Devastating Celebrity Breakups
After ringing in 2017 together on New Year's Eve last year, it seems Nina Dobrev and Glen Powell will be making alternative plans come midnight for 2018, as the pair is rumored to have split after just under a year of dating.

Jason Merritt
Despite weathering the storm of their controversial film mother!, Jennifer Lawrence and Darren Aronofsky split after a year of dating following the film's release.

James Devaney/Getty Images
After being engaged for nearly a decade, Jennifer Hudson called it quits with David Otunga in November, as well as receiving a protective order of their 8-year-old son that they share.

Jim Spellman
After ten months of dating—and one public outing to the Met Gala—Selena Gomez and The Weeknd called it quits in October, just a few days after Gomez was spotted having breakfast with her ex-boyfriend Justin Bieber.

Karwai Tang/Getty Images
Heidi Klum started dating Vito Schnabel, an art dealer 13 years her junior, two years after she separated from Seal, but after putting in plenty of beach time, the pair decided to call it quits this year.

Victor Boyko/Getty Images
After nearly a decade together, it was reported that Rachel Bilson and Hayden Christensen had split in September 2017.

Michael Buckner
Together since 2004 and married in 2009, Fergie and Josh Duhamel announced they would be splitting in September.

JB Lacroix
Anna Faris and Chris Pratt split during the summer after 8 years together.

Rune Hellestad – Corbis
Scarlett Johansson began dating Romain Dauriac in 2012, and the pair married in 2014 before splitting in January.

Getty
Alexander Skarsgard and Alexa Chung were first seen together in 2015, and split earlier this summer.

Getty
Olivia Munn dated NFL player Aaron Rodgers for nearly three years, before breaking up in late spring.

Getty
Amy Schumer famously met furniture designer Ben Hanisch on an dating app; the pair dated for over a year.

Getty
Jenny Slate and Chris Evans quickly became an Internet-beloved couple when their pairing was revealed in 2016, but split after a year.

Getty
Despite an infamous paddle-board trip together, Katy Perry and Orlando Bloom split after just over a year together.

Getty
The teen set's coolest couple, Jaden Smith and Sarah Snyder, broke up after nearly two years of dating.

Getty
Jane Fonda split from longtime partner record producer Richard Perry after nine years together in January.

Getty
After nearly two decades together, Summer Phoenix and Casey Affleck separated last year, officially filing for divorce last week.

Getty
After dating for a decade, Paramore singer Hayley Williams and New Found Glory frontman Chad Gilbert married in 2016, only to file for divorce a year later.

Getty
Janet Jackson gave birth to her first child, with husband Wissam al Mana, in January; the pair filed for divorce in April.

Getty
Together for nearly 15 years, Jesse Williams split with longtime wife Aryn Drakelee-Williams in April.

Getty
Jemima Kirke married lawyer Mike Mosberg in 2009; the duo separated in January.

Getty
Supermodel Elle MacPherson split from Florida-based hotel heir Jeffrey Soffer earlier this year.

Getty
Phoebe Tonkin and Paul Wesley met on the set of The Vampire Diaries, and stayed together for nearly four years.

Getty
After a tumultuous year together, Rob Kardashian and Blac Chyna officially split this spring.

Getty
After 17 years of marriage, Ben Stiller and Christine Taylor announced their separation in May.

Getty
In January, Nicki Minaj announced on Twitter that she had split from boyfriend Meek Mill.

Getty
After nearly two decades together, basketball star Carmelo Anthony and La La Anthony broke up earlier this year.

Getty
David Schwimmer separated from British artist Zoe Buckman after a decade together.

Getty
Billie Lourd briefly dated Scream Queens co-star Taylor Lautner before calling it quits this summer.

Charley Gallay
Mariah Carey got over her called-off engagement to James Packer by briefly dating dancer Bryan Tanaka.

Getty
Related: Selena Gomez and The Weeknd: A Robust Post-Breakup Timeline