The Weeknd Just Deleted Several Pictures of Selena Gomez From His Instagram
Looks like he's making the breakup social media official.
---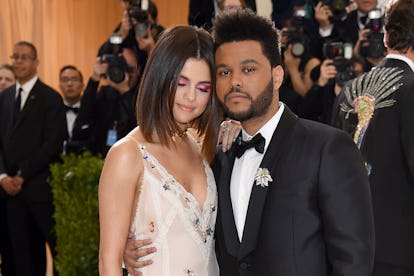 Dimitrios Kambouris/Getty Images
As Selena Gomez and Justin Bieber's rekindled relationship heats up, her ex The Weeknd is heading into the holiday season a very single man, and his Instagram now reflects it. The singer just removed multiple pictures of Gomez from his account, Cosmopolitan reported. This comes just under a month after he unfollowed Gomez's friends and family members on the social media platform. A few weeks after that, the two celebs unfollowed each other on Insta, so this purge doesn't come out of nowhere.
Meanwhile on Gomez's 'gram, there are still plenty of couple-y pictures to peruse:
So is The Weeknd's scrubbing of Gomez petty or not? On the one hand, don't pretend this relationship never happened when we all saw it with our own eyes. On the other, break-ups are hard! Maybe he wants to be able to scroll through his old photos without a painful reminder of someone he's no longer with. Or maybe the rumors are true and he's getting back together with his ex Bella Hadid. (Interestingly enough, The Weeknd never posted social media pics of Hadid, so there wasn't anything to delete when they broke up.) Perhaps this is his way of showing Hadid how much he's over Gomez? Putting the past in the past to make way for a future with…someone from his past. Oh, what a tangled web.
See all four now deleted posts from The Weeknd's account here, including their matching shoes on a private plane, Gomez lookin' fancy, the two of them on the Met Ball red carpet, and a moody, intimate picture of the former lovebirds all cuddled up. Two of the missing posts were lovingly preserved by a fan account too:
We can't wait to see what Insta-drama unfolds next.
Related: Selena Gomez and Justin Bieber Were Just Seen Kissing in Public