Francia Raísa Looks Back on Her Wild Year, Which Started By Donating a Kidney to Selena Gomez and Ended with a Starring Role on the Hit TV Series Grown-Ish
Francia Raísa talks about her busy 2017, which saw her donating a kidney to BFF Selena Gomez and scoring a hit new television show, Grown-ish.
---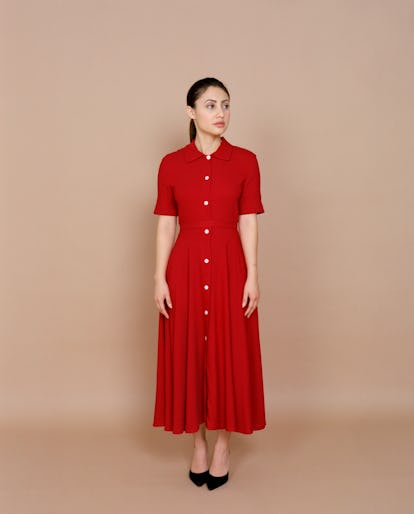 Francia Raísa has had a transformative year. After a brief hiatus from television, the 29-year-old actress now stars on the hit series Grown-ish. Oh, and you may have heard that she gave her best friend, Selena Gomez, a kidney.
The magnitude of what she did hit Raísa a few weeks ago in the unlikeliest of places: during an appearance on TRL. Being on the MTV show was "a teenage dream come true," she said. "One of my best friends was with me, and I remember two years ago sitting on her couch in Los Angeles and saying, 'What are we doing?' We were both single, we were frustrated with work, we didn't know what was next. I had a moment at TRL where the world stopped, and she was sitting there, and everything was speeding around us, and I looked at her and gave her a look that said, 'It's all happening.' It's insane."
Of course, there was a lot that lead up to that moment. Born and raised in Los Angeles, Raísa, an avid dancer, began acting in high school, after she was abruptly kicked off her school's cheerleading squad for missing a single practice. Ironically, her first major role came shortly after in Bring It On: All or Nothing, in which she played, yep, a cheerleader. "As a cheerleader! After I got kicked off the squad!" she laughed, in disbelief. "All of Destiny's Child came to set, because Solange was in the movie. I remember standing next to Beyoncé while filming and just being like, 'Hi. How are you?' I was like, 'What is my life right now? I should be a senior in high school.'"
She would remain in high school, albeit fictionally, for a bit longer, quickly scoring a series-regular role on ABC Family's The Secret Life of the American Teenager, which aired from 2008 to 2013. "Everything happened so fast," she said. "I was so confused. I got the part, and I still didn't [understand] it. When the show did as well as it did, I was like, 'What is happening?' I was a senior in high school for a month, and then next day I'm having to fill out a W2 and I don't know what that is. You don't get taught that in school."
The show was a hit, and Raísa, like lead Shailene Woodley, went from unknown up-and-comer to teen favorite overnight. It was during this period that Raísa met a then-teenage Selena Gomez, who was starring on the Disney Channel at the time. "Disney and ABC Family had the stars of their shows go to the children's hospital, and we were in the same group," Raísa recalled. "We just kind of started talking. At the time I had a boyfriend, and she did, too—I think she was dating Nick [Jonas]—and we were like, 'Oh my God, we're so cute.' And then we broke up with them at the same time. But we just kept running into each other after that and talking about boys. One day she called me and was like, 'Hey, I don't have any friends. Why don't we ever hang out?' Then we've just been inseparable."
After nearly a decade of friendship, Raísa moved in with Gomez, who was living in a temporary accommodation. "She said, 'We can be homeless together,'" Raísa laughed. While cohabiting, Gomez's lupus began to take a turn for the worse. "She went to go get tests, and she came home one day and she was serious," Raísa said. "We all have our moments, so I just let her do her thing, I didn't ask questions. She was asking me about my day and she grabbed a water bottle out of the fridge and tried to open it and couldn't. Then she threw it on the floor, and she fell to the floor and started crying. I was like, 'What is wrong with you?' She said, 'I need a new kidney. I don't know what I'm going to do, the waitlist is seven to 10 years.' And it just came out of me, and I said, 'I'll get tested.' I called her assistant behind her back to get the information, and that's how the process started."
It turned out Raísa was a match, and last summer she underwent the procedure to give Gomez a kidney transplant—a three-hour surgery for each. "Recovery was hard," Raísa shared. "I didn't want to eat, I didn't want to drink anything. Selena did have a complication, too. A few hours after our surgery, I woke up and had a text from her that said, 'I'm really scared.' My kidney was very active, and when it turned I broke an artery. They had to take her into emergency surgery and get a vein from her leg and build a new artery to keep my kidney in place. She could have died."
Gomez and Raísa kept the news of the surgery under wraps for weeks, only telling close friends and family, before eventually appearing together on the Today show to share the story. "We didn't want to tell anybody because recovery was very hard for us, and we went through a depression at the time," Raísa said. "We kind of just wanted to be normal and not have that attention on us. I really left it up to her. I've never had anything personal come out about me before. I've dated very famous people, and no one knows because I'm very private. I was like, 'Did you have to be famous?'"
During this time, Raísa's professional life was also undergoing a major change, as the news of Grown-ish, then an unknown spinoff about Yara Shahidi's character from Black-ish, first came into her life. "It was my very first audition after surgery," she said. "I didn't tell them. I walked in and was in so much pain. This is two weeks after surgery. I couldn't open the door."
Despite the pain, Raísa scored the part as Shahidi's college roommate, after testing for the role on her 29th birthday. The rest of the cast are closer in age to the college freshmen they are portraying, but Raísa doesn't mind. In fact, they are learning from each other. "Yara's generation is so smart. I learn from her," she explained. "I'm like, 'I wasn't talking about this stuff when I was your age. I was worried about whether Dylan was going to pick Kelly or Breda.' The other day she was talking about Iraq on The View. Then there are times when we're filming scenes where we are supposed to be drinking alcohol, but it's actually water and they call cut and say, 'Yara, you have to make a face because it doesn't taste good.' That's when I'm like, 'Okay, pretend that you're drinking rubbing alcohol. That's the face.' That's when my age shows."
This summer, Raísa will turn 30, and she already has big plans for the future. First up: producing. She has been encouraged by women like the actress Eva Longoria and Mandy Teefey, Gomez's mom, who helped to produce Netflix's 13 Reasons Why. "I thought about [producing] before, but I didn't think I could do it," Raísa said. "[But] having someone like Eva Longoria look me in the eye and say, 'Yes, you can. Stop making excuses.'… I want a producer's credit. I want to see 'Produced by Francia Raísa.'"
As she's actively working on that, with a pitch deck in the works, she's also plenty happy to take a few minutes to breathe after her whirlwind year. "In December of 2016, I remember God being like, 'I need you to give up certain things,'" she recalled. "I used to always be told I get in my own way. Starting literally January first, when I put my house on the market and decided to give up my furniture and decided to give up friendships and surrendered everything. Even to the point of a kidney.
"2018 I am just enjoying," Raísa added. "The show is a hit. My health is good. I have a new home, I have an amazing new boyfriend that I met on set. I went back to dance class for the first time last week. Now I'm more motivated and inspired than ever."
Related: Lucy Hale Is Very Excited (and a Little Frightened) to Return to TV with Life Sentence