Aly & AJ Still Have Plenty of Nostalgia For the 2000s, But Are Ready for the World to Hear Their New Sound
The sisters opened up over a glass of champagne about their recent appearances at New York Fashion Week and on TRL.
---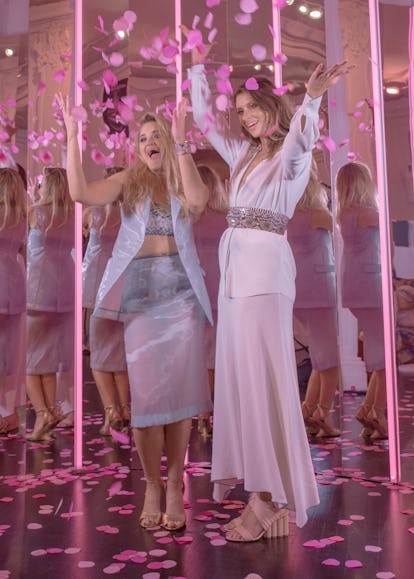 EmmaCraft
Hearing that Aly & AJ performed on TRL may trigger memories of the 2000s. And that's because the sisters, whose real names are Alyson and Amanda Michalka, were a regular presence on the MTV series in the aughts.
In the years since they've both landed roles on hit television shows (Aly is on The CW's I, Zombie and AJ appears on ABC's The Goldbergs); have appeared in numerous films, and Aly has married. But the duo were happy to return to TRL's New York studios for a performance on Tuesday afternoon. "We hadn't been back in like 12 years, when the hosts were Damien Fahey and Vanessa Lachey, who was Vanessa Minnillo then," said Aly while sitting in her hotel room after the show. "We started coming to TRL when we were 16 and 14, and I think they liked that we were outgoing and they were two of us. We did a run where we co-hosted and met an array of artists that came in the studio–Serena Williams, Alicia Keys, Nicole Sherzinger, Ryan Sheckler, Fall Out Boy…I want to say Chingy…It was cool."
But, as anyone who has tuned into the recent reboot knows, even the most nostalgic things change, too. "We were talking with one of the co-hosts and were like, 'Do you guys ever do countdowns?'…They talk about topics and what's trending on Twitter. They'll say, 'This video dropped today,' but they aren't showing the video," said Aly.
Actually playing music videos isn't the only thing that has changed. "They don't have the photobooth anymore. It's just a black room with an actual photographer in there. And they didn't have the Captain Crunch chicken, which was this thing they had catered every time. It's a battered chicken that had Captain Crunch, but it didn't taste like Captain Crunch, it was just really sweet. It was this crispy, fried chicken thing. Anyways…"
In the first 24 hours since arriving in New York City from Los Angeles, where they are based, Aly and AJ had done more than just appear on TRL. Their New York City adventure included two photoshoots, a soundcheck, and a fitting. And all that was gearing up to the main event: On Tuesday night, the sisters performed at Salvatore Ferragamo's big New York Fashion Week party, held in celebration of the brand's new fragrance, Amo Ferragamo, at Elizabeth Taylor's former townhouse in Manhattan.
"It's unreal. It's mesmerizing," said Aly of the space, which would later be filled wall-to-wall withIt-girls including Suki Waterhouse, Virginia Gardner, Georgia Fowler, and Delilah Belle Hamlin, as well as her former Phil of the Future co-star Ricky Ullman. "You're going to die when you see the flower arrangements."
The party also marked the first time this year that the duo would be performing their new EP, Ten Years, which was released in November. "In a weird way, I've never felt more comfortable playing songs live," said AJ. "Our old sound was great, but something about the connection we have with this new songs feels so fresh. Even though we've always written what we put out, these songs feel 1,000 percent like us. And for the first time, I feel like the production went that way as well. I truly love these songs."
The EP debuts a new sound for the former Disney stars; a sultry, electro-esque pop that manages to elude any one genre. And it makes sense—the title refers to the amount of time it's been since their last musical release.
But first, it was time for hair, makeup, and a sip of champagne. "I will say that alcohol is not good for your voice before singing, but we're going to have a sip," said AJ, after masterfully opening a bottle. "And you know what, we're going to add a strawberry!" After a single sip (yes, they were serious about that), the sisters did a final check in the mirror, drank some throat-coating tea, and stepped out of their room.
"I get nervous, but good nerves," noted Aly, while slipping into elevator. AJ agreed. "If you get zero nerves, then you don't care."
But here's where that decade-plus of experience helps out. Upon taking the stage at 8 p.m., neither sister showed even a slight tinge of nerves. The two commanded the stage, in front of a back drop of baby's breath, and clad in two eye-catching ensembles; for Aly, a white knit top and skirt, cinched at the waist with an over-sized snakeskin belt, for AJ, a sheer blue vest and matching skirt—both Ferragamo, of course. The duo played through their entire four-song EP, and though the crowd may have been less familiar with the tracks than, say, TRL-favorite "Potential Breakup Song," the reaction was still a lively one, with Waterhouse leading the dance floor as she live-streamed the entire thing.
The energy was not lost on the sisters. "Thank you for making our dreams come true," said AJ. "Truly."
A Night Out With Aly & AJ During New York Fashion Week
Getting ready with Aly & AJ before the Amo Ferragamo party in New York City on Wednesday, February 7th. Photo by Emma Craft for W Magazine.

EmmaCraft
Getting ready with Aly & AJ before the Amo Ferragamo party in New York City on Wednesday, February 7th. Photo by Emma Craft for W Magazine.

EmmaCraft
Getting ready with Aly & AJ before the Amo Ferragamo party in New York City on Wednesday, February 7th. Photo by Emma Craft for W Magazine.

EmmaCraft
Getting ready with Aly & AJ before the Amo Ferragamo party in New York City on Wednesday, February 7th. Photo by Emma Craft for W Magazine.

EmmaCraft
Getting ready with Aly & AJ before the Amo Ferragamo party in New York City on Wednesday, February 7th. Photo by Emma Craft for W Magazine.

EmmaCraft
Getting ready with Aly & AJ before the Amo Ferragamo party in New York City on Wednesday, February 7th. Photo by Emma Craft for W Magazine.

EmmaCraft
Getting ready with Aly & AJ before the Amo Ferragamo party in New York City on Wednesday, February 7th. Photo by Emma Craft for W Magazine.

EmmaCraft
Getting ready with Aly & AJ before the Amo Ferragamo party in New York City on Wednesday, February 7th. Photo by Emma Craft for W Magazine.

EmmaCraft
Getting ready with Aly & AJ before the Amo Ferragamo party in New York City on Wednesday, February 7th. Photo by Emma Craft for W Magazine.

EmmaCraft
Getting ready with Aly & AJ before the Amo Ferragamo party in New York City on Wednesday, February 7th. Photo by Emma Craft for W Magazine.

EmmaCraft
Aly & AJ performing at the Amo Ferragamo party in New York City on Wednesday, February 7th. Photo by Emma Craft for W Magazine.

EmmaCraft
Aly & AJ at the Amo Ferragamo party in New York City on Wednesday, February 7th. Photo by Emma Craft for W Magazine.

EmmaCraft
Aly & AJ at the Amo Ferragamo party in New York City on Wednesday, February 7th. Photo by Emma Craft for W Magazine.

EmmaCraft