Selena Gomez Inspired a "Beautiful" Album by the Weeknd, but It Will Never Be Released
But now it will "never" be released.
---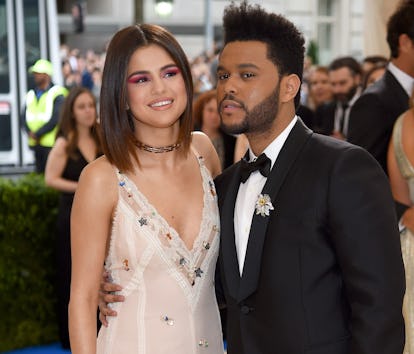 Dimitrios Kambouris/Getty Images
Ever since his 2010 mixtape House of Ballons, ennui has been the Weeknd's signature. That is, except for when he was dating Selena Gomez. During the pair's 10-month relationship, the alt-R&B artist born Abel Tesfaye actually made a love album.
Though he released a new EP last month titled My Dear Melancholy with songs like "Wasted Times" and "Hurt You," Tesfaye originally had a different release queued up. "Prior to Melancholy, I had a whole album written, done," he told Time in his first interview since November 2016. "Which wasn't melancholy at all because it was a different time in my life."
Instead, the lost album was a more positive take on relationships. "It was very upbeat—it was beautiful," as he described it. After the pair's October breakup, though, Tesfaye decided to "never" release it. "I don't want to perform something that I don't feel," he explained.
That's about as much as Tesfaye would say on the topic of his relationship with Gomez, though—or even Bella Hadid. (Tesfaye recently reunited with the latter at Cannes, where he and Hadid were photographed kissing at the Magnum x Alexander Wang party.) While My Dear Melancholy has been largely assumed to be about his breakup with Gomez, there are references to Hadid throughout, specifically the possibility of her taking him back. "I hope you know this dick is still an option," reads one line. "You were equestrian, so ride it like a champion."
In person, though, Tesfaye is less willing to unpack those lyrics. "I don't want to open that Pandora's box, talking about relationships," he said, adding of songwriting. "It's therapeutic. You want to get it out. It's like you close a chapter."
Meanwhile, Hadid has publicly commented on their split, telling Teen Vogue, "It was my first breakup—or second, next to the horse—and so public. As an outsider, you might think I handled it so well, but it's always in your heart, and you always feel it very heavily. It'll be hard for a while. Love hurts, but you have to pull through." Tell that to the Weeknd.