The Young Pope Recap, Episode 10 Finale: Exit Jude Law?
What a cliffhanger for season two of the HBO series.
---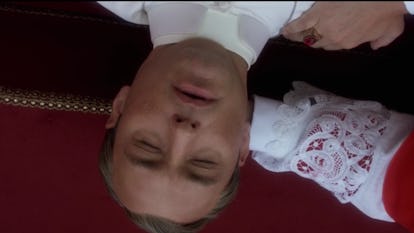 Okay, wait. Lenny's not dead, right? In the final shot of The Young Pope's first season, we see him double over in pain and clutching his chest as the cardinals swarm around him. He lays on the ground as the camera zooms up and up and up, away from Venice, out of Italy, from Europe into space, where god is living in his dilapidated duplex with a shared swimming pool. But Lenny can't be dead, can he? The show has been renewed for season two. How can we have The Young Pope without the young pope, unless there is another man, younger and popier, waiting in the wings that we don't know about.
Based on the episode, though, it did feel a little bit like Lenny was working toward putting everything in order before he shuffled off this mortal coil. And he is a pretty good candidate for a heart attack. Sure he's trim and does a lot of Pilates, but between all of that chain smoking and those Cherry Coke Zeros, he's just a cardiac arrest waiting to happen. So is he dead or not? It's sort of the ultimate cliffhanger.
And look at what he said, right before he finally doubles over: "One day I will die, and I will finally be able to embrace you all. One by one. Yes, I will. I have faith that I will." We already know that he can heal the sick and enact other miracles, but did he have a vision of his own demise? Did he see the faces of all of those people whose lives he's touched, for better or for worse, the moment before god finally called him home?
Observe how he arranged everything before that final big speech on Christmas Day in Venice. He sent Sister Mary off to Africa to take Sister Antonia's place, giving her a purpose raising children now that her two sons would be gone. He takes good care of Gutierrez, letting him know that he accepts homosexual priests and will take his advice. He makes sure that Voiello gets a loving goodbye with Sister Mary, who he was falling in love with. He even makes things right with Cardinal Ozolins, who he once sent to Alaska in a fit of pique, by bringing him back to the Vatican after he'd suffered so long.
The theme of this episode was, really, Lenny using his powers for good instead of evil. As I've pointed out before, he's not a totally different person. He's still the guy who will frighten a bunch of third graders with an awful joke about how they made Jesus cry. Now, though, when he uses his old trick of making a cardinal pick where he wants to go on the globe, he does it to Cardinal Kurtwell, exiling him to Alaska. Instead of punishing someone for displeasing him for some stupid reason, he's punishing someone for their truly hideous actions upon others.
Thematically, I loved the scene where Kurtwell thought he would get to return to New York, but he was so infirm he puts his finger (possibly through divine intervention) on Alaska instead. However, practically, I had a bit of a problem with that. The Catholic church has come under fire as an institution for its child abuse scandals for doing exactly this, taking priests accused of wrong doing and shuffling them around rather than trying to administer to their problems. Sure, Kurtwell has far fewer people to prey upon up North, but he's certainly doing to do it again. If The Young Pope is like The West Wing of religion, I'd like to see him prosecuted and his victims avenged. I'd like to see some wish fulfillment about how the Church should act rather than how it already does.
However, as Lenny himself states, the episode was about the child pope becoming a man. That's why he has that crazy dream where he sees all the popes through history sitting around a table. He's trying to use their wisdom going forward rather than narcissistically imposing his own imprint on the Church. Even if you look at how the dream was filmed, it shows Lenny's character arc. Before, his dreams center around himself, but this one focuses on everyone else.
Alas, he does not love their advice. When they tell him that he has to believe in himself, he responds with a banal platitude. "If you only knew how true a banal platitude can be," they tell him. This logic takes some very interesting leaps, like when you smoke so much weed you get sober again, and then you keep smoking and you end up the most stoned you've ever been in your whole live. That is how the truth of that statement comes to Lenny.
When he takes that advice, that's how he finally sees his parents. The plot seems a bit convoluted, but the master manipulator Voiello constructed it, so it definitely seems to have worked. He posits that Lenny's parents were a bunch of hippies, so if they had liberal politics when they got rid of him, they would be liberal now. They're also strong enough to give up a child, so he imagines that they would be strong enough to oppose that child now that he is so conservative. Lenny gives a speech in Venice and then searches the crowd with his spyglass, and when he sees two hippies not smiling he imagines those are his parents. They are displeased, but he has finally found them.
Maybe just seeing them is all that he needed before he died. Or maybe his "heart attack" was a physical manifestation of heartbreak, like the one he had when Sister Mary tearfully left the Vatican for Africa. Maybe it was sadness that took over his body and made him collapse, just like that time in his office with Esther. Either he has a physical ailment or a psychological one, but there is something certainly wrong with him.
It might also have something to do with Tonino Petula, the man who claimed he awe the Virgin Mary. We know they've been investigating his disappearance, but it hasn't come up in the last few episodes. Voiello raises the question tonight to his best friend Gerolimo, telling him that something awful happened but he can't speak about it. Did Lenny kill him, or have him killed? Based on the people who were at his house when he disappeared, there wasn't really a bruiser among them, but he wasn't a young or well man himself. But if Lenny really did have him killed, maybe the price was his own life? As we learned at the beginning of the episode, the world has chosen to focus on love instead of hate, and that is because of what Lenny has done. He has made a huge, positive impact on the Church and many lives, but he still has to pay the cost of all the misdeeds he committed to get there. We'll have to wait for season two to see how high of a price that is going to be.
The Young Pope Tries Out 11 High Fashion Runway Looks
Victor Virgile / Alex Hodor-Lee
Catwalking / Alex Hodor-Lee
Victor VIRGILE / Alex Hodor-Lee
Victor Virgile / Alex Hodor-Lee
Heron Preston / Alex Hodor-Lee
Victor Virgile / Alex Hodor-Lee
Gosha Rubchinskiy / Alex Hodor-Lee
Victor Boyko / Alex Hodor-Lee
Peter White / Alex Hodor-Lee
Kay-Paris Fernandes / Alex Hodor-Lee