Waist Not, Want Not
Meet the Thin Foodie: a curious new breed relishing these gastronomically decadent times.
---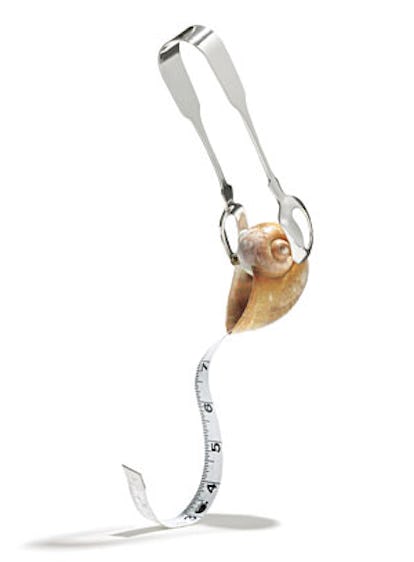 It hit me when a previously picky friend dug into an appetizer of ramps and mozzarella at Bar Blanc, a restaurant in New York's West Village: Almost everyone I know has become a full-blown foodie. My husband orders bone marrow as casually as he does chopped liver. Another girlfriend, who could once be counted on to wolf down such pedestrian snacks as spinach-artichoke dip, now indulges with a few slices of pork belly—a dish that is becoming as ubiquitous on Manhattan menus as the once exotic tuna tartare. Even I, who subsisted on grilled cheese and buttered noodles for the first 16 years of my life, have started making my own chicken stock and frequenting the Union Square Greenmarket.
But all these culinary revelations are not without caloric consequence. For every pound of pasta that's fatto in casa, a girl's skinny jeans go up one size. Thirty bowlfuls later, those jeans aren't so skinny anymore. There seem to be some women, however, with both a yen for offal and an ability to wear Hervé Léger bandage dresses. They are what I like to call the Thin Foodies—those who, against all odds, can have their sweetbreads and eat them too.
Gwyneth Paltrow.
Gwyneth Paltrow embodies the type. In September she appeared on Oprah to discuss driving and eating her way through Spain with Mario Batali. "I eat everything," she gloated, her macrobiotic days long gone. "I eat wild birds…. I eat cheese…. I'll immediately gain five pounds just by thinking about cutting out dessert." Before dismissing her as too genetically blessed to count, Paltrow admitted that her indestructible appetite is countered by the two-hour-a-day, six-day-a-week workouts she does with her "pint sized miracle," trainer Tracy Anderson. "I just cannot diet," she told Winfrey.
Neither can food writer Melissa Clark. On the afternoon we meet, I notice that Clark, despite being eight and a half months pregnant, has the sinewy arms of a teenager and a size-two frame. "I care too much about food [to follow a diet]," says Clark, who has written cookbooks with David Bouley and Daniel Boulud and spends her days testing recipes for Bon Appétit and The New York Times. She even cowrote a personal bible of sorts, The Skinny: How to Fit Into Your Little Black Dress Forever. Her eating philosophy breaks so many tried-and-true dieting rules that I wouldn't believe a word of it if she didn't claim that she's stayed within the same four-pound weight range for the past decade. While eating out, Clark enjoys bread ("Only homemade bread, with homemade butter and fleur de sel") and gets salad with the dressing ("You'll eat much less if you just let them toss it in the kitchen"); she advises ordering what calls out to you the most, whether it's osso buco or macaroni and cheese, as long as it's accompanied by a generous side of vegetables. The trick, she says, is learning to recognize when you're "just full enough" and then putting down the fork for good. "You don't actually get full in the moment," she explains. "You get full 10 minutes later, and you can do a lot of damage in those 10 minutes." Most shocking of all, though, is that she recommends getting doggie bags from even the finest of dining rooms. "I'll take home food from Daniel; I'll take home food from Alain Ducasse," she says without embarrassment. "And in fancy restaurants also—a lot of people don't know this—you can take the petits fours home."
A box of chocolates and mini éclairs in the fridge may be too tempting for some, but for Clark and her cohorts, it's a far better indulgence than a sleeve of stale Chips Ahoy. "I will not put anything in my mouth that I do not absolutely love," says svelte restaurateur Donatella Arpaia, who co-owns popular New York spots Mia Dona, Anthos and Kefi. She is strict about eating three meals a day and sticking to foods she grew up with, including pasta. "It was a Mediterranean diet of whole grains, vegetables, fresh fruits and olive oil," she says. "I don't think I had butter until college." To keep her weight on track, Arpaia adheres to two Thin Foodie maxims: She typically orders two appetizers or one entrée when eating out, and she steps on the scale daily. She also does a vegetable- and fruit-juice cleanse every season to "get me off any addictions I might be getting to sugar or carbs."
Although a number of foodies would rather eat their calories than imbibe them, drinking is an often inescapable part of the fine dining experience. For some, it's also a professional obligation. David Drucker, general manager of Empire Merchants, his family's wine and spirits distribution business (brands include Grey Goose, Cristal and Robert Mondavi), paces himself during working dinners with a one-to-one ratio in mind: For every cocktail or glass of wine, he has one glass of water.
Some Thin Foodies counter a barrage of restaurant meals and parties with a "back to basics" approach when eating at home. Kristina O'Neal, a principal at design firm AvroKO, is responsible for the look of Manhattan restaurants Quality Meats, the Stanton Social and Double Crown. Her job requires her to check out the competition on an almost nightly basis, so she offsets the caloric blow of 12-course dinners with scrambled egg whites and chicken soup the next day. "If you're in tune with your body, it just tells you what to do," says the size-two O'Neal. "If I'm feeling heavy, I just go lighter with all of my food and do a lot of brothy things."
Those who are not always at one with their inner nutritionist know when to call for reinforcements. Evelyn H. Lauder, Estée Lauder's senior corporate vice president and author of the cookbook In Great Taste: Fresh, Simple Recipes for Eating and Living Well, adores dark chocolate soufflé, so much so that she is powerless in its presence. "I take one bite and grab the waiter," she confesses. "If I were left to my own devices, I would put the plate up to my face and lick it off." Fashion designer Isaac Mizrahi, a gourmet cook and admitted Weight Watchers devotee, also loves to indulge. So he flip-flops between his own baked ziti and tarte tatin and a more strict eating plan. "I'm on fish and salad, fish and salad, fish and salad," he says. "I'm not eating duck confit every night, which you know I could."
Not counting anything out, though, may just be the secret of the Thin Foodie's success. "This new Thin Foodie person is about the vast enjoyment of food and becoming very flexible," says celebrity nutritionist Oz Garcia, who adds that variety makes the way of life both exciting and whole. "Many urges and cravings people have show up in the absence of choice. Someone who's got a working relationship with food has a sense they can be more relaxed with it, hence they eat a lot less."
But no matter how balanced your choices are, eating out means less control and more calories. To counteract it all, nearly everyone I spoke with credited a steady workout regimen with keeping them trim. Padma Lakshmi, the much drooled-over host of Top Chef, says that she gains 10 to 15 pounds over the course of filming each season. "I'm a glutton," she admits. "Anything fried is my weakness. When I'm doing the show, I just try to get in the gym and do cardio, cardio, cardio."
After all, refusing the work of a talented chef is not an option—especially for any self-professed epicure. When you worship at the altar of Thomas Keller, it's downright sacrilegious to ask for his salmon cornet without crème fraîche. "I want my customers to be foodies because then they're not going to mess up the menu," says Arpaia. Like Garcia, she sees an adventurous attitude as beneficial to the diner—and her waistline. "When you respect food, you don't abuse it."
Paltrow: Vittoria Zunino Celotto/wireimage.