This 30-Second Scene from Fences Explains Why Viola Davis is Already an Oscar Frontrunner
The actress' best scene from Denzel Washington's adaptation of the August Wilson play is already online, and shows why she's the leading canddiate for the Best Supporting Actress Oscar.
---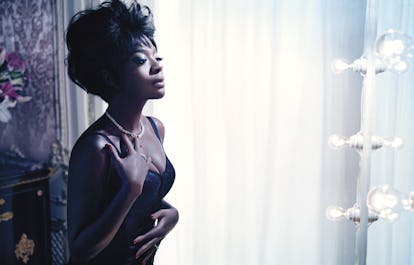 Viola Davis, "Best Performances." Photography by Mario Sorrenti, styled by Edward Enninful; W magazine February 2012.
Viola Davis already picked up a Tony award for Best Actress in a play for her performance in the Broadway production of Fences, and, by all accounts, she's a frontrunner to nab the supporting actress Academy Award for her performance in the same role in Denzel Washington's film adaptation.
The buzz all seems to boil down to one pivotal scene that Davis plays perfectly.
In the film, Davis plays Rose, the long-suffering wife of a garbage truck driver played by Washington, who is bitter he never got his chance to thrive as a major league baseball star despite his youthful talent. Their marriage falls into a pattern of verbal abuse until one day Rose snaps and speaks up for herself.
With snot dripping down her nose and emotion barely contained, Davis delivers an impassioned monologue.
"Don't you think I ever wanted other things?" the character asks. "Don't you think I had dreams and hopes? What about my life? What about me?"
Thanks to the AV Club, the actual scene is already online. Of course, there's more to both the scene and Davis's dialogue in the film, but the 30-second clip pretty much explains why she's such an Oscar favorite.
"You can't go there if you haven't been there. There's no path to that," Davis' co-star Stephen McKinley Henderson told The New Yorker's John Lahr in a lengthy profile in newsstands now.
Though Washington has received scores of praise for both his performance and for his direction of the film (he's likely be nominated for both), there's a reason why Davis's performance seems to resonate with critics.
Catherine Shoard over at The Guardian wrote the breakdown scene gives Davis "a chance to unleash something close to magical anger, underpinned by a terrible grief." Cutting to the chase, Shoard's review was titled in part "Viola Davis set to convert Tonys to Oscars." And in The Village Voice, April Wolfe writes, "Here, as the years pass, Troy says dumber and more hurtful things to Rose until she finally breaks and lashes out, tears and snot flowing freely down her face — Davis at that moment becomes the people's champion," writes . "And because, as the film nears its end, Washington chooses to focus his camera so attentively on Rose, she slowly becomes the central figure in this Fences, not Troy. There's no bitter laughter that will endear us to him this time, just a raging fire burning in Rose, siphoning all the oxygen for her flame."
While it's pretty clear even from those thirty seconds that Davis delivers something special, the full weight of the scene can't be appreciated without seeing it in context of the fuller film. Fences debuts in theaters on Christmas Day.