This Is "Fifty Shades Darker" Star Bella Heathcote — She's Really, Really Excited to Be Here
The Fifty Shades and "The Man in the High Castle" actress is ready to be your new screen favorite.
---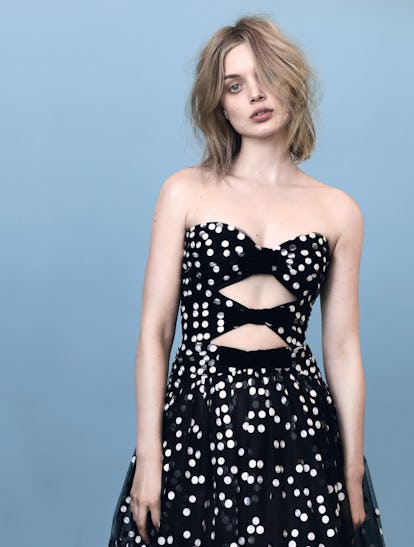 Photograph by Mark Segal, Styled by Simon Robins; Hair by Maranda for KErastase at Streeters; Makeup by Melanie Inglessis for Chanel at Forward Artists; digital technician: Chad Brooks; photography assistants: Justin Ruhl, Sherman Lee; fashion assistant: Luca John Kingston
Bella Heathcote has lived in Los Angeles for six years, and the actress is still completely enamored of the city. "There's a great juxtaposition between the beautiful hikes and the terrible architecture," muses the 29-year-old Melbourne, Australia native. "Or maybe it's because when I came here, I could start my life over."
Heathcote moved to L.A. in 2010, after winning the Australians in Film Heath Ledger Scholarship, which included a $10,000 stipend and a plane ticket. The highlights of her CV at the time was a role in the long-running ­Australian TV show "Neighbours" — "a rite of passage," she says — and one scene with Joel Edgerton in the 2008 film Acolytes.
But just being in L.A. was exciting for the Heathcote. "Even though I wasn't working as an actress, there were meetings! And auditions!" she says. "Back in Australia, I'd get an audition a month, and the rest of the time I'd be working at a law firm."
Slowly but surely, she began to gain traction in Hollywood. Tim Burton cast her in his 2012 film adaptation of the gothic TV soap "Dark Shadows"; this year alone, she's played Jane Bennet in Pride and Prejudice and ­Zombies, had a supporting role in Nicolas Winding Refn's The Neon Demon, and appears as Nicole Becker in the Amazon series "The Man in the High Castle," which returns for its second season December 16 .
"It was a character that could be so open to interpretation," she says of the role in the alternate historical drama, which is set in a world where the Axis powers win World War II. "She's a filmmaker, kind of a Leni Riefenstahl type, but at the same time she's a second generation Nazi. I don't think she really gives a shit about the Nazi ideals; she's a society girl, she's a bit bored, and she's been brought up in this environment where everyone is from the same mold. She just likes to stir up a bit of trouble."
But it's Fifty Shades Darker, the follow-up to last year's Fifty Shades of Grey, that is sure to bring Heathcote wider recognition — and a nail-biting moment or two. In it, she plays the mentally unstable ex-lover of Christian Grey, someone who is "just completely heartbroken," she says. "I think anyone who's been through any form of grief can relate."
It's clearly not the character that she shies from diving into, but the intense fandom behind the books. "There is such a strong fan base and you don't want to kind of disappoint anyone or upset anyone," she says. "That was kind of terrifying."
Still, the early feedback has been positive. "There was a woman at the airport yesterday, at immigration, who really liked the first one," Heathcote says, laughing.
And as for how her critical take on the E.L. James books that started it all? "I was just glad that everyone was reading books again," she says. "Anything that gets people reading is fine by me."
Watch W's most popular videos here: