How Thom Browne Hairstylist Jimmy Paul Survives Fashion Week
Jimmy Paul created fantastical Valley of the Dolls-style bouffants for Thom Browne's Spring 2017 show. He shares his must-have products, and fashion week survival tactics, here.
---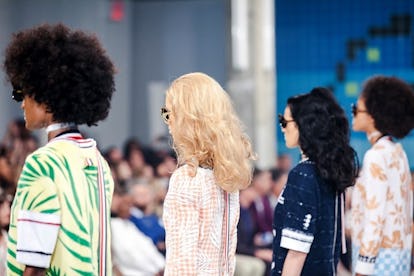 At Thom Browne's Spring 2017 show, a new wave of individualism took a fantastical turn thanks to hairstylist Jimmy Paul. His prim Valley of the Dolls-style bouffants came together with backcombing, curling irons, and the occasional set of extensions. But the 60s bend didn't come from Browne, explained Paul, "He never talks in decades, I do." The girls with shaved heads and afros were left as they were to celebrate their texture, because "It's not an army," said Paul. Hairstyles aside, Jimmy discusses his fashion week uniform, product essentials, and what makes the backstage experience so special, here.
What's your fashion week backstage uniform? Whose comfy shoes do you wear? My backstage uniform is the same as my everyday work uniform: pressed, dark colored Dickies style work pants and a short sleeve dress shirt, usually gray or something dark – usually by Supreme. If the weather is right, I wear a sport jacket, but promptly take it off. Shoes lately have been The Postman by Red Wings rubber soled black oxfords. Someone once called it "garbage man chic," which I thought was funny.
Are there one or two products that you always have with you? Bumble and bumble Prep is my number one. It's a spray that has conditioning properties but is weightless. It wets the hair and dries faster then water. Backstage, time is crucial. Prep is a great detangler. Any way to treat the models well is a plus. Prep has the ability to break down other products. If models come with gel and spray from another show, I just douse their hair with Prep, comb it through, and start over. Bumble and bumble Curly Mousse is a new product and new favorite. Some products make a dry finish. This one can add volume and keep the hair supple on may different textures. I use it as a styling aid on many different styles, not just curly. It's a stand out for the natural look. Texture is a new catch word that I hear constantly, but it's one of those funny words that doesn't have a black and white meaning. Curly Mousse is my go to for that request.
How do you mentally prepare when you first see the clothes? I go on instinct. I try and take in everything around me during my meetings with designers. Seeing the clothes is crucial. Taking in what everyone has to say is also crucial.
Does each designer work similarly or are they vastly different? Most designers work in a similar way. They are used to teamwork, so they know how to communicate what they want.
What's your worst backstage horror story? One time, years ago, in Paris, three girls came right before the show was about to start with hair caked with glitter and gel. Glitter is tough to get out in the best of times. The only sink to wash there hair was tiny with no hot water, the girls were crying. I panicked. Hate tears! With the help of my team we got through it.
Favorite part of the backstage fashion show process? The teamwork, and to see my team exhilarated with their work. It's like crossing the finish line of a marathon.
Favorite person to see backstage? My ol' buddy Jane Larkworthy [W's executive beauty director]. It's a sure fire sign that I am at the right, relevant show. Bill Cunningham was like that as well.
Aside from probing editors, most annoying peeve backstage? I'm not a complainer. I know what a privileged life I have. I will say that adequate room and ventilation is a joy that I don't take for granted.
Music or no music? Preferred music? Who gets to choose it? I don't bring music but I do find that classic disco soothes my savage beast.
Go-to snack or drink? Green tea latte with coconut milk from Starbucks is my number one. Gummy bears are nice, too.
How do you stay healthy during this crazy time? I am very health conscious, so I just do my regular, three squares and eight hours or as close to that as I can get. I surround myself with love, that's the best.
See more backstage photos from Thom Browne's show here:
Behind the Scenes of Thom Browne Spring 2017
Watch W's most popular videos here: