Tiffany Haddish Explains Her 57,000-Sequin Met Gala Pantsuit, and What Really Happens Inside
Tiffany Haddish spoke to W about wearing a sparkling Michael Kors pantsuit to the 2019 Met Gala, and which snacks she plans to sneak inside this year.
---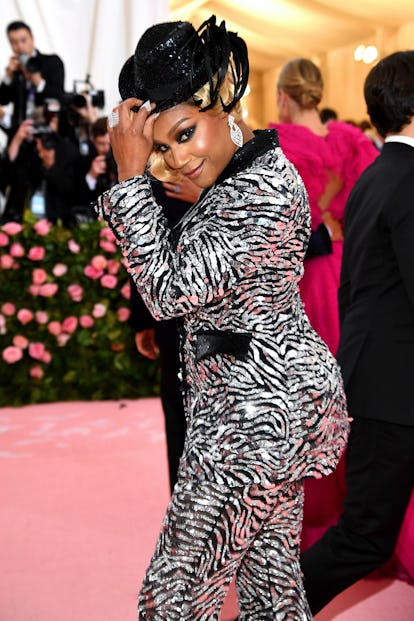 Dimitrios Kambouris/Getty Images
Tiffany Haddish knows how to have a good time, and the 2019 Met Gala is no exception. At her first Met Gala red carpet last year, the comedian stunned in a black-and-white Brandon Maxwell pantsuit, with a long white train following behind her every step. This year, however, she's upping the ante to the tune of 57,000 sequins. In accordance with the Costume Institute's exhibition, "Camp: Notes on Fashion," Haddish arrived in a glossy Michael Kors flared-leg pantsuit, and a matching hat designed by Stephen Jones. Before the red carpet, Kors provided W with a sketch of the look that reveals that, with 17,000 sequins stitched onto the jacket and 40,000 attached to the pants, Haddish's look recalls getups worn by Elton John or Liberace. Thankfully, Haddish has the vibrant personality to match. Before the big night, Haddish spoke to W about what Michael Kors taught her about camp, her favorite Met Gala memories, and which snacks she plans to sneak inside this year.
How are you feeling about your second Met Gala?
I'm pretty excited. Like, on a scale of one to 10, I would give it an eight.
What are you doing to prepare?
I've been taking laxatives all day to get my stomach flat, so we'll see what happens. [Laughs.]
What do you think will be different this year?
I hope the food is different. It can't be, though, right?
What was the food like last year?
Man, I was hungry as hell. Last year, I was so hungry. This year, I got me a bigger bag. Gonna put some fried chicken in it. Don't tell nobody till tomorrow. [Laughs.] I've already called a few people that I know are going like, 'So, I'm going to bring the chicken. You bring the hot sauce, okay?'
Who do you know who's going?
I know Chris Rock is going. Lewis Hamilton, Law Roach, Anna Wintour is gonna be there! Michael Kors. It should be fun.
Which was more daunting or difficult to dress for? Last year's "Heavenly Bodies: Fashion and the Catholic Imagination" or this year's "Camp: Notes on Fashion"?
I think all of them are difficult to dress for when you have to wear those heels. Oh my gosh. My knees ain't built for it. But this year my outfit is really fun and something that I would wear on stage anyway, so I would think that this year is easier. Because last year you didn't want to offend anybody, you know?
How would you describe your look for this year?
I'm wearing some sequins. It's a two-piece pantsuit. And let's just say if there are any lions in the house, they're gonna be trying to hunt me down. Oooh!
You wore pants last year, too. Which look is more comfortable? Last year or this year?
This year, only because last year I had pants but I had that train. People were stepping on it. It was making me really upset. This year, I don't have a train. Should be fine.
Who stepped on your train?
Girl! It was too many people stepping on my train. Stop trying to hold me back. I won't say names, 'cause they can't stop me.
This year's theme is camp, which can mean different things to different people. What is your definition of camp?
Now, when I first heard it, I was like, This is great, I'm gonna wear walking shorts and a tank top with some cute boots. That's what I first thought. Then Michael Kors was like, "No, Tiffany. Camp is fun, it's flirty, it's outrageous, it's gorgeous, it's dynamic, it's hilarious." And I was like, "So, walking shorts and a T-shirt and some cute boots?" [Laughs.] I'm learning. Because for me, camp is like survival. When I think "camping," I think, survive, homeless, sleeping in the woods. That's what I'm thinking. But it's not like that. Apparently.
Did Michael Kors give you any examples of camp icons?
Yeah, he was saying, like, the things Cher would wear. He mentioned Patti LaBelle. I was like, "Oh, okay, just something a little over-the-top. Got it."
Are you channeling any camp icons for your red-carpet reveal?
I'm channeling Tiffnicity. My inner camper.
Besides yourself, do you think anyone else will do the theme justice?
Yeah, I'm sure there are gonna be a lot of people who are gonna be amazing.
Is there anyone in particular that you're excited to hang out with inside?
Trevor Noah. Michael B. Jordan. The same dudes I hung out with last year. I don't know if Chadwick [Boseman] is gonna be there. It will be cool if Chadwick is there because he's funny. I don't know if Issa Rae is gonna be there, but she's hilarious. She's fun. If Mary J. is there, I know I'm gonna have a good time. I have a good time no matter where I go. It could be a bunch of all business lawyers there, I'm gonna have a good time. It doesn't matter.
What's your favorite Met Gala memory from last year?
Everybody got together, jumping around in the corner taking pictures and making noise. That was fun. Oh, you know what! Jonah Hill was there and he was telling me that I need to stop thinking about Leonardo DiCaprio and start thinking about him. I thought that was hilarious. And when they brought the food out I was just laughing my butt off because I was like, "Okay, when the real food 'bout to come? The hors d'oeuvres were nice, but when's the real food getting here?" They were like, "That is the real food." I kept laughing because I thought it was a joke, but I guess everybody gotta eat like a model on this night. But that's why I'm bringing a big enough purse, because they calling it "camping." I'm gonna have some snacks. Otherwise I get a little attitude.
Who else from Michael Kors is going to be seated at your table?
I think Gigi Hadid. I'm not sure.
Have you met her before?
Yeah, I got her phone number.
Oh, do you guys text?
We talk occasionally. Not all the time. You know, we're both very busy women.
Well, I'm sure you're also in a lot of different group chats.
[Laughs.] Girl. Sometimes I turn on my phone, and I'm like, why are there 90 text messages? And it's mostly group stuff. Full-on group conversations.
What are you most looking forward to about tonight? Is there anything that you're really hoping happens inside or on the carpet?
I hope I meet the man of my dreams, and he sweeps my off my feet, and twirls me around and picks me up, and then burps me. [Laughs.] I don't know! Girl, I'm just excited to have a good time. You can't go into these things expecting certain things, you just gotta go ready to have a good time. She ready! I'm ready to see wonderful exhibits, and meet really cool, awesome people. I'm ready to have some fun. You know what, I have to take it back—you know what the highlight of last year was? When Madonna was performing and she finished her performance, and everybody was just looking at her. I was like, "Is anybody gonna clap? Come on! She ready!" And then everybody started clapping. Yeah. That was the highlight of last year, actually.
Are you going to any fun after-parties?
Yeah, I'm going to a lot of fun after-parties. The goal is to make it to three. I might only end up at one. Last year, I did three, and boy was my legs hurting.
Well, I hope you get to change into some comfortable shoes at this year's after-party.
Nope! Those are my hunting shoes, girl. The after-party shoes are for hunting. [Laughs.] You know I'm just playing, right? It's so funny, I'm like, I play with the girls and say, "I'm gonna talk to all the men." Then you don't talk to anybody. [Laughs.] You're like, "Please pass the salt and pepper." And they'll be like, "So did you talk to anybody?" "Oh, yeah, I told one guy to pass that salt!" [Laughs.]
Well, I won't keep you from the rest of your hair and makeup and getting ready for tonight! And I hope the food is better this year.
I hope the food is good. Oh, man, what if they got, like, pigs in a blanket? Oooh. Them models gonna be hungry. That's why I learned from last year to bring a little snack.
The Campiest Red Carpet Looks of All Time Ahead of the 2019 Met Gala
Björk's sensibilities as a whole can be better classified as "avant garde" (she's a serious artist and musician, after all), but when Björk showed up to the 73rd Academy Awards after being nominated for best song from her film *Dancer in the Dark* (though, as many would argue, snubbed in the best actress category) in a gown meant to resemble a swan, it was a moment of pure camp. The dress alone, designed by Marjan Pejoski, would have been camp just hanging on a rack, but a figure like Björk wearing it to, of all places, the Oscars—in a year that was dominated by the film *Gladiator*—truly just kicked it into another level. It also provides an important distinction in how to appreciate something from a camp point of view. Camp is not the "Oh, my God, what the hell is that weird dress she is wearing?" jokes that followed. Camp is thinking the moment was so bizarre and perfect that you can't imagine Björk wearing anything else for the moment, and regarding her as a hero all these years later for having done so.

Wally Skalij
The actual Metropolitan Museum of Art exhibit will attempt to draw comparisons to the over-the-top stylings of Louis XIV of France, aka the Sun King, but Louis himself was not quite was camp as Elton John dressing up as him for his notoriously glamorous 50th birthday party.

Dave Benett
Sure, there's something inherently camp in constructing a matching gown and tuxedo out of denim, but this could have easily been dismissed as Worst Dress list fodder at the time. And yet, Britney Spears and Justin Timberlake's 2001 American Music Awards look has only grown campier with time.

Frank Trapper
No roundup of recent camp fashion would be complete without a nod to *RuPaul's Drag Race*, a show that runs on so many levels and layers of camp that not even Susan Sontag herself could attempt to parse it. But for our money there's been no more savvy example of camp fashion (at least of the intentional kind) than Detox's look from the Season 5 finale. Not only does it succeed on the "things-being-what-they-are-not" level of camp by bringing black-and-white photography to light, but Detox also recalls a classic film noir femme fatale archetype, and, just for good measure, her suit is actually vintage Thierry Mugler.

Valerie Macon
Mamie Van Doren started her acting career in 1951, and knowingly patterned her public persona after Marilyn Monroe (along with Monroe and Jayne Mansfield, some consider Van Doren as part of a group known as the "Three M's"). Even into her eighties she has never decided to change it up, and still struts the red carpet like a '50s bombshell.

Steve W. Grayson
Elena Lenina is a Russian-born, France-based media personality whose leading contribution to world culture appears to be showing up on the Cannes Film Festival red carpet year after year in a series of outlandish gowns topped off by what can only be called "hair sculptures." This is camp.

George Pimentel
Only someone with as big a spirit, voice, and personality can pull off the big stylistic choices that Cuban singer Celia Cruz made in both her onstage wardrobe and her music.

SGranitz
Cher would actually take home the best actress trophy the year after this Oscars, but her Bob Mackie gown from 1986 remains not only her most famous Oscar dress but one of her most famous outfits of all time. Being the most memorable thing Cher has ever worn? That's inherently camp.

Bettmann
The red carpet exists so celebrities can be photographed to generate publicity for their careers, and their outfits are often chosen carefully to garner the right kind of attention. Why not just turn the whole thing on its head by wearing an outfit that actually outright promotes your upcoming project?

KMazur
Sontag references the concept of the androgyne as an example of classic camp, and though in today's time androgynous fashion's subtext is meant to convey things more serious than frivolous, it can be still be pulled off with a sense of stylish fun. While he has some notable competition, put Olly Alexander of British pop band Years & Years as one of current masters of this particular species of red carpet moment.

Karwai Tang
Meanwhile, Billy Porter has mastered a more mature and sophisticated take on the idea, and if every man attending the Met Gala on Monday didn't reach out to him for some pointers they fail to at their own risk.

Axelle/Bauer-Griffin
Phoebe Price's dress isn't camp on its own, but her whole thing here is. An actress with a short IMDb page, Price took advantage of the fact that the post-Paris Hilton Internet gave everyone full access to every picture taken on any red carpet and managed to show up on just about any red carpet that would have her (there are currently 5,333 photos of Price on Getty, more than many more well-known celebrities). The fact that she managed to play at the idea of being an in-demand VIP without technically being one made her something of an underground camp icon during the heyday of "Oh no they didn't" and "Go fug yourself."

Frazer Harrison
Lady Gaga is rightfully hosting Monday's Met Gala, but you can't talk about pop stars successfully burnishing their image with the help of outré fashion without starting with Grace Jones.

Chris Walter
Yes, it's a backwards tuxedo that hints at the androgyne and being slightly off, two tenets of camp, but what truly made this moment camp was Dion's commitment to posing in it on the red carpet backwards. It would take a few more decades for Dion to let her full fashion freak flag fly, but frankly we should have seen it coming.

Jim Smeal
The New York City nightlife icon has patterned herself after the campy icons of classic cinema, and she hits it out of the park every time.

Gisela Schober
Most celebrities' looks for Monday's Met Gala have long been chosen, but imagine for a second you're a celebrity stylist trying to make a last minute decision for your client that hints at the theme but isn't too risky. You couldn't go wrong with something like this Gucci dress that Nicole Kidman wore to the 2017 SAG awards. Parrot heads as statement shoulders is always going to be a camp.

Jon Kopaloff
…or perhaps the Moschino butterfly dress Zendaya wore.

Don Arnold
But in reality, you're either camp or your not, and sometimes it's best not to force it.

Jim Smeal
Related: How Does Tiffany Haddish Have Time to Be in Everything?