Tiffany Trump and Marla Maples Confirm That the Trumps' Hair Is Full of Secrets
In refusing to pay for their inaugural haircare, the President-elect's second wife and daughter are keeping up the family tradition of making a fuss over their coifs.
---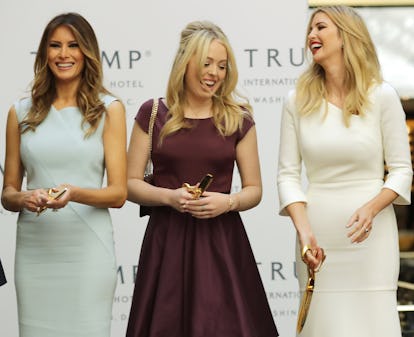 Photo by Chip Somodevilla/Getty Images
As Friday approaches and the inauguration looms ever closer, the typical fanfare involved with anointing a new president—no less than Beyoncé, John Legend, Mary J. Blige, Bruce Springsteen, and more have performed at President Barack Obama's two inaugurations—has still proven conspicuously absent for Donald Trump.
Headliners like Jennifer Holliday and the Springsteen cover band B-Street Band have dropped out from playing the ceremony's concert, with the former citing death threats, and the latter concern for upsetting the Boss. And that's just up on stage: A growing number of Democrats are also ducking out of the crowds, which are also ever-dwindling, if the Trump team's mass texts reminding that attendance is actually free of charge are any indication.
The lack of hubbub, then, makes it just a bit more dire that also missing from the festivities is a hairstylist for Trump's second wife, Marla Maples, and their daughter Tiffany Trump—at least, one they can use for the same price tag of attending the inauguration.
A connection of theirs apparently reached out to the freelance stylist Tricia Kelly to coif the pair, which then led to a conversation where Kelly had to explain the concept of her rates. After negotiations, which Kelly says saw her begrudgingly agree to keep to their $300 budget, she was then asked to forgo payment altogether in exchange for a currency that comes in social media tags: "exposure."
Unfortunately for Trump and Maples, all this is happening just before the family heads into the White House—otherwise, they could have just used Melania's "glam room," which she soon plans to install in the capital. Nicole Bryl, her longtime makeup artist, said last week that "there will absolutely be a room designated for hair, makeup, and wardrobe" in the White House—one with "the most perfect lighting scenario" at that.
That may sound a bit over the top, but it's also admittedly a necessity: It takes no less than an hour and 15 minutes' worth of "uninterrupted focus" under similar lights before Melania can emerge and go about her daily life—even though she'll stay living at Trump Tower.
At least her husband likely understands her pain: His own coif has been rumored to be, in fact, a $60,000 weave, thanks to a wildly expensive treatment only performed by a clinic that just so happens to be found on his gilded New York offices' 25th floor. They may be living apart, but it looks like the pair might not be keeping their grooming routines separate after all.
See W's most popular videos: