Tiffany Trump Was The Flower Girl for PC Peterson and Quentin Esme Brown's Las Vegas Chapel Wedding
PC Peterson and Quentin Esme Brown entered a "progressive" marriage in Las Vegas.
---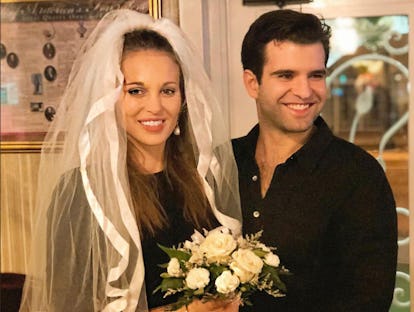 In some sense, it had all the hallmarks of the society wedding of the year. Tiffany Trump, daughter of the president of the United States, was a featured member of the bridal party. The groom was PC Peterson, a former member of Bravo's one season Gossip Girl-esque reality show NYC Prep and the grandson of Pete Peterson, the co-founder of private equity powerhouse Blackstone Group and Nixon's former Commerce Secretary. The bride was Quentin Esme Brown, daughter of the late real estate developer Harry Joe Brown Jr. and granddaughter of the late Hollywood mogul Harry Joe Brown. Offsprings of some of New York's most notable families, including Peter Brant Jr. and Alexandre Assouline, were on hand at the exclusive ceremony.
Yet, the setting was not some exclusive family compound or historic church. Rather, it was Las Vegas's A Little White Wedding Chapel. Trump, clad in a bodycon black dress, served as the flower girl, sprinkling pink petals out of a Tiffany blue gift bag. Brant served as makeshift Instagram videographer. The maid of honor wore jorts. The bride wore a black crop top with a white veil, as evidenced by Brant's Instagram video post of the ceremony.
The wedding was not first memorialized in The New York Times Vows column but rather in four slides of screenshots from the iPhone notes app posted to Instagram in which the bride announced that, indeed, the ceremony had been planned while everyone was sober earlier in the day. She added that while she and Peterson were not actually romantically involved in the traditional sense, and are indeed dating other people, that they very much planned to stay married anyway. The ceremony, she made clear, was no accident, but rather a new way of thinking about marriage.
"Yes, it was in Vegas and planned that day… but it was also planned sober over breakfast and had been a plan developing between Peter Cary and I for over a decade," Brown wrote. "He has always been my soulmate in every sense of the word and we felt mutually that Vegas was the place to finalize our commitment to partnership: a) because we were amongst close friends and b) because we love to have a little bit of a laugh."
Indeed, it appears that the group of friends were not initially in Vegas for the wedding, but rather to celebrate the birthday of socialite, designer, Trump's best friend and leader of The New York Times identified "Snap Pack" Andrew Warren. The initial group, which also included the likes of Abigail Breslin and Reya Benitez, had partied the night before at the Omnia nightclub. The sequin bomber jacket Warren wore for his own celebration, or one exactly like it, turned up at the ceremony to complete the outfit of the jorts-wearing bridesmaid.
That the wedding itself should be untraditional isn't a surprise, considering it seems the bride and groom are aware the marriage is not.
"We have one life. Free yourself!" Brown wrote under a wedding photo on Instagram. "P.S. We have never had sex. It's pure friendship."
"Peter and I are not romantically involved – in fact we are still dating others and will continue to seek love in all forms – we are just each other's hearts and wish to begin our journey towards evolution, because the more we face reality, the more we can see that there is no right or wrong," she elaborated in her Instagram note.
Brown acknowledged that many close to her may have been surprised or even hurt by her decision to enter an open marriage with her best friend, but she cast her decision as something of an evolution to progress. She also quoted abolitionist Frederick Douglas in her note. In a screenshot of a text message later posted on the bride's Instagram stories, the mother of the bride expressed her support for the union.
As for Trump, she commented "Hottness" under one of Brown's Instagram posts of the ceremony.
Related: Paris Hilton Says Kim Kardashian Will Be Invited To Her Wedding