Tiffany Trump Sat Front Row at Taoray Wang's New York Fashion Week Show
Tiffany Trump, her boyfriend, Ross Mechanic, and her mother Marla Maples attended the Taoray Wang fall 2017 show during New York Fashion Week, which had a female empowerment theme.
---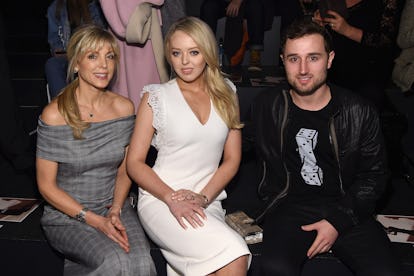 Jamie McCarthy
On Saturday afternoon at New York Fashion Week, the Secret Service stormed the runway as Tiffany Trump, her mother, Marla Maples, and her boyfriend, Ross Mechanic, (yes, that's really his name), sat front row at Taoray Wang.
This was not Tiffany Trump's first fashion week appearance, nor her first time wearing Taoray Wang. Trump first became a fan of the Chinese designer after attending her show last September. And in January, she wore an all-white Taoray Wang coat and dress to her father's Donald J. Trump's inauguration—a look that bore an awkward resemblance to Hillary Clinton's suffragette-inspired ensemble.
Last February, Trump made her runway debut at friend Andrew Warren's show along with other New York scions including Kyra Kennedy, granddaughter of Robert F. Kennedy; Gaia Matisse, great-granddaughter of Henri Matisse; Reya Benitez, daughter of Studio 54 DJ Jelly Bean Benitez; Dani Lauder, granddaughter of Estée Lauder; Billie Lourd, daughter of actress Carrie Fisher and talent agent Bryan Lourd; and last but not least, actress Abigail Breslin. This was, of course, before Trump became the president's daughter, as well as someone (most) designers in the fashion industry wouldn't go near with a 10-foot pole. But Matisse, Benitez, and Warren were still by Tiffany's side front row on Saturday.
A Trump, a Kennedy, and a Matisse Walked at Fashion Week — In the Same Show!
Reya Benitez and Gaia Matisse.

Photo by Griffin Lipson.
Andrew Warren walking the runway.

Photo by Griffin Lipson.
Andrew Warren walking the runway.

Photo by Griffin Lipson.
Andrew Warren with models.

Photo by Griffin Lipson.
Designer Wang Tao and her fans seemed unfazed by the Trump in the room, which was surprising given that Tao is originally from Shanghai, China, was schooled in Japan, and many of her customers are either based in Asia, or are Asian immigrants in New York. Needless to say, the Trumps have a bad track record with both immigrants and Asian foreign relations. In fact, just this week a video of the Japanese prime minister appearing to wipe his hand after shaking the President's went viral on the Internet.
But for both Tao and her customers, Tiffany Trump does not represent what her father represents—despite having not once denounced his actions. "I have to be honest, I feel very proud and grateful that she chose Taoray Wang for the inauguration," Tao said backstage after the show. "She is an absolutely wonderful young lady with all this openness. She's very warm and down-to-earth. She's very generous to give others encouragement. If we're only focusing on a person's qualities, I think she's a wonderful young lady."
When I asked a woman sitting next to me—who was a friend of a friend of the designer and loved to wear Wang's clothes to her finance job—if she was upset by Trump's presence, she had a similar response: "No, why should I be? She's allowed to be her own person."
Whatever your politics, the collection was an ode to the woman who wants more than what present circumstances dictate. Inspired by a contemporary Chinese drama depicting female Qing Dynasty characters who cross over from ancient times to the present day world, the clothes were a mixture of men's suiting with ladylike negligees. So, not only did a Trump sit front row cheering on a Chinese designer, but the show she watched was about female empowerment and a parade of pantsuits Clinton might have appreciated.
These Women Are About to Make History as the Organizers of the Women's March on Washington
These Women Are About to Make History as the Organizers of the Women's March on Washington