Also Known As @TildaLindstam
The Swedish model and Instagram funny girl answers our social q's.
---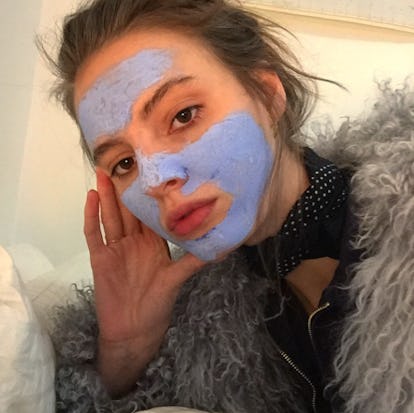 If model Tilda Lindstam didn't walk in so many shows each season and have a coveted contract with IMG, she could very likely make it as a comedian. Each week, Lindstam treats her 76,000+ Instagram followers to a comical glimpse inside her life as a model, from a standard fitting (captioned, "A stranger safety pinning my butt at work") to a close-up of her face being pulled by a makeup brush ("I love my job"). Here, the Swedish stunner shares the secret to her online persona.
Define your Instagram style in three hashtags:
cameltoe #myNYPD #unaffected
Maximum number of daily posts: I rarely post more than one a day unless I do more than one thing that day that I feel is worth sharing with people. That's very rare.
What's your secret for taking a winning selfie? Walgreens Bluetooth selfie stick.
How many selfies do you take before posting? Pass.
Your videos are legendary. What's your secret? Anything shot in slow motion always becomes better. You can literally do anything and it will look sick.
#Nofilter or filter? No filter.
Favorite editing apps: AgingBooth and Cat Effects.
What is your favorite thing to post? Myself in unflattering angles.
Insta-gram or #latergram? It's usually pretty instant.
Most geo-tagged location: The bar.
Greatest hits: Probably photos of me with sleeping strangers. I have a little series going.
Your first Instagram: Charlotte Carey eating a taco outside of a taco truck on Avenue A, 138 weeks ago.
Your secret to social media success? As long as you don't take yourself too seriously, you're good.
5 favorite accounts to follow: @passengershaming — the worst passengers on flights caught in action. @drinkmykool_aid2 — my dear friend and pun prince. @tinderarms — when your girl crops your face out of her Tinder photos but your arm is still around her. @kanyedoingthings — Kanye West doing things that normal people do. Except, it never happened. @the_cable_guy_ — meme merman
Social media pet peeve: Posting healthy food that most likely isn't even tasty.
If you weren't a model you would be a: The falconer at Medieval Times in New Jersey.
Photos: Also Known As @TildaLindstam
"I'm afraid I just blue myself." Courtesy of @TildaLinstam.
"Woke up like dis." Courtesy of @TildaLindstam.
"Me being humble enough to stop and take a photo with two fans #magnum #bluesteel #zoolander2" Courtesy of @TildaLinstam.
"Story of my life." Courtesy of @TildaLinstam.
"Sporting my top two Christmas gifts, an ABBA tshirt and a selfie stick." Courtesy of @TildaLinstam.
"A stranger safety pinning my butt at work rn." Courtesy of @TildaLinstam.
"In bed with bae." Courtesy of @TildaLinstam.
"When you roll solo to the movie theatre #independence #chillda #me #myself #i" Courtesy of @TildaLinstam.
"My and my underwear drawer that clearly says 'No sex for me please. Thank you.'" Courtesy of @TildaLinstam.
"Bby you're a ship, I'm the iceberg hitting on you #forbidden #love" Courtesy of @TildaLinstam.