Social Studies
The screen's most beguiling change agent, isn't afraid to go all the way.
---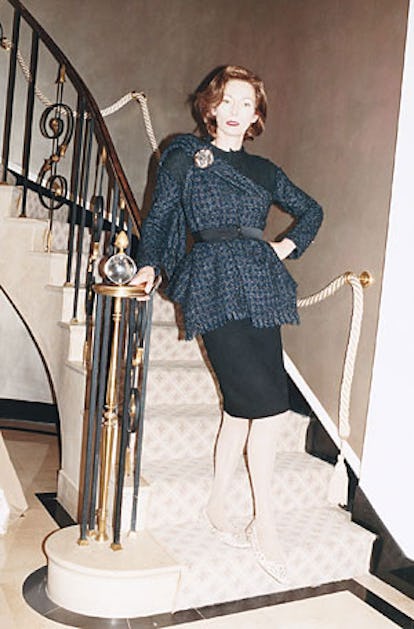 Looking one moment like a Park Avenue matron and the next like a punked-out artist, Tilda Swinton is doing what she commonly does when she alights in a city from her home in the Scottish Highlands: gallery hopping.
But on this particular weekend in New York's Chelsea, she is portraying an assortment of über New York women for photographer Juergen Teller. Inside Barbara Gladstone's gallery, wearing seven-inch stilettos and a silk miniskirt, she gets down on the floor and raises herself into a shoulder stand, jackknifing her legs so that they dangle precipitously. At Andrea Rosen, her 5-foot-11-inch frame skyrocketing another 10 inches atop platform wedges, she pokes her head between the hairy legs of one of David Altmejd's colossal sculptures of giants.
The next day, as the shoot winds down in a SoHo loft, Teller asks Swinton to play herself. "Do you want me as I am?" she asks, running her fingers through her styled red hair and across her blushed cheeks. "Because this isn't how I look." Without waiting for a reply, she walks over to the bathroom, scrubs the makeup off and dunks her head under the faucet, letting the cold water run over her face and ears until they're pink. Teller snaps away in close-up as Swinton turns toward him, her head in the sink, caring not a whit that the bright, unforgiving afternoon light is streaming through the window.
Tilda Swinton: The bare truth.
Swinton might be unique among her peers for her lack of vanity, but it is hardly the only quality that sets her apart. The reigning high priestess of the avant-garde, she's the rare star to move seamlessly between the art house and the mainstream, lending cachet to each. She's a screen chameleon whose Bowie-esque androgyny has always given her a certain exotic glamour. Ask anyone she's worked with to describe her, and they all point to her fearlessness, complexity and searching intelligence. She's the antidiva, the thinking man's movie star.
"You say 'Try it this way,' and there's no moment with Tilda—as there is with most actors—of 'Let me stop and think about how I would do that.' She just goes," says David Fincher, who directed her in The Curious Case of Benjamin Button, which opens Christmas Day. Based on the F. Scott Fitzgerald story, it stars Brad Pitt as a man who ages backward and Swinton as his first love. "She doesn't announce her presence. She just slowly steals all the gravity."
Such is her commitment to going all the way that, in The War Zone, a 1999 film, she appeared nude in all her postpartum fullness just four weeks after giving birth to her twins, Xavier and Honor, now 10, "and she wasn't on the Red Bull and cigarettes diet to get her body in shape," quips close friend John Maybury, who has directed her in three films: Man to Man (1992), Remembrance of Things Fast (1994) and Love Is the Devil (1998). "I was not in a state to make a film of any nature at that time," says Swinton, "so I thought the one thing I could contribute was the real body of someone who had just given birth."
Her unsparing performance as a monstrous alcoholic who kidnaps a young boy in Erick Zonca's Julia, due out next spring, was the talk of this year's Berlin film festival. And in her first comic turn in a Hollywood film, the Coen brothers' Burn After Reading, opening in September, she's utterly convincing as a peevish married woman who falls into an affair with a womanizing federal marshal, played by George Clooney. Pitt, John Malkovich and Frances McDormand round out the cast. "I don't know if it will make anybody else laugh, but it really made us laugh while making it," says Swinton over a lunch of artichokes and truffles at the Bowery Hotel a few days after the W shoot. "The film is full of freaks. They're all frantic in different ways." Dressed in a tan silk blouse, baggy jeans and mohair flats, Swinton wears no makeup, which only enhances her porcelain skin and barely there lips and brows. But it's her bright emerald eyes that most command attention. Friendly and frank, she's easy to talk to but not eager to please.
Swinton plays Katie Cox, "who is very bad-tempered about everything," she says, enunciating each precisely chosen word. "She's constantly having to cope with these hopeless men, so she's in a bad mood all the time. I find that very funny because I'm very slow to anger myself." Her den-mother instincts come into play when talking about her friends, Clooney in particular. "He makes a serious business of good friendship," says Swinton, who first worked with him on last year's Michael Clayton, in which she played cunning corporate lawyer Karen Crowder. "I also feel protective of him. The ambition that he has to be a force for good needs protecting because it attracts, you know, free radicals."
Swinton, who doesn't own a television, had never seen the Oscars until this year, when she went home with an Academy Award for best supporting actress for her turn in Michael Clayton. "I really can't remember anything except that I feel like something indecent happened," says Swinton, who got up on the podium and compared Oscar's buttocks to those of her agent Brian Swardstrom, to whom she said she was giving her award. (And so she did.)
What provoked greater chatter, however, was her supposed decision not to wear any makeup. Amid the sea of bared, spray-tanned limbs and plumped flesh, Swinton, 47, pale and plainly beautiful in a Lanvin silk satin gown, stood out as the most naked of all. You could even see the lines around her eyes. She was, in fact, wearing makeup, just a little bit, but her approach to beauty, as with all things Tilda, is unorthodox. "This is skin born of the Scottish highlands, so why hide it?" says her close friend and sometime stylist, Jerry Stafford. "Why the hell put foundation on it and all this garish lipstick?"
Asked if her Oscar win has had any impact on her career, Swinton is quick to note that having an American film career is not a priority. "Believe it or not, it has never been on my agenda," she says. "It's not what I'm really for. It's a side dish in a great banquet."
What she is for is collaboration, and she'll just as readily work with a maverick first-time director as with a veteran if she senses a kindred spirit. "Very early on," she says, "I knew that I wanted to be in environments where somebody could bring something new into the conversation." She got her start with the iconoclastic filmmaker Derek Jarman in the mid-Eighties and in 1992 made Sally Potter's cult classic Orlando, in which she famously played multiple generations of the title character, including a man. Her first Hollywood movie came in 2000, when she starred with Leonardo DiCaprio in The Beach. She's since won critical acclaim for her turn as a mother in The Deep End (2001) and fame as the ice queen incarnate in The Chronicles of Narnia: The Lion, the Witch and the Wardrobe. Her starting point, she says, is not the character or the script, but her conversation with the director. "She's oblivious to a film's commercial potential," says director Jim Jarmusch, who has written two roles for her. "Acting is not her main interest in life. She's interested in having all these experiences."
This summer, for example, she shot Luca Guadagnino's I Am Love, a film that she's coproducing and that took her seven years to get off the ground. Swinton stars as the wife of an industrialist in modern-day Italy who falls for her son's best friend. "It's Visconti on acid," she deadpans. Michael Clayton director Tony Gilroy suspects that it won't be long before Swinton becomes a filmmaker herself. "She gets the big smell of a film," he says, "but she can also dive down into her character and be completely submerged."
In Benjamin Button she plays an aristocratic Englishwoman, a role for which she "downloaded" her grandmother's generation. "She's aware that she has done nothing with her life and is living with it and being incredibly brave about it," says Swinton. It's a fate she herself might have faced had she followed the course laid out for her. The third of four children and the only girl, she grew up in a military family that traces its lineage to the ninth century. Her father was the officer commanding the Queen's Household Division and a major general in the Scots Guards who was stationed at various European bases during her childhood. At age 10 she was sent to boarding school, where she was educated alongside Diana Spencer, whom she remembers well, she says, but flatly refuses to discuss. Being sent away from home hit her hard. "I was very shy and solitary," she says. "I can't remember saying much for about five years."
When she did find her voice, it was as a poet. "I was unexpected, but my parents didn't try to squash me," she says. "When it became clear that I probably wasn't going to marry a duke, they just went, 'You want to be a poet and go to university? Well fine, but we don't know anything about that.'" So Swinton went to Cambridge, dropping poetry to study social and political science and performing in several stage productions. After graduation, she briefly joined the Royal Shakespeare Company before finding in Jarman a fellow traveler whose communal style of artmaking fed her through seven influential, if little seen, films. "He was the first artist I'd ever met," she says, "which is surprising considering that I was brought up surrounded by beautiful paintings." (Her Russian-raised great-grandmother had been a favorite subject of John Singer Sargent's.)
Swinton recently wrote and coproduced a documentary about Jarman, whose death from AIDS in 1994 left a void in her life. She coped by becoming an artist herself. Fascinated by the idea of "scrutinizing an unwatched face," she created a performance piece, The Maybe, in which she lay, eyes closed, in a glass box in the Serpentine Gallery in London (and later in Rome) for eight hours a day for one week in 1995. By her count, nearly 22,000 people—8,000 of them children—came to see it in London. "Interestingly, the girls totally accepted it. It was very familiar, that thing of waiting, of being watched," she says. But the boys, she adds, "just wanted to wake me up!"
Since 1997 Swinton has lived in a remote corner of Scotland, where "you can really hear your own ears." She's intent on raising Xavier and Honor with views of the sea and sky and, when at home, avoids e-mail and phone calls, "which is making me a lot of enemies, but the children and I love it!" There, her kids "are up trees most of the time," she says. "They live a very particular life, and I try and live it with them as much as I can."
Swinton shares the rambling stone house with her children's father, the painter and writer John Byrne, who is 20 years her senior. Their Bloomsburian domesticity is one many might envy: When away from home, she travels with her handsome boyfriend, painter Sandro Kopp, 30, whom she met while shooting the first Narnia film. Occasionally they all stay together. "It's the way we have been for nearly four years," she says, pointing out that she and Byrne have not been a couple for five years. "I'm very fortunate. It takes some extraordinary men to make a situation like that work."
As the mother of newborn twins, she recalls, she felt initially overwhelmed. "When I became a mother, this new person was born: Tilda as a mother. But then what of Tilda who wasn't a mother; where was she?" Swinton says. "There was this strange internal pressure but also an external pressure to ignore her or pretend that she'd gone somewhere." Her career, she notes, affords her the luxury "to have more than one life. I don't know how long I would have been able to hold out with no time with my singular self."
When I ask how her children's lives differ from her own as a child, she says quickly, "It's pretty much 180 degrees." Where she and her brothers were "draped around the edges" of their father's career, she and Byrne joke that "we light the candles and worship at their shrine. They're in the center of the family." They're also the primary subjects of the photographs Swinton has taken for years and plans to organize into an exhibition at an arts center near her home.
Swinton, who has collaborated in the past with artists Doug Aitken and Lynn Hershman Leeson, recently leased an old ballroom in Nairn, Scotland, to create her own film festival. In August the inaugural Ballerina Ballroom Cinema of Dreams festival was set to feature such unlikely pairings as a Björk video with All About Eve, as well as two evenings programmed by Joel Coen. Her interest in the vanguard has also led to an alliance with the Dutch design duo Viktor & Rolf, whom she met in 1999. Swinton became their muse and, in 2003, even walked the runway for them, along with an army of Tilda clones."We talked a lot about how all three of us could infiltrate the system," recalls Viktor Horsting. "We were fascinated by how we could all be outsiders but also a part of it."
Her status as a style icon has also been helped along by Stafford, her sounding board in all fashion matters. "She's always been interested in ambiguity, transformation, transgender," he says. "Clothes are an extension of this. She loves taking the idea of a lady and just twisting it on its head. It's Nancy Mitford meets David Bowie."
To those who don't know her as well, Swinton's subversive humor can come as a surprise. During a scene in Benjamin Button, Swinton and Pitt improvised while Fincher filmed them without sound. "I told them, 'You guys just keep talking,'" says Fincher, recalling that they launched into "the most unbelievably scatological and perverse nonsense. I thought, We're going to have to get this stuff checked by lip readers because it's so pornographic. It was group sex with strangers and longshoremen and all kinds of gynecological references. Tilda's this stunning woman, and at the same time, she can be so foulmouthed and hilarious."
She's also a rocker at heart. A longtime fan of Marilyn Manson's, Swinton plans to star in the goth musician's debut feature film about Charles Dodgson (aka Lewis Carroll), playing Dodgson's dream wife. And she's recently struck up a close friendship with Patti Smith, who took Swinton under her wing while curating a rock festival at London's Barbican in 2006. "Tilda became the mascot of the week," says Stafford. "She was up front, dancing her ass off."
A few weeks after we meet, Swinton is in Milan on her way to a Radiohead concert. After a day of fittings for I Am Love, she is looking forward to the outdoor show, she tells me when I call. "Oh, no. It's raining," she says suddenly as she gets out of her cab. But she's clearly undeterred.
"It's going to be a mudfest!"