The Power of Tilda Swinton Has Convinced Pedro Almodóvar to Make Films in English
The pair's first work may premiere this year.
---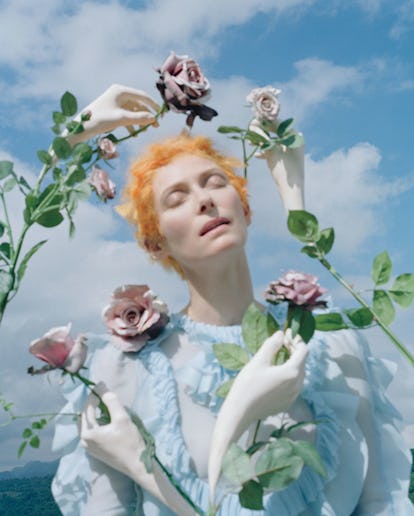 The films of Pedro Almodóvar are an international treasure, and the only real tragedy of the director not making movies in the English language is that it really limits the actresses he can work with. Imagine the possibilities!
Apparently this has bothered Almodóvar as well, but the lure of working with Tilda Swinton has finally convinced him to create his first non-Spanish project.
According to IndieWire—and confirmed by the New York Times' Kyle Buchanan on Twitter—Almodóvar will soon begin work on the short film The Human Voice, which will apparently star just Swinton and a dog. The project will be based on Jean Cocteau's one-act play of the same name. The concept: While on the phone, a woman discovers that her longtime lover is set to marry someone else the following day.
Almodóvar told IndieWire that he's already discussed with Swinton ways to update the story, and that he feels confident that he's found the right muse for his English debut.
"You need that feeling that someone understands you completely," he said. "In the case of Tilda, it was exactly how I dreamed of her. She's so open, so intelligent. She gave me a lot of confidence with the logic. In the rehearsal, we understood each other very closely."
This should come as no surprise, considering Swinton's track record of working with filmmakers whose first language isn't English— she's already collaborated twice with Parasite's director, Bong Joon Ho.
While this project will only run about 15 minutes, Almodóvar say he'll use it as a springboard to direct scenes for his next feature in English, as well. The auteur is already at work adapting Lucia Berlin's collection of interconnected stories A Manual for Cleaning Women for the screen. And he'd previously hinted at working on a film that takes place across North America, in both the United States and Mexico. Intriguingly, the director says he already has two stars attached, but he won't name them just yet.
At 70, Almodóvar may be one of the last great global filmmakers left who hasn't worked in English, though he's been tempted before. In fact, he was once offered the opportunity to direct the Whoopi Goldberg–starring Sister Act, but declined in part because he had already made a comedy about nuns. The director was also once approached about taking on Brokeback Mountain (he's said his version would have had "more sex"), and even had Meryl Streep attached to his 2016 film, Julieta, before deciding to make it in Spanish instead. Streep can do a lot of things, but an entire performance in a language she doesn't speak fluently is not one of them—though maybe she'll still work with the director someday.