Timo Weiland's Summer Jams
Minutes before his men's show, the designer and DJ Timo Weiland shares his fast-paced summer playlist.
---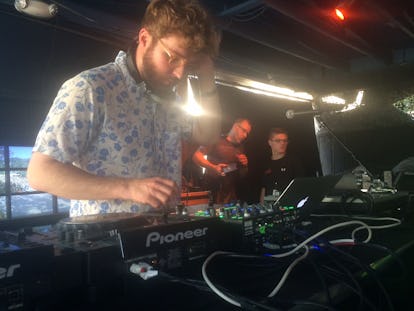 We hear you're a regular on the music festival circuit? I have been going to music festivals around the world since I was a kid, so the ongoing experience of it is something that I treasure. My favorite thing is to wander between sets of your favorite acts in anticipation of the unexpected. It is vastly different to be on-stage than it is to be in the crowd.
What do you predict will be the song of summer 2015? Fetty Wap "Trap Queen." It's an iconic upbeat electro hip-hop mash-up and guaranteed fun track for all.
What do you listen to when you're out/at work/relaxing at home? My selection is always in flux depending on my mood and surroundings. I tend to favor the more electronic end of the spectrum with rock, hip-hop, and pop tracks. That said, mixing it up is always my bag—I have been closing pre-game playlists with Rihanna "B*tch Better Have My Money" and Yazoo "Only You" for more chill dinner party or nights when I'm just reading at home.
Give us your 10-song playlist for a summer BBQ. A$AP Rocky "L$D" Neil Young "Harvest Moon" Sunny & the Sunsets "Palmreader" Cate Le Bon "Are You With Me Now" Stereototal "Relax Baby Be Cool" Devendra Barnhart "Your Fine Petting Duck" ASTR "Activate Me" Hannah Diamond "Every Night" Jamie xx "I Know There's Gonna Be (Good Times)" Yelle "Ce Jeu"