Timothée Chalamet Is All For A Call Me By Your Name Sequel
"Armie and I are 1000 percent in."
---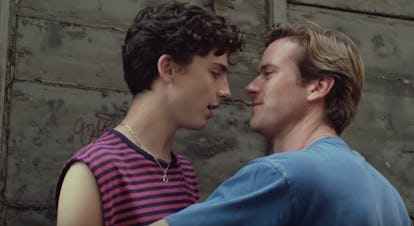 Call Me By Your Name/YouTube
If Luca Guadagnino, Armie Hammer, and Timothée Chalamet have anything to say about it—that is, if all the people who matter have anything to say about it—the rumored Call Me By Your Name sequel is a go.
In a new interview with Time, Chalamet, promoting his upcoming feature Beautiful Boy with Steve Carrell, weighed in on the proposed follow-up for the first time: "I don't see any world where it doesn't happen," he said. "I think Andre is comfortable with a sequel being made. I know Luca really wants it. And I know Armie and I are 1000% in."
A thousand percent! That's a lot of percent. A strong vote of confidence from the young Academy Award nominee. Of course, though it's already showing up on his IMDb page, it'll probably have to wait a minute, for all his enthusiasm: After Beautiful Boy, he's also got Greta Gerwig's upcoming Little Women adaptation, the Netflix film The King with Robert Pattinson and Thomasin McKenzie, and Denis Villeneuve's Dune remake.
Hammer and Guadagnino are no less occupied, the former with the recently released Anthony Maras-directed thriller Hotel Mumbai with Dev Patel, Kenneth Branagh's Death on the Nile, and a yet-untitled Babak Anvari film with Zazie Beetz and Dakota Johnson, the latter with his bonkers Suspiria remake and an interior design project. But it seems like they cannot wait to be reunited; after all, Hammer recently penned a doting tribute to his young Call Me By Your Name costar and, at the Toronto International Film Festival, said of the potential sequel, "The only thing I want to see is I want to see it happen." Esther Garrel has also voiced her approval.
At the very least, a sequel (or threequel) would certainly be one way for Chalamet to transcend that peach scene.