The J.Law-Like Rise of Thomasin McKenzie, Teen Star of Leave No Trace
The actress has had a J.Law-like rise, but she is a different type of star in the making.
---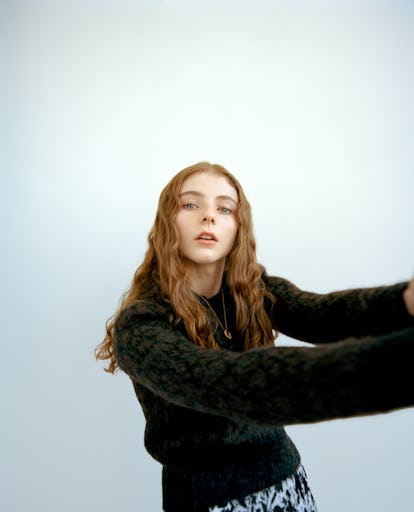 Photograph by Nadine Ijewere; Styled by Sam Walker.
In 2010, the director Debra Granik premiered her gritty drama Winter's Bone at the Sundance Film Festival. The film ignited the career of its then-unknown young star: a 19-year-old Jennifer Lawrence, who played a Missouri teen who sets out to find her disappeared meth-cooker father as the threat of eviction looms over her family.
The role earned Lawrence her first Academy Award nomination, and the following eight years are, well, history. But this January, Granik returned again to Sundance, to premiere her follow-up narrative feature, Leave No Trace. And she again brought with her a precocious talent in a role that could be the catalyst for another major breakthrough: the 17-year-old New Zealand actress Thomasin McKenzie, playing a teen who lives off the grid with her dad, a PTSD-stricken veteran (Ben Foster), in the lush forest surrounding Portland, Oregon.
Finding another J. Law in the rough wasn't simple. After a series of taped auditions over the course of several months (including an improvisational scene employing a neighbor's rabbit as a prop), McKenzie got on Skype with Granik—and the director suddenly stopped speaking in hypotheticals: "When you're over here"; "when I see you." It was only then that McKenzie realized she had been cast.
Granik, apparently, saw such an affinity between the young actor and her character that, at the beginning of rehearsals, she changed the name of the role from Caroline, as she's called in the novel on which the film was based, to Tom, McKenzie's own nickname. It is a fitting marriage of actor and character: McKenzie grew up hiking and climbing trees in the rural areas surrounding her native Wellington, New Zealand, a country that's practically synonymous with famous adventurers. There's a trail she likes to run, or "tramp"—hiking, in the local argot—that winds along the southern coast of the North Island and which she used as a backdrop for one of her audition tapes. After she landed the part, she walked it again—and then again, just before departing for New York, where we met on a recent afternoon in Queens.
"It's kind of become a tradition," McKenzie explained, showing me the audition video on a laptop. Still, she wasn't quite prepared for the intense outdoorsmanship required to play the part: The film opens on Tom, humming to herself, rifling through the forest floor in search of mushrooms; later, a rare trip to an urban grocery store is marked by the refrain, "Want, or need?" So upon arriving to set in the Pacific Northwest, McKenzie enrolled in a wilderness training course, which included lessons in foraging, fire-starting, and identifying bird songs, and a beekeeping workshop to prepare for a scene in which her character cradles honeybees in her bare hands.
"At first, I was nervous," she admitted, "but also, it's not like the bees are out to hurt you or anything." (They're warm, she noted, and they smell like, well, honey.)
But Leave No Trace, which is in theaters this Friday, wasn't simply a physical exercise. It's a quieter, more understated film than Granik's previous one, its central conflict unfolding when park rangers remove Tom and her father from their forest home, forcing them to assimilate into school and community. ("We can still think our own thoughts," Tom says, attempting to comfort her dad.) As much as they appear to be outsiders, Leave No Trace also emphasizes the idiosyncrasies among those around them, weaving threads among strangers while opening up a rift between father and daughter. As the movie approaches its climax, McKenzie, whose reserve throughout the film belies a ferocity that lurks just below the surface, tells Foster, "The same thing that's wrong with you isn't wrong with me."
Those moments—the "vulnerable and just interesting and delicate ones," as McKenzie described them—were her favorites. Though she grew up the third of four children born to an actor and a director, and she made her stage debut as an infant (as a prop in her mother's production of Into the Woods), she was initially reluctant to enter the family business. It wasn't until three years ago, when McKenzie starred in Consent, a biographical drama that examines "the abuse of power and the police force," as she described it, that that resistance fell away. (Consent recounts the story of Louise Nicholas, a woman who, after an alleged rape by multiple policemen, went on to become an advocate for victims of sexual violence.) "That made me realize that, through acting, I had the opportunity to make a difference and let things be heard and tell really cool stories that people might not otherwise hear or see," she added.
Until now, McKenzie has mostly worked in her home country (among her credits is a small role in Peter Jackon's epic The Hobbit: The Battle of the Five Armies) but Leave No Trace has already begun to change that. When we met in New York, she was about to depart for Cannes, where the film was slated to screen. After that, she was scheduled to head over to Prague to begin shooting Jojo Rabbit, the World War II satire with Scarlett Johansson and Sam Rockwell, directed by Thor: Ragnarok's Taika Waititi, and then to England to play Timothée Chalamet's sister in The King (her mom, sitting nearby, eagerly pointed out their resemblance). It might seem as though she is embarking on her own J. Law-like rise, but McKenzie gently resisted the comparison. "We're individuals," she said. "She's got her style, I've got my style."