Thor: Ragnarok Director Taika Waititi is a Master Troll on Instagram
The Thor: Ragnarok director's Instagram is a treasure trove of weird photos of the Marvel movie's cast.
---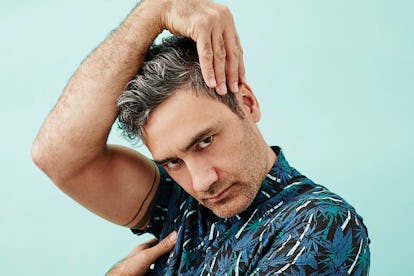 Maarten de Boer/Getty Images
Thor: Ragnarok reviews have heralded the latest installment of the Marvel superhero franchise as the funniest one yet, and the saturation of humor in the film is thanks, in part, to its New Zealand comedian-turned-director, Taika Waititi. Waititi is known for his Oscar nominated indie short Two Cars, One Night, his vampiric role in the 2014 horror-comedy film What We Do in the Shadows (which he also co-wrote and co-directed), and being the originator of the screenplay for Disney's Moana, but the director has quite a strange Instagram presence with a cult following as well. Boasting on social media about your lovingly antagonistic relationship with the stars of your film might seem out of character for most Hollywood directors, but it is par for the course when it comes to the world of Waititi.
Taika Waititi's been weird on social media for quite a long time, posting cheeky puns dating back to before he sealed the deal to direct the Thor franchise, and as much as he playfully dishes it out to his actors, he can take a hit back pretty well too. At the Thor: Ragnarok premiere the film's star, Chris Hemsworth, told W, "I troll him back. I welcome it. It is much deserved, I'm sure." For a franchise with such a strong fandom, it is rare that a director could garner nearly as much attention as the movie's stars on his social media platforms.
Whether he's referring to his A-list cast by their Hollywood doppelgängers or flexing his status as a Kiwi style icon, Waititi proves that playfully roasting and trolling your Marvel family on Instagram while maintaining respect for your directorial chops is an untapped skill.
A native New Zealander, Waititi is not afraid to roast his Australian actors for hailing from the land of Oz, and while he teases the Thor fandom with lively quips about Chris Hemsworth, the God of Thunder himself, and banters with Cate Blanchett, he also has a pretty solid bromance with Jeff Goldblum to flaunt online.
For Waititi, captions are key. As he says of his social media superstar status, "You guys think I just f–k around all day hanging out with celebrities, but really I'm creating cultural ties and spiritual understanding between the different peoples of the world…through dumb photos." He's just doing his due diligence as a citizen of this world.
As far as Waititi is concerned, no one from the cast is off limits. Tessa Thompson, Tom Hiddleston and the entire Thor: Ragnarok cast are all subject to their director's social media roasts.
On top of his ability to lovingly take the piss out of his employees on Instagram, he's also just a plain old style icon.
Denim, pineapple prints and cyclops goggles will always be a look.
Related: Chris Hemsworth Is Totally Fine With His Thor: Ragnarok Director Trolling Him On Instagram
Chris Hemsworth Confesses Liam Hemsworth Almost Got Cast as Thor