Timothée Chalamet and Lily-Rose Depp Are Hanging Out Together All Over NYC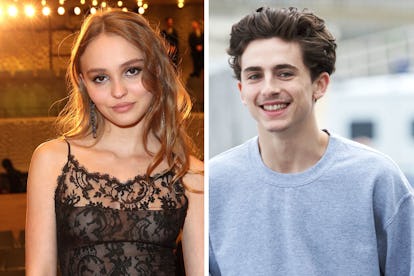 Composite. Getty Images
Sometime celebrity coupling news seems both totally random and yet completely perfect at the same time. Such is the case with Timothée Chalamet and Lily-Rose Depp, whom multiple outlets report were spotted hanging out in New York City over the past few days, and looked suspiciously cuddly while doing so.
According to E! News, over the weekend, the duo were spotted at Mud coffee shop, where an eyewitness said they appeared to be "enjoying themselves." A fan account posted a few not-so-sneaky pics from the outing; while Chalamet has very clearly spotted the photographer in one, in the other, he looks off into the distance as a smiling Depp holds onto his waist. At another point, the pair were reportedly seen taking a casual stroll through Central Park.
On Monday morning, Chalamet and Depp stepped up their PDA when onlookers reportedly saw them stop for a quick make out while walking through downtown Manhattan. "They were walking down the street and he stopped her and pulled her close," one witness told Us Weekly. "They started making out for a while, for over a minute." The source added that the pair apparently looked like "a new young couple in love" during their romantic walk.
Though they're connection isn't without some explanation. They're both co-starring inThe King, the Netflix movie that they recently wrapped. For any incite more than that, we'll just have to wait until Chalamet and Depp actually confirm (or even acknowledge) the rumors. Notably though, Chalamet has never seriously dated anyone in the public eye, while Depp broke up with her longtime boyfriend Ash Stymest, once a top male model, earlier this year.
Whatever the nature of their relationship, it's probably best not to refer to the past few days' outings as "dates" — since Timothée has explained in the past that he's not a huge fan of that word. "'Date' is very much a scary word, because then that context has been established. You can always see people on early date behavior," he told W earlier this year. Noted!
Related: Meet Jules Benchetrit, Lily-Rose Depp's New Stepbrother
Instant and Infinite, Lily Rose Depp's Best Looks in 2016
Lily Rose Depp started 2016 off by attending the Yoga Hosers premiere wearing 2016's favorite effortless bomber trend.

Getty
She then effortlessly showed off a colorful look at The Samsung Studio at Sundance Festival 2016 in Park City.

Getty
Lily Rose Depp arrives in LAX channeling her inner 90's kid with low-rise denim and a classic moto-jacket.

Getty
Chanel muse, Lily Rose Depp stuns in white.

Getty
Glowing on the red carpet, Lily Rose Depp for the premiere of her own movie, 'La danseuse'

Getty
Lily Rose Depp brightly arrives at 'The Dancer' at Cannes Film Festival.

Getty
Lily Rose Depp in Chanel for at Venice Film Festival.

Getty
Depp continues her to wear classic Chanel for the premiere red carpet of 'Planetarium'

Getty
Lily-Rose Depp on the red carpet for 2016's Toronto International Film Festival

Getty
Depp makes her way to Paris at Cinema Gaumont Opera in Paris in a black A-line dress and t-strap heels.

Getty
Head-to-toe in Chanel for the celebration of the brand's N°5 L'Eau in West Hollywood, California.

Getty
Lily Rose Depp sits front row at Chanel's Spring/Summer 2017 show in Paris.

Getty
Depp wows in a tailored look for the Paris premiere of 'Planetarium'

Getty