Timothée Chalamet's Face Is Being Photoshopped Onto Famous Paintings Thanks to the Instagram Account @ChalametInArt
He's face is one for the ages.
---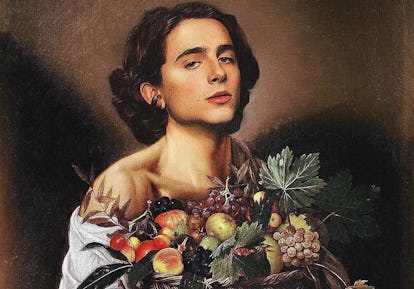 instagram.com/ChalametInArt
How do you improve on a painting as classic as Edvard Munch's The Scream? Add Timothée Chalamet. That goes the same for famed works like Grant Wood's American Gothic, Jan van Eyck's Arnolfini Portrait, and Edward Hopper's Nighthawks. At least one thing that all of these works, spanning centuries, have in common is that they've been reimagined with the actor's likeness by Instagram account @ChalametInArt.
"Turns out Timothée Chalamet has been an inspiration to artists as far back as da Vinci," the account's bio reads. While obviously, that's just a joke, the indie darling's good looks are as timeless as all of the paintings he's been Photoshopped onto, which also include René Magritte's The Son of Man, Botticelli's The Birth of Venus, and Johannes Vermeer's The Music Lesson or Lady at the Virginals with a Gentleman, the setting for which looks like it could have been the villa Elio's family lived in during Call Me by Your Name, which hit the market earlier this year.
No one is probably more excited about this account, though, than Chalamet, who's unabashedly and charmingly been enjoying the ride. After he attended his first Golden Globes, this past February when he was nominated for Best Actor in a Drama Motion Picture, Chalamet reflected on the milestone, telling Jimmy Fallon, "I look out in the room and it's all actors and directors I've admired for a long time, and then sometimes my mouth is moving, and I'm like, 'Oh, they're listening to me right now. This is totally surreal. This is so strange. I was just honored to be there, truly… I'm not [normally] hobnobbing with famous people… It's like, 'What the f–k is going on right now?' … I'm loving it. I feel like I'm living a form of the dream."
He said the same earlier this year to W, when talking about how he's learning to cope with his public profile. "I'm running into people that I really admired and studied closely for years," he said. "Someone said to me to keep a journal of this moment in life because it really is in many respects just an intense period. I thought that was great advice and I am trying to like write down and just [inhales] commemorate and appreciate and sit in a place of gratitude. I also like the idea to treat it like any other moment in life and just try and enjoy it." No doubt today's journal entry will include @ChalametInArt.
Related: Timothée Chalamet, Indie Prince, Is Ready to Star In a Sci-Fi Blockbuster Film
Timothée Chalamet Is On the Verge