MCM Goes Punk, Thanks to a Collaboration with Tobias Rehberger
Sculptor Tobias Rehberger teams with MCM on a striking bag collection.
---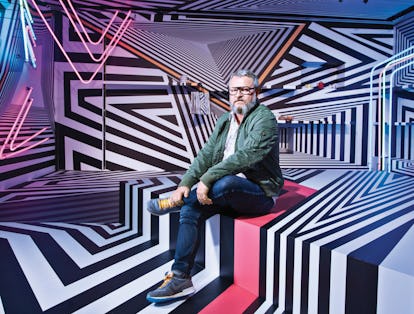 Photographer: Philipp Engelhorn
Tobias Rehberger can still clearly remember MCM during its heyday in the 1980s. "It was one of the first companies where the logo was the center of the whole brand," he says. So when the German leather-goods label tapped the artist to create a capsule collection for its 40th anniversary, Rehberger mined that era of logomania, contorting the MCM logo using dazzle camouflage, a paint scheme created for British warships in World War I, which he has employed to great effect before. (In 2009, Rehberger was awarded the Golden Lion for best artist at the Venice Biennale after decking out the Giardini cafeteria in a similar fashion.)
The graphic print obscures but also magnifies the lettering on Rehberger's limited-edition collection of backpacks, suitcases, shoppers, clutches, and cross-bodies—an ironic take on MCM's legacy of loud commercial aesthetics. "I come from a punk background, so MCM was rather like the enemy when I was young," says Rehberger, 49, who, like many Germans of his generation, associated the label with the "chichi" Munich disco scene of that time. Since its purchase by the South Korean businesswoman Sung-Joo Kim in 2005, MCM has refined its image, but, nevertheless, Rehberger could not subdue his rebel instincts. For the launch at the MCM flagship boutique in Hong Kong during Art Basel week, he rendered his distorted version of the logo in neon (the lights flickered on and off, giving the impression of a loose connection) and hung the bags from the ceiling, placing his own collection of teapots and scientific models of pigs and fruit on the shelves instead. "It's about the corporate identity of a product, but the product blends into the space, so you almost don't see it," he says.
Ultimately, both the bag collection and the store takeover are in keeping with his philosophy. "Art should not be something to visit, where you stand there and stare at it and then go home. It should be in our everyday life."
Rehberger's Installation: If you want the rainbow, you gotta put up with the rain, 2016.