Tod's in Tinseltown
At the Cannes Film Festival in May, a five-minute short film starring Gwyneth Paltrow and a Tod's nylon handbag got its own share of buzz—at least among the fashion set.…
---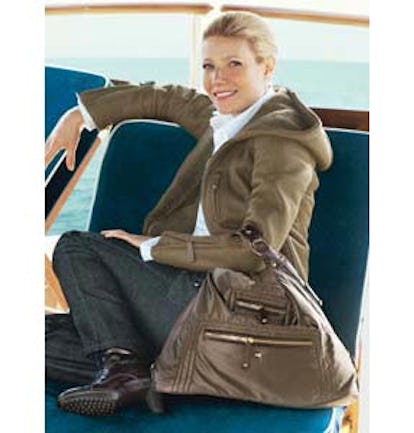 At the Cannes Film Festival in May, the cast of the new Indiana Jones movie hogged most of the attention. But a five-minute short film starring Gwyneth Paltrow and a Tod's nylon handbag got its own share of buzz—at least among the fashion set.
Dennis Hopper, a longtime friend of Tod's chief Diego Della Valle's, wrote and directed the promotional film, parts of which were screened at a party during the festival. Paltrow, the star of the Italian luxury house's fall campaign, said she had never worked with Hopper before and jumped at the chance. "I had only met him in passing, and he's like an icon in our business," she said. The film's locations appealed to her too. "I got to spend two days in Rome and two days in Capri."
In the short, Paltrow, who plays herself, is visiting Rome for a premiere. She agrees to meet a handsome reporter (played by Daniele Savoca) at a café for an interview but gets spooked by the swarm of paparazzi following her and hastily departs, leaving behind her handbag (a brown nylon Tod's Pashmy bag, to be precise). The earnest journalist must then seek Paltrow out at a glamorous party in order to return it. The final cut of the mini movie, which will be available on tods.com in September, is short on dialogue but long on elaborate, richly shot scenes, for which Hopper used 200 extras.
Though "Pashmy Movie" may not win any Academy Awards, the director was more than pleased with the finished product. Said Hopper, "There is a whole Fellini-like ending to the story that is really beautiful."
Photo: Courtesy Of Tod's