Tom Cruise Apparently Sold His L.A. Mansion to Live in a Clearwater, Florida, Condo
The king of Hollywood has left for a town in Florida.
---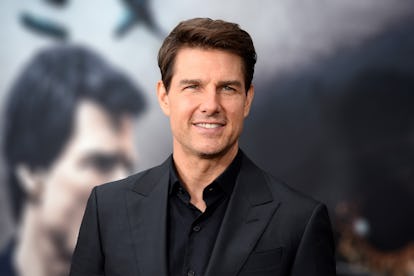 Andrew Toth/FilmMagic/Getty Images
The record-breaking success of Mission: Impossible—Fallout proves that Tom Cruise can still lay claim to the title King of Hollywood, though he may no longer meet the residency requirements. After he offloaded his massive Beverly Hills compound for about $40 million in 2016, and listed his Telluride estate for $59 million around the same time, People magazine reports that Cruise has now relocated to far more humble residences: a condo in a suburb of Tampa, Florida. It's a penthouse unit, but a condo in Clearwater nonetheless.
While the city has also been, at some points, home to fellow luminaries like Kirstie Alley and Hulk Hogan, it's not exactly the kind of place you'd expect a Hollywood megastar to wind up, even by Florida standards. It's not Miami Beach or West Palm Beach. It's not even Fort Lauderdale. (Cruise reportedly balances out the Florida-ness of his new life by spending plenty of time living in hotels in London, a city he fell in love with while filming the Mission: Impossible movies and where his daughter Isabella Cruise lives with her husband, Max Parker.)
The local Tampa Bay business press has, of course, taken an active interest in the city's most famous resident, and linked Cruise to a 12-story former bank tower in the downtown district. A company associated with the star apparently snagged up several units in the building for a grand total of about $11.8 million. That's paltry compared to the $40 million mansion he left behind in California, but it's quite the sum total by Tampa Bay standards. In fact, all together, Cruise's real estate haul totaled more than the most expensive home sold in the greater Tampa Bay area, ever.
The building comes with several amenities, but it was likely its location that caught Cruise's interest. It's practically across the street from the worldwide headquarters of the Church of Scientology, the ever controversial religion that Cruise is an increasingly prominent part of.
Indeed, the tower Cruise is linked to is a development project of a fellow Scientologist, and comes at a time when the church seems to be keen to increase its control over the future and development of the city's downtown, according to the L.A. Times.
The opening of Scientology's Flag Building (also known as the Super Power Building) is said to be one of the proudest points of the Scientology leader David Miscavige's reign (Cruise is purportedly best friends with Miscavige, or, at least, was at one point), and it's estimated that somewhere around 12,000 of the city's 114,361 residents are members of the church. Among them is said to be Cruise's son, Connor, who, according to some reports, now works on a fishing boat in the area.
So this is Tom Cruise's life now. Every once in a while, he flies across the Atlantic to visit his daughter and get some work done, but mostly he's just a simple Florida single father who gets to hang out with his son and his best bud more often now. Oh, and do whatever it is they do in Scientology.