Tom Cruise Won't Be in the Jack Reacher TV Show Because His Hands Aren't Thanksgiving Turkey–Sized
His hands will also need to expand to the size of Thanksgiving turkeys.
---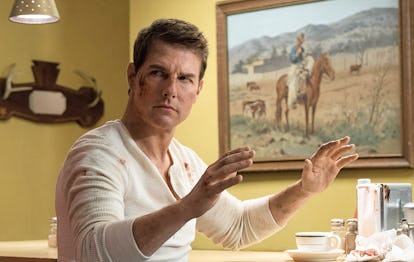 Paramount/Everett Collection
In 2018, Hollywood has the ability to build half-robot people, talking animals, and entire worlds using CGI technology, but they still can't stretch out a somewhat vertically challenged Oscar-nominated actor to appear a foot taller onscreen. More's the pity for Tom Cruise, who reportedly won't be reprising the role of ex-military policeman Jack Reacher in the upcoming TV adaptation of Lee Child's series of crime novels, all because he doesn't measure up (literally) to the fictional character.
In an interview with BBC Radio Manchester's Mike Sweeney this week, Child confirmed that Cruise's famously below-average stature is at least partly to blame for his exclusion from the new series. "I really enjoyed working with Cruise. He's a really, really nice guy. We had a lot of fun," he said. "But, ultimately, the readers are right. The size of Reacher is really, really important, and it's a big component of who he is." He continued, "The idea is that when Reacher walks into a room, you're all a little nervous just for that first minute. And Cruise, for all his talent, didn't have that physicality."
Reacher, according to Vanity Fair, is repeatedly described in Child's 22 novels as a massive six feet five inches tall—dwarfing Cruise's reported five-foot-seven build—with hands the size of, alternately, Thanksgiving turkeys, dinner plates, and rotisserie chickens. To assuage fans' outrage over the casting of the non-fowl-handed Cruise in not one but two Jack Reacher films, Child told BBC Radio that he'd like those fans to help him choose a "completely new actor" to star in the show, which he hopes to shop around to streaming services "like Netflix or something like that." "I want all those readers who were upset about Tom Cruise to help me out—participate in choosing the right actor for the TV series. We're rebooting and starting over, and we're going to try and find the perfect guy," he promised.
That may not be the only reason why the Reacher-centered film series is coming to a close after just two movies. For one, while the first film, 2012's Jack Reacher, took in an impressive $218 million at the box office on its $60 million budget, the sequel, 2016's Jack Reacher: Never Go Back, was far less profitable, earning only $162 million on a similar budget. For another, despite many of his film-focused peers' recently taking the plunge and signing on to various prestige television shows, Cruise has still only participated in a grand total of two TV episodes in his entire career: He directed a 1993 installment of the Fallen Angels anthology series, and appeared as himself in a 2010 episode of the BBC car show Top Gear. After holding out for so long, it makes sense that, if Cruise ever chooses to do TV, he'll choose a completely new and unexpected project with which to dive in.
Related: Tom Cruise