The Detective Pikachu Trailer Is a Hyperreal CGI Fever Dream
The trailer for the Pokémon buddy-cop film is finally here, but we still have some questions.
---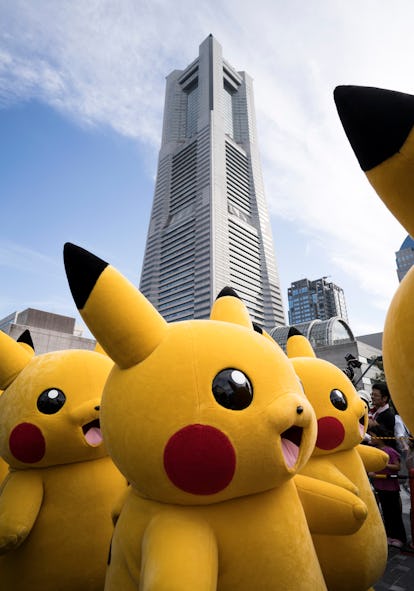 Tomohiro Ohsumi
Hollywood has officially opened up the Pandora's box that is Pokémon Detective Pikachu.
In the the first live-action adaptation of the internationally beloved video game series, there are no aspiring Pokémon trainers named Ash Ketchum or Brock, nor is there a Professor Oak to teach them how to "catch 'em all." Instead, The Get Down's Justice Smith stars as Tim Goodman, a young man on a mission to find out the truth about his father in a world that is teeming with human-Pokémon harmony. Tim comes across Detective Pikachu (voiced by Ryan Reynolds) and discovers he is able to understand the tiny yellow fur ball, whereas everyone else only hears "Pika Pika" every time the electric Pokémon opens his mouth. This version of Pikachu isn't like the one you're probably used to—he's a little bit smarmy, and he also wears a Sherlock Holmes–esque detective hat to solve mysteries—and with the help of the Big Little Lies star Kathryn Newton, he embarks on a journey to solve a mystery with Tim.
Still, as clear-cut as this trailer may seem, some big questions about the upcoming film remain unanswered. Fans of the franchise get to see the iconic Pokémon characters they know and love—Jigglypuff, a cute pink balloon-shaped figurine, the hapless Mr. Mime, and some helpful Bulbasaurs—in this trailer. Though Pikachu is the only Pokémon talking in the trailer, there is almost no way that Reynolds gets to be the only actor to voice a talking CGI figure in this movie. Could it be that Suki Waterhouse has matched her newly pink hair to a pink Pokémon as a subtle nod to her character in the film? Or is Rita Ora, an actual singer, to play Jigglypuff, who is also a singer in the universe of the anime series? (Ora was also spotted on set with Smith, so there is a chance that she plays a live-action character instead of one of the realistic Pokémon). A quick investigation into who plays a Pokémon and who plays a live-action detective would lead one to discover that the actors lending their voices to these iconic characters (if they do get the chance to speak, like Pikachu) have yet to be revealed. Pokémon Detective Pikachu's IMDB page places Suki Waterhouse, Bill Nighy, Rita Ora, and Chris Geere very high up on the cast list, but the characters they play are not named at all, so it is still up for debate if they will play humans or CGI anthropomorphized Pokémon.
Riding the nostalgia wave can only take you so far, but Hollywood executives appear to have found a plausible working formula for this franchise, which involves leaning all the way in to the millennial masses' craving for an escape to the '90s, pairing a bankable A-list actor like Reynolds with a newcomer like Smith in a buddy-cop narrative, and a dependence on the Internet's early viral reactions to the film's fever dream of a trailer. On Twitter, fans of the anime franchise have naturally already given the trailer the meme treatment (would it even be 2018 if there wasn't at least one A Star Is Born reference resulting from this viral sneak peek of the film?), while others are finding its realistic rendering of the animated cartoon to be disturbing.
Of course, if Detective Pikachu's hyperrealism isn't really your thing, you could always just wait until next summer to watch Toy Story 4, which apparently focuses on the tribulations of an anthropomorphized contraption named Forky who goes through an identity crisis about whether or not it qualifies as a toy. Either way, your childhood memories are about to be crushed with feelings of existential dread once both of these films are released to the wild.
Related: Hollywood, You've Cast Ryan Reynolds as a Talking Pikachu: Is Everything Alright?