International Male
His bold aesthetic dominated he past 10 years of fashion. Now, as Tom Ford publishes a career retrospective, the former designer gives W an exclusive first look at his stylish homes.
---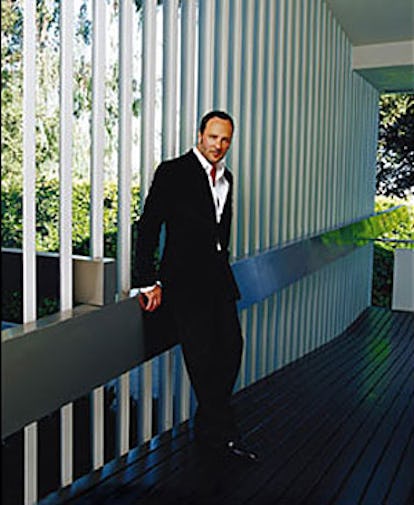 For such a famous guy, Tom Ford has managed to keep his personal life remarkably private. Over the past decade, the public saw photographs of his well-known face and his even better-known designs for Gucci and Yves Saint Laurent everywhere. But while other fashion designers seemed only too willing to show off their lifestyles and invite the press to virtually move into their homes, Ford kept his stylish doors closed (even to most friends). "My houses are for me and for Richard and Angus," says Ford, referring, respectively, to his longtime companion, magazine editor Richard Buckley, and their beloved fox terrier. Then again, there's nothing like a major life change to make you rethink your rules. Ford, of course, has left the world of fashion for a prospective career in Hollywood. And this month, he finally drops the drawbridge on his domestic life with the publication of Tom Ford (Rizzoli), a lush 416-page photographic retrospective of Ford's now legendary 10 years at Gucci and Yves Saint Laurent. Included in the book are the collections, the advertising campaigns and…the houses: his modernist Richard Neutra villa in Los Angeles, his Victorian town house in London and his ranch house in Santa Fe, New Mexico.
Why the change of heart?
"Before, when I was at Gucci, I wanted to keep something a bit private," says Ford on a recent early evening. He's dressed in an impeccably tailored charcoal suit, black boots and a crisp white shirt opened three buttons from the top, and he's seated on a silver mohair sofa in his Los Angeles living room. "Now, because this book is called Tom Ford, it seemed appropriate to include my personal life. And the houses are a big part of my life. My aesthetic has always been about more than just fashion. It's been about architecture, it's been about popular culture," he says, while sipping a vodka, enjoying what he claims is his first day off all summer.
For a visitor to the sleek Ford home, designed by Neutra in 1955, the explanation might not be necessary. The connection between Ford's take on fashion and architecture is everywhere apparent in the cool, charcoal-hued living room, which opens onto the brilliant hills of Bel-Air.
"The houses influenced the stores," he says. "This house in particular influenced the Gucci stores. My London house influenced the Saint Laurent stores."
The juxtaposition of the houses and stores in Ford's book allows readers to glimpse his "cross-pollination of ideas," as he puts it. There is also no better example of Ford's genius at branding. "All my houses look the same," he says. "I have a very specific set of tastes. I like certain colors, or, rather, lack of. I don't like clutter. I'm very linear. I occasionally like curves, but it has to be the right curve—a very organic curve, and it's usually juxtaposed against something very straight."
Ford's far-flung bedrooms are particularly uniform. Uniformly black, to be precise. Whether it's Los Angeles, London or Santa Fe, he sleeps in black cotton-satin Gucci sheets, beneath black fur throws, surrounded by black lacquer tables and black glass walls. "I am a complete insomniac and if there is a shred of light, I can't sleep," he says. (All that black isn't quite as dark as it sounds, however: "The glass is quite reflective," notes Ford.)
He prefers his other living spaces on the dark side too. Years ago, Ford took a stab at lightening up his London town house—but soon regretted it. "Because London weather is so gray, I thought I would crave light, so I wanted a white house," he says. He gutted the structure and installed stark white walls. "But it just ended up being very cold. So I began paneling all the rooms in rosewood or black glass. I made the house darker and darker, which is much better in London, where you want to curl up by the fire." Once the house was to Ford's liking, however, he decided it was too small—and sold it. He recently bought a Georgian-era town house that he is currently renovating.
The Los Angeles house also reflects its setting, particularly the spectacular treehouse vista. "I didn't want to block the view, and I didn't want colors to jump out at you," he says. "I wanted furniture that almost went away." Ford kept many of the tables and banquettes originally designed for the house by Neutra, but reupholstered them, mostly in mohair or ponyskin. The simple, low chairs he designed himself were covered in the same materials. "I wanted everything to feel built-in," he says.
Though Ford acknowledges that minimalism can end up "dry and fairly routine," he says that it can also be sensual and warm. To compensate for the strict stuff, he has two decorating dictates: "You need fire and you need fur." To that end, almost every room in the Neutra house has a fireplace and skins in abundance.
The Santa Fe house, a 1960s adobe ranch that was built by Ford's grandmother when he was a child, is usually the designer's base in the summer. It was originally relatively spartan, but the previous owners (Ford had to buy it back) had "Southwesternized it," as Ford puts it. So he replaced the tile floors with concrete, and, outside, built a James Turrell-like concrete-walled courtyard for the pool. "It's now much more severe," he says with satisfaction.
Ford's most spectacular residence is yet to come, however. He has just broken ground on a monumentally scaled house outside Santa Fe, designed by renowned Japanese architect Tadao Ando. With an architect of Ando's caliber, Ford had to do the wooing. But after Ando (a Pritzker Prize winner) accepted Ford's invitation to visit the site, he promptly accepted the commission. "Ando is so much about light and mass, which is so perfect for New Mexico," says Ford. "Historically, Spanish architecture in New Mexico had been about mud walls—with a fortresslike quality to them—and about light. The light is so strong that I wanted someone who would understand the importance of it." (The Los Angeles firm of Marmol Radziner, which has worked on all of Ford's houses, will serve as local architects for the project; interior designer Brad Dunning, Ford's longtime collaborator, will likely be involved, too.)
Ford spent most of the summer in Santa Fe either planning the construction or working on his book. The former designer says he enjoyed the opportunity to both reflect on the past and move on. "Going over it all was a great way to close a chapter in my life. And I wanted to do it now, while it was fresh."
The editing process took months. "With this book, the sheer volume of images was just incredible," he says. "One year alone, we had 12,456 pages of coverage. I had to go through all those images. The whole thing was very emotional. Usually, I'm not a person who dwells on the past. I say, okay, that's done, let's move on. But reliving it all, it all comes back to you—the amount of work, the struggles. But it was a nice way to say goodbye to it." After a short pause, Ford offers a bit of a tease: "I don't know whether it's goodbye forever. But it's goodbye for now."
At the moment, of course, it's hello, Hollywood. Now that Los Angeles has become his primary residence, Ford is somewhat begrudgingly building a guest house on the property. (Heretofore there hadn't even been a guest room.) Indeed, even invitations to dinner chez Ford are rare. "We have occasional small dinners, but I'm not big on having people in my houses," he says. Ford makes one exception annually, however, when he gives an Oscar week party for a few hundred.
Represented by über agent Bryan Lourd of CAA, he is actively trying to develop film projects and land a production deal. According to Ford, his career shift, from clothes to celluloid, is not such a stretch. Both are design businesses, he notes. "At Gucci, it was about creating a certain image and character—the Gucci woman. In the film business, you're designing a world. You're designing what happens to these people and what your message is. It's the same."
Lest anybody think someone from the garment biz would be way out of his depth in Hollywood, he notes that the fashion business is, in some ways, bigger than the film industry. Gucci, for example, had almost $3 billion in annual sales last year—more than any studio unit.
"I'm confident that my first film will be made—soon, I hope," says Ford. "If it's a hit, I'll have a career. If it's not…at least I'll have done it."