Tom Hiddleston Speaks Up at Last About His Relationship with Taylor Swift
The 'Thor' and 'Night Manager' star discusses that infamous tank top, Bolognese, and Tom Hanks in a wide-ranging profile for GQ.
---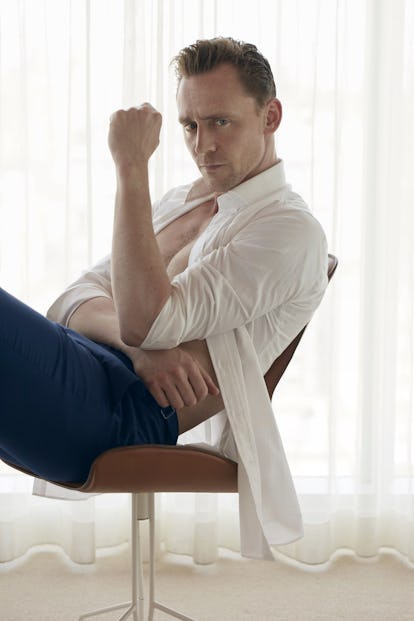 Mona Kuhn
Abloh, Virgil Off-White isn't a label, it's just one massive art project. Get to know the man behind the vision, designer, architect, Kanye West collaborator, DJ, Virgil Abloh.
Armour, Under Maybe not so cool anymore. CEO Kevin Plank praised president Donald Trump for his business-minded leadership on CNBC Tuesday, after lamenting the turn of events on election night only months ago.
Hiddleston, Tom Maybe the most earnest man (and most prone to hyperbole) in the world — right down to his now-infamous "I Heart T.S." tank top. Get to know the Thor and Night Manager star beyond his high-profile relationship, and even higher-profile breakup.
Klein, Calvin The brand's new designer Raf Simons dropped his first campaign for ready-to-wear on Instagram Tuesday. Entitled "American Classics," it depicts models in underwear and jeans, posing in front of masters of American contemporary art like Andy Warhol and Richard Prince.
Loewe Jonathan Anderson loves crafts — he's highlighted Loewe's artisanal heritage since joining the brand in 2013 — and now, he's celebrating them with the first annual Loewe Craft Prize. Its 26 semi-finalists were announced Wednesday; a panel of judges including Anderson himself will select the winner in April.
McQueen, Alexander The subject of a third film currently in development — this one's a documentary, following the Jack O'Connell biopic and fictionalized account of McQueen's relationship with patron Isabelle Blow.
Oliver, John On Trump and Brexit, the responsibility of late-night comedians, and why "fake news" means less now than ever.
Richie, Sofia The daughter of Lionel and younger sister of Nicole knows good jeans when she sees them. Also, good vintage records. Preferably by her dad.
Williams, Michelle Also doesn't want to watch sad movies (which is probably why she still hasn't seen her latest, Manchester by the Sea), also adores Barbra Streisand.
See W's most popular videos: