The Jetsetter's Guide to Summer: Travel Like Tory Burch
Fashion industry mogul and regular globetrotter Tory Burch draws the line at sweatpants on the plane, never travels without a newspaper, and considers Mom her best travel companion.
---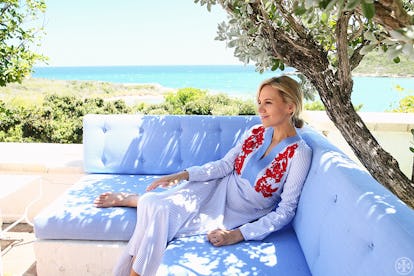 As chairman and chief executive of her multi-billion dollar namesake American brand, Tory Burch racks up a whole lot of travel points during the course of the year. In between her business travel, she makes sure to squeeze in leisure travel, too. From the South of France to Southampton, she spends her vacation time in some of the most chic destinations on the planet. Being the seasoned traveler that she is, Burch has her fair share of insider knowledge on keeping it stylish while on-board, the biggest packing sins, and the most luxurious hotels in the world. She took a short break from her vacation time in Cannes to bestow her expert tips upon us just in time for the holiday weekend.
What's your summer vacation destination? Southampton with my boys. I love watching them surf, fish or dive and then coming home to eat dinner together.
Favorite mode of travel? Long trips: plane. Short trips: I love a train.
Best or worst person you have ever been seated next to on a plane? I sat next to someone's dog once. It didn't make for very riveting in-flight conversation, but at least it was cute. And of course "best" always goes to my mother, Reva Robinson, who is the ideal travel companion.
What's something you would NEVER wear on a plane? I have to say I draw the line at sweatpants. I believe you can look pulled together and be comfortable at the same time.
Go-to travel outfit: Anything in our Coming & Going collection from our Sport line. I love the ponte pants, we designed them with travel in mind, actually.
What's a big packing mistake to avoid? Over packing is a sin!
Name five essential pieces of clothing/accessories you can't travel without: Sunglasses, a tailored pant, a miniature pillow, a playlist from my boys, and the newspaper.
Best beauty products for travel? Sheet masks, organic rosewater spray, facial oil, and our fragrance in a rollerball. Anything that makes you feel at home but doesn't take up too much space.
Go-to summer swimwear brand? Eres.
Best souvenir you have ever picked up on a trip? Anything from Marrakesh.
Name something that always saves you when you are traveling: Raw almonds and California apricots.
What's your favorite hotel in the world? Les Fermes de Marie in Megève — it's very old and very French, so naturally the interiors are exquisite.
Watch W's most popular videos here:
Photos: The Jetsetter's Guide to Summer: Travel Like Tory Burch
Tory Burch. Photo by Noa Griffel.