Tracee Ellis Ross and Mary-Kate Olsen Step Out in the Ugly Sneakers Trend
Ugly sneakers have reached Hollywood.
---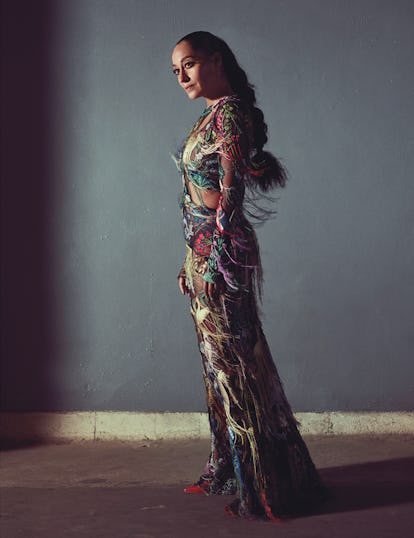 Photographs by Mario Sorrenti, Styled by George Cortina; Hair by Recine for Rodin; Makeup by Kanako Takase for Shiseido at Streeters; Manicures by Lisa Jachno for Chanel at Aim Artists.
After normcore bubbled up, naturally following was the ugly sneaker trend, which has been kicking around fashion a little bit now. This season, though, it has reached the celebrity sphere, thanks in part to Tracee Ellis Ross and Mary-Kate Olsen. The actresses—and fashion icons in their own right—both recently stepped out in pairs of orthopedic–style, velcro strap-laden sneakers.
Ross, who first shared a photo of herself two days ago wearing a pair of white Air Force 1–like sneakers with two thick straps, took to Instagram to defend her footwear choice. "I really love my sneakers. Like, I'm obsessed with them," she wrote in the caption of a photo of her joyously holding them. "But it turns out that some of you don't feel the same way." Ross was referring, of course, to her 4.4 million Instagram followers, many of whom got opinionated in the comments section of her original post. Ross, whose sense of humor is one of her most lovable qualities, didn't mind, though—she just laughed off people coming for her ugly sneakers. "The names you had for them made me giggle!!" she wrote, before sharing a few of them. Regardless of whether or not her sneakers warranted the nicknames, some of them are undeniably funny: "Air Dads," "'Help I've Fallen and I Can't Get Up' Yeezys," and, perhaps best of all, "Old Balance."
Meanwhile, Olsen has been rallying for orthopedic sneakers ever since last fall when she showed up at an art auction alongside her husband, Olivier Sarkozy, in a pair. She dressed up the Alexander McQueen kicks with a doily black skirt and a zip-up blazer. Then, The Row co-designer wore the same shoes again yesterday while walking down the streets of New York City in a floor-length black skirt, long black blazer, and aviator sunglasses, as Vogue notes.
If Tracee Ellis Ross and Mary-Kate Olsen can't convince you to try the comfort-first trend, though, perhaps Kendall Jenner, Gigi and Bella Hadid, or Kaia Gerber will—they've all given their seal of approval to orthopedic shoes. If "power" was the fashion word of 2017, perhaps "ugly" is leading the competition for 2018.