Tracee Ellis Ross Explains Why Nose Waxing Is Not a Good Idea With Teary-Eyed Video Selfie
"Let this be a lesson to you: Just say no."
---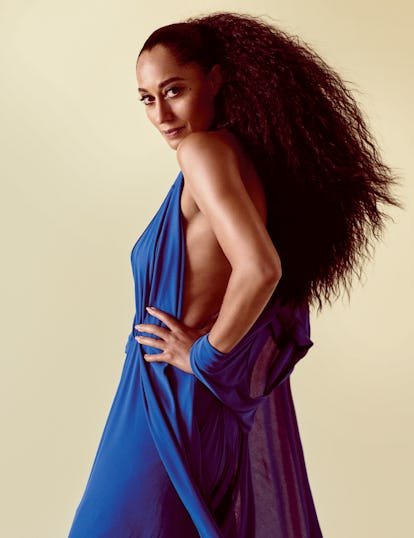 Photographs by Mario Sorrenti. Styled by George Cortina.
Getting a wax is never what you'd call a delightful experience. Even after years of waxing, the pain never really goes away. Tracee Ellis Ross, though, suffered through that lesson in one of the most intimate areas one can get waxed: inside the nose. The Black-ish shared her own nose waxing experience on Instagram as a reminder of why you should never go through with the procedure. "HAS ANYONE EVER HAD THEIR NOSE HAIRS WAXED?," she asks in the caption of her video, which has since amassed 1.7 million views. "Let this be a lesson to you: Just say no."
The clip begins with Ross laying on her back with a wax-dipped q-tip sticking out of her nose "Take it out," she says, her eyes widening in fear. "Take it out." As a pair of glove-covered hands move in towards her nose to grant her wish, Ross screams, "Oh f—!" She then makes a face that anyone who's ever waxed is familiar with: one in equal pain and awe. With her watery eyes, Ross at first doesn't seem to know how to process the freshly ripped off nose wax. She seems to be in between a cry and a laugh. For good reason, too.
Nose waxing is one of the most controversial areas to wax, as many learned over the summer when the beauty blogger Sepi Belini shared her own nose waxing selfie video, which has since been viewed 7.1 million times. In the clip, she says, "ONLY WAX THE VERY FRONT, I KNOW THE IMPORTANCE OF NOSE HAIR." Still, the safest way to remove nose hair is trimming, as nose waxing can lead to infection. "There's a whole myriad of normal bacterial population there that are just waiting to get below the skin's surface," Richard Leinhardt, chief of ENT/facial plastic surgery at Manhattan Eye and Throat Hospital in New York City, told Allure after Belini's video went viral.
Ross, however, seems to be doing fine at the moment as shortly after her waxing video, she posted a string of photos, including an up-close one of her beauty look — aka "GLOW" — in preparation for an appearance on The Late Show With Stephen Colbert.
Related: Tracee Ellis Ross Has Definitive Proof That Diana Ross Is the Greatest Mom of All Time
Tracee Ellis Ross Had the 18th Birthday to End All Birthdays: