5 Minutes with Tracy Anderson
The fitness guru shares her tips for getting motivated, her favorite natural beauty products, and why you shouldn't watch TV while you work out.
---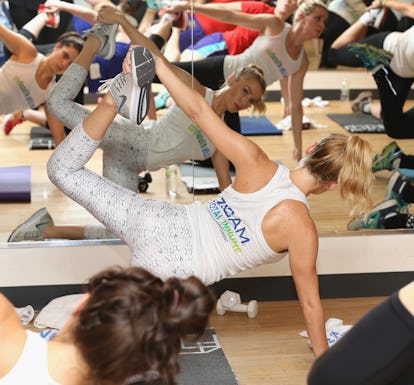 Tracy Anderson has transformed the bodies of everyone from Gwyneth Paltrow and Jennifer Lopez to Nicole Richie and Kim Kardashian—not to mention her own. So who better to go to for fitness advice? Between training an impressive roster of celebrity clients and partnering with Zicam for National Immunity Month, the workout guru shared her best tips and tricks.
How do you stay healthy when the seasons change? I really believe in consistency. You can go on all kinds of adventures in life if you have a consistent, rooted system that is implemented into your daily lifestyle. It doesn't matter what the elements make us feel like, it's important that we know from inside how to have the strength to take care of ourselves. Because it's not even just weather, it can be your heart gets broken or you get bad news at work or—god forbid—you get in an accident or something. Life can change at any moment and so the strength that you build yourself on from within matters.
What's your earliest beauty or fitness memory? I think it would be my attraction to Barbie as a child and my mother saying that I was never going have one because they stood for something that was really wrong. Now as a 40-year-old mother of two, I understand her viewpoint a lot more, but that was the first time I really feel like I was aware of the word beauty in any other sense than the flower is beautiful or the sunrise is beautiful. It was the first time that I was kind of like, oh this is what physical beauty is supposed to be like and I actually find that quite disturbing (laughs).
What is your natural beauty routine? I eat all organic foods; I don't cut out foods at all. I eat chocolate, I drink wine, but everything that I eat is organic. I'm a huge fan of brands like Tata Harper. I wear her aromatherapy as my perfume. I use all of her blushing balms on my lips and cheeks, and I wash my face with Alba products. I use everything that is paraben-free and organic and as close to nature as possible—it makes sense to me that those products would enhance our natural beauty.
What's your current fitness obsession? Myself! (laughs) That's so terrible, I've never answered like that, but it's true! I really practice what I preach. I've done formal studies in the fitness space, I know what I'm doing, and I create content that creates balance where there's imbalance in the body and constantly keeps an open line of communication between the brain and the body. It's something that you can do for the rest of your life and so I believe wholeheartedly in that. I don't believe in fads and trend hopping, especially when it comes to my health and body.
What's your secret to looking great after a workout? It's all about how you're digesting your feelings about yourself. I really believe in celebrating each one of us as really completely unique beautiful individuals and I can't really believe in that unless I celebrate myself in the same way. So I would say that it's not really a beauty secret, it's just having fun.
What's always in your gym bag? Tata Harper's irritability aromatherapy roll-on, not because I'm irritable—maybe that's why I'm not irritable!—but I love the scent of it so it's always in my bag. And the Zicam Total Immune Performance Support orange melts because I love the way they taste and how they energize me. I also always have water, a change of clothes, and my computer because I always have music wherever I go. I usually have an organic chocolate bar too because when you do work out a lot your body processes sugars better and I love sugar! I also always wash my face after my workout and I use Alba Pineapple Enzyme Facial Cleanser.
What's your biggest fitness pet peeve? People who watch TV or are on their phones during their workout, or reading a magazine on a workout machine—people who are projecting out during their workout and not shutting everything else out and connecting in.