Why the Trampoline Should Be Your New Cardio, According to Victoria's Secret Angels' Favorite Trainer
Celebrity trainer Simone De La Rue shares the health and benefits of her new trampoline workout method.
---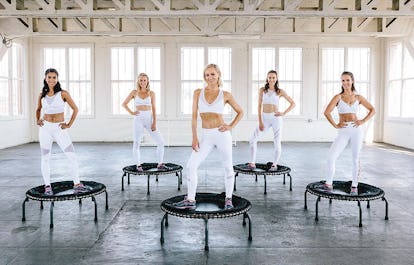 @bodybysimone
She may be known for her upbeat and dance inspired workouts, but celebrity trainer Simone De La Rue, founder of Body By Simone, is here put a new spin on cardio. Unveiling in a new series of workouts using a trampoline, De La Rue make the case for why the trampoline should be new your cardio of choice. And while for most of us, a trampoline may be reminiscent of our childhood years, De La Rue who works on a regular basis with stars like Chrissy Teigen, Rosie Huntington-Whiteley and an ever-growing crew of Victoria's Secret Angels, admits that, "I have incorporated trampoline workouts into my one on one private sessions for years now. I like to mix up the cardio between dance cardio, jump rope and the tramp. It keeps the muscles challenge and the mind active and present." Here, De La Rue breaks down the workout benefits of using a trampoline, her favorite exercises for a quick tone up and more.
So what inspired you to come up with the trampoline workout method?
The thought behind it was to create a great cardio workout where you could really get the heart rate up, but the joints didn't have to suffer. Many of us avoid cardio, so I wanted to create a fun workout that you would look forward to doing, but it also has great health benefits. I am always mixing up the routines on the trampoline to challenge the mind and body, however all of the trampoline classes feature a sprinting section. Imagine running in sand for 60 second intervals. It's extremely challenging and elevates the heart rate very quickly.
How did you incorporate your dancing background into your trampoline fitness routines?
It was actually quite easy. I just took the dance routines from the floor and elevated them onto the trampoline. All of the strength and toning work can also be done on the floor. The benefit of being on the trampoline requires more core strength to stabilize and balance.
What are the overall health and wellness benefits using a trampoline? How is it different from other high intensity workouts?
Bouncing on the trampoline helps drain the lymphatic glands and boast your immune system. It protects your joints, especially your knees, hips and lower back. You are forced to use your core to stabilize so that you don't fall off. It also challenges your coordination and skill.
Can you do these exercises at home if you don't have access to a gym or trampoline?
Yes, all of my workouts require minimal equipment. You can still do the workout without the tramp. The dance routines are designed for on or off the tramp.
Since you work with a lot of models and actresses, what are some quick toning exercises you would recommend for upcoming events?
A lot of my clients are models and Victoria's Secret Angels. They love BBS as the classes are always fun and effective. Before any show I like to focus on the arms, abs and butt, obviously the body parts that are visible on the catwalk. A great lower body exercise that will quickly tone your hamstrings, quads and glutes is a weighted squat. Hold a 10 pound weight in each hand, stand wit your feet underneath your hips, lower down into a deep squat with your arms by your side. Hold for 2 seconds and come back to standing position. Do three sets of 8 reps. This can be done on the trampoline with 10 jumps squats in between sets.
Post-pregnancy workouts tend to be less strenuous for new moms, would you recommend trampoline fitness as a suitable workout?
Trampoline workouts can be more gentle when returning to exercise. The soft mat of the tramp cushions the impact. It's also a great way of learning to re-engage your abdominal wall again, without the strain. I always make sure that new mums are cleared for exercise by their doctors. It should be a gradual return a few days a week. Avoid doing any abdominal work until your body has fully healed and all muscles and joints have come back together. I think its important to carve out a few minutes each day for new mums that they just focus on themselves, exercise is a great energy and mood booster.
20 Ways To Incorporate Lingerie Into Your Wardrobe Like a Victoria's Secret Angel
Watch: Victoria's Secret Choreographer Jermaine Browne Demonstrates the Allure of Pole Dancing
Victoria's Secret Choreographer Jermaine Browne Demonstrates the Allure of Pole Dancing