Celebrity Trainer and Body By Simone Creator Simone De La Rue On Why It's Never Too Late To Get A Summer Body
Celebrity trainer Simone De La Rue breaks her workout, skincare, and nutrition essentials.
---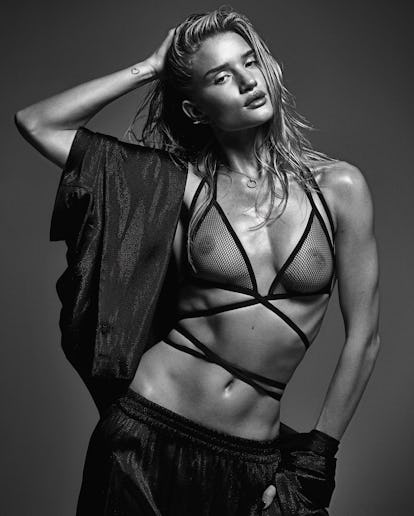 When it comes to getting an enviable physique, Hollywood A-listers go straight to Australian trainer, Simone De La Rue. Using a signature combination of dance, yoga, and pilates, De La Rue has landed wild Hollywood success and a client list that includes Rosie Huntington-Whiteley, Reese Witherspoon, and Chrissy Teigen. No matter the goal, De La Rue says, "It's important to just move. Whatever that is, or whatever connects with you, just do it." Here, the celebrity trainer breaks down her favorite workout exercise, her post-workout beauty essentials and why it's never to late to work on your summer body.
How did you get your start in the industry?
I was a professional dancer on The West End London and Broadway, I fell into fitness by accident when a Broadway show I was going to be in got cancelled. I needed to find a job and fast. I started working one on one with private clients and I loved it. I decided this is what I wanted to do moving forward. Hence BBS was created.
How did you transform your dance background into a workout routine?
People always asked me "How do you get the body of a dancer?" And the answer is simple. You dance. I gathered all my knowledge over the years of dance, yoga, pilates and created BBS.
From where and whom do you gather your workout inspiration from?
My clients are what inspire me. Depending on the project or goal we are working towards. I use that as motivation to create specific workouts to cater especially for that need.
What are the biggest workout myths you want to debunk?
I don't ever put down any other style of workout. I think it's important to just move. Whatever that is, or whatever connects with you, just do it. Sitting on the couch thinking about it will not change your body.
What are your favorite workout exercises to do at home?
I love to stretch at home. I sometimes forget to stretch after a full day of training at the studio. Chilling out at home and stretching or foam rolling while watching tv is very relaxing and also takes care of my body.
Your go-to full body exercises for a quick tone up?
I am a big fan of the good old fashion plank and the variations you can do. It's the perfect full body exercise. Make sure you use correct form and technique. Using just your own body weight is a wonderful way to build strength.
What is your beauty routine before and after the gym?
I always use dry shampoo after I teach class. It's not ideal to wash my hair everyday. Dry shampoo is a life saver. I love Klorane the best. I travel so much I always have my travel size products with me. I love Violet Grey, they have a highly curated selection of luxury goods and often stock my favorites in the smaller sizes. Bioderma make up remover, and Embryolisse Lait Crème Concentre are my must haves.
What are the best nutritional practices to have with a consistent workout routine?
I recommend that clients cut out alcohol and sugar when trying to lose weight. I also insist on upping their protein intake to help build muscle.
What is your workout motto for beginners?
I always say to my beginners, that their goal on day one is just to stay in the room.
Is it ever too late to get a "summer body"?
No it's never too late. If you exercise regularly and eat well, you can see change in your body after two weeks. Consistency is key.
Related: Why Microfeathering Is The Hottest New Treatment for Full, Natural Looking Eyebrows
For Ellie Bamber, Bedtime Snacks Are an Important Part of Any Nightly Beauty Routine